STOP PRESS: We are now fully booked for the afternoon presentations.
We expect there will be one or two cancellations before the event, so please contact 'neilgmorris at manxbirdlife dot im' if you would like to be put on the waiting list. We'll do our very best to secure a seat for you.
We still have tickets available for the evening reception at which you can meet the speakers and all those involved in this major event.
---
Join us for an afternoon of gentle science and fascinating discovery exploring the lives and fortunes of iconic Manx birds in the company of local and international experts - in association with the Manx Ornithological Society.
Celebrating Manx Birds II offers you a packed afternoon programme of gentle science mixed with fascinating discovery in the august surroundings of the Manx Museum lecture theatre.
When: Saturday 17th November 2018
What: Afternoon conference 2.00-6.00pm (doors open 1.15pm)
Where: Lecture theatre, The Manx Museum
How much: Attendance is free, though pre-booking is essential
Followed by: Evening buffet reception 6.30pm
Meadows Pavilion (Douglas Golf Club) £15 per person
Experts from the Isle of Man and overseas will share their insights into the lives and fortunes of some of our favourite wild birds. They'll describe the ground-breaking observations and science that are guiding conservation efforts to protect our most vulnerable species and populations — and their own personal stories of the joys and challenges of working with wildlife.
---
Book early to guarantee your place!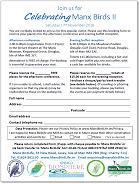 Download and complete the booking form or email 'neilgmorris at manxbirdlife dot im' or call 01624 861130.
Please state:
1. No. of free places requested for the afternoon conference.
2. No. of tickets for the evening buffet reception @ £15.00 per person.
3. Full names of all those in your party attending the conference and reception.
4. Your email address and tel. no. for us to confirm your booking.
IMPORTANT: See our Privacy Policy at http://manxbirdlife.im/privacy-cookies/ explaining how we use and look after your personal information.
---
Programme
1.15pm Doors open for registration
2.00pm Chairman's welcome and opening address
Robert A. Jeavons, Chairman, Manx BirdLife
Seabird stories 
The Isle of Man Seabird Census 2017-18
Richard W. Hill MSc, Conservation Officer, East of England Region, RSPB
The Manx Puffin Project
Dr Lara Howe, Marine Officer, Manx Wildlife Trust
Migration magic
KEYNOTE: The Magic and Mysteries of Migration
Dominic Couzens, Author
3.40pm Refreshments
Bewitching Birds of Prey
Population genetics among European and Manx Hen Harriers
Charlotte Jense, MSc Student, University of Central Lancashire
Barn Owls Caught on Camera
Adam Denard, Director, Manx Barn Owl Conservation Project
Celebrating success
KEYNOTE: Finding Common Ground —
Working with Farmers Towards Conservation and Agricultural Success
Joanne Sherwood, Director, RSPB NI
Closing address: Celebrating Manx birds
Sir Richard H. T. Gozney KCMG CVO KStJ, Lieutenant Governor, The Isle of Man
5.50pm Close of proceedings
The programme may be subject to change, though we'll do our best to keep any changes to a minimum.
---
Finding the Manx Museum (Afternoon conference)
Full address: Kingswood Grove, Douglas IM1 3LY. Tel. 01624 648000.
The Manx Museum is located at the intersection of Kingswood Grove with Osborne Terrace. The Museum offers a limited number of spaces for disabled parking. Otherwise we suggest parking in the lower levels of Chester Street multi-storey car park, from which take the lift up to Level 8, then walk across the bridge to access the Manx Museum.
Finding Meadows Pavilion/Douglas Golf Club (Evening buffet reception)
Full address: Pulrose Road, Douglas IM2 1AE. Grid ref. SC 366 755. Tel. 01624 675952.
The Meadows Pavilion/Douglas Golf Club can be accessed off the Pulrose Road, taking the driveway opposite the junction with Groves Road. The reception will be held on the first floor.
---
We are grateful to our sponsors and partners for their support in making this event possible.