Manx BirdLife is seeking an experienced Reserve (Site) Manager with proven expertise in gravel pit restoration and site management to develop the charity's flagship new nature reserve at the Isle of Man's famous Point of Ayre.
---
Contract: Initial two-year contract
Based: Isle of Man
Salary: Negotiable
Expressions of interest: by 14 August 2020
Role commencing: As soon as possible
---
Initially comprising 105 acres, the reserve has potential to grow to 400+ acres as quarrying concludes in further areas across the site. The mix of large areas of open freshwater, dry scrub and heathland is unique within the Isle of Man, attracting a similarly unique assemblage of fauna and flora.
Joining us as Reserve (Site) Manager at this early stage of this long-term project gives you every opportunity to make your mark on the reserve's goals and design. You will be responsible for all aspects of reserve development, management, monitoring and improvement.
Essential skills and knowledge
Principles of quarry restoration and management for nature
Business management including finance, contracts, planning and projects, suppliers
Environmental health and safety, risk assessment
Supporter, visitor, volunteer and public relations
Essential experience
Proven record of reserve/site management especially quarry/gravel pit restoration
Applications for planning and related permissions, dealing with regulatory authorities
Visitor management and infrastructure
A relevant qualification in ecology, environmental management or other qualification appropriate to the role is required.
For more information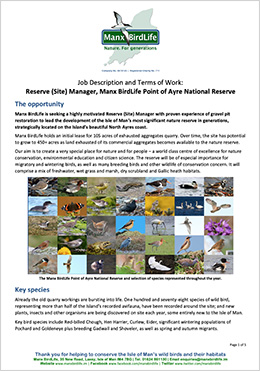 Download full details of this exciting opportunity, including more about the Manx BirdLife Point of Ayre National Reserve, Job Description and Terms of Work.
For an informal conversation, please email Neil Morris, Managing Director in the first instance at 'neil | at | manxbirdlife | dot | im'.
Firm expressions of interest are invited up to and including Friday 14 August 2020.