Conservation efforts to save Manx Hen Harriers have been badly hit by the death of satellite-tagged siblings, Grayse and Mannin, whose premature deaths have been announced by scientists working to protect this majestic but endangered species.
Mannin and his sister Grayse were fitted with satellite transmitters (referred to as tags) at the beginning of July this year by trained and licensed members of the Scottish Raptor Study Group and Manx Ringing Group in a project coordinated by Manx Birdlife and RSPB.
Mannin's last journey
After leaving the nest, Mannin explored his island home until mid-August. His satellite tag then showed him departing the island, heading north towards the Galloway coast in southwest Scotland. Sadly, he never completed this journey. Just 5km short of the Scottish coast he dropped down into the sea.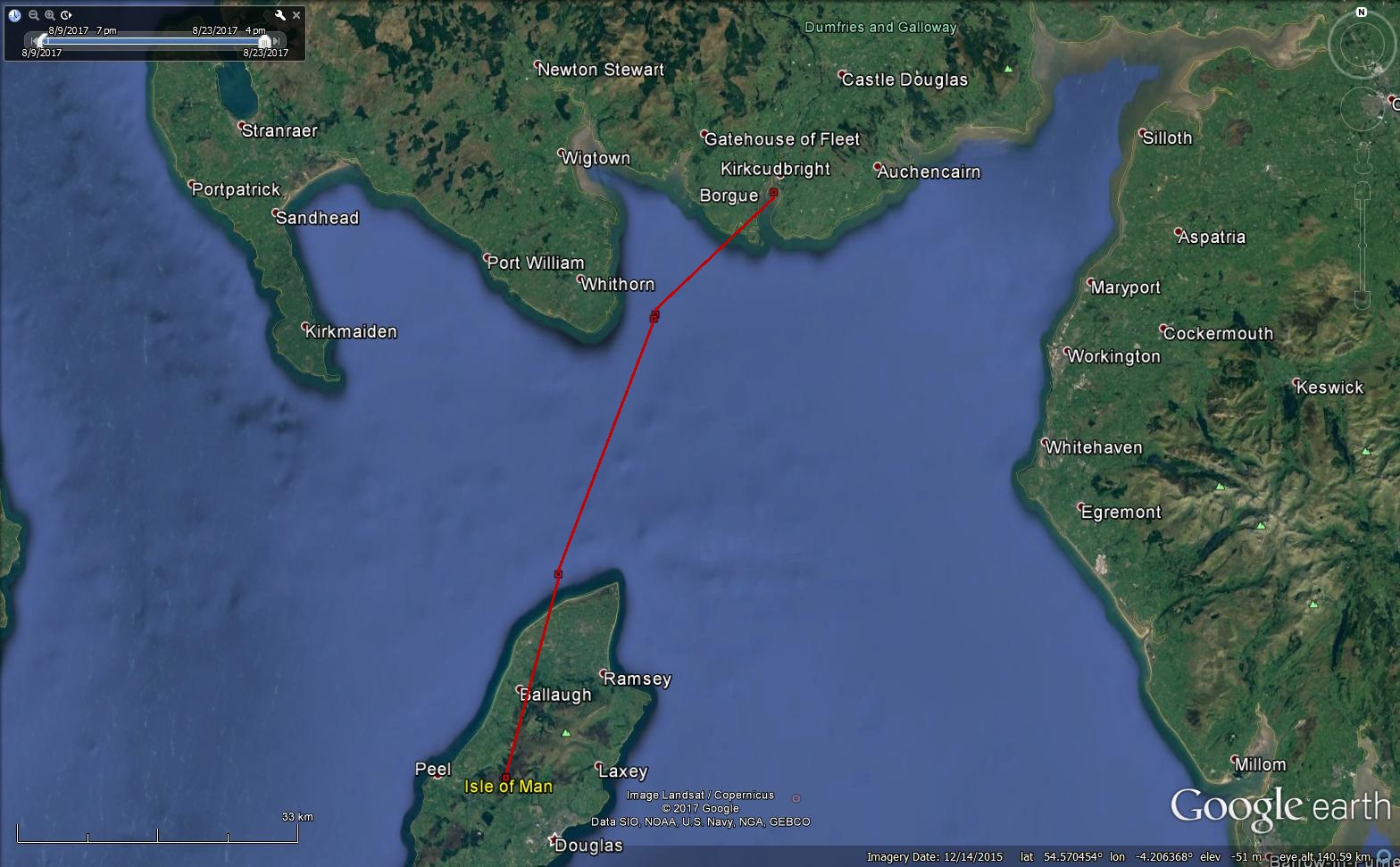 Communication with Mannin's tag was briefly lost and it was unclear whether his body had sank to the bottom of the sea.
But just a few days later, the satellite tag signal was picked up again. Mannin, it revealed, was now washed up on the shoreline. After a brief search of the area, near Kirkcudbright, RSPB staff found Mannin's remains and the tag. A post mortem was conducted at Scotland's Rural College (SRUC) Veterinary Laboratory. The results revealed no evidence of trauma or health problems and that Mannin recently had eaten a small mammal (presumably just before leaving the Isle of Man).
There cannot be any certainty as to what caused Mannin to go down in the sea. He might simply have been too exhausted to continue. Or he might have been caught in heavy rain or in a head-on wind. With nowhere to land, he would have dropped exhausted into the sea, becoming waterlogged. Whatever the reason, it's a very sad end to his short life.
Double tragedy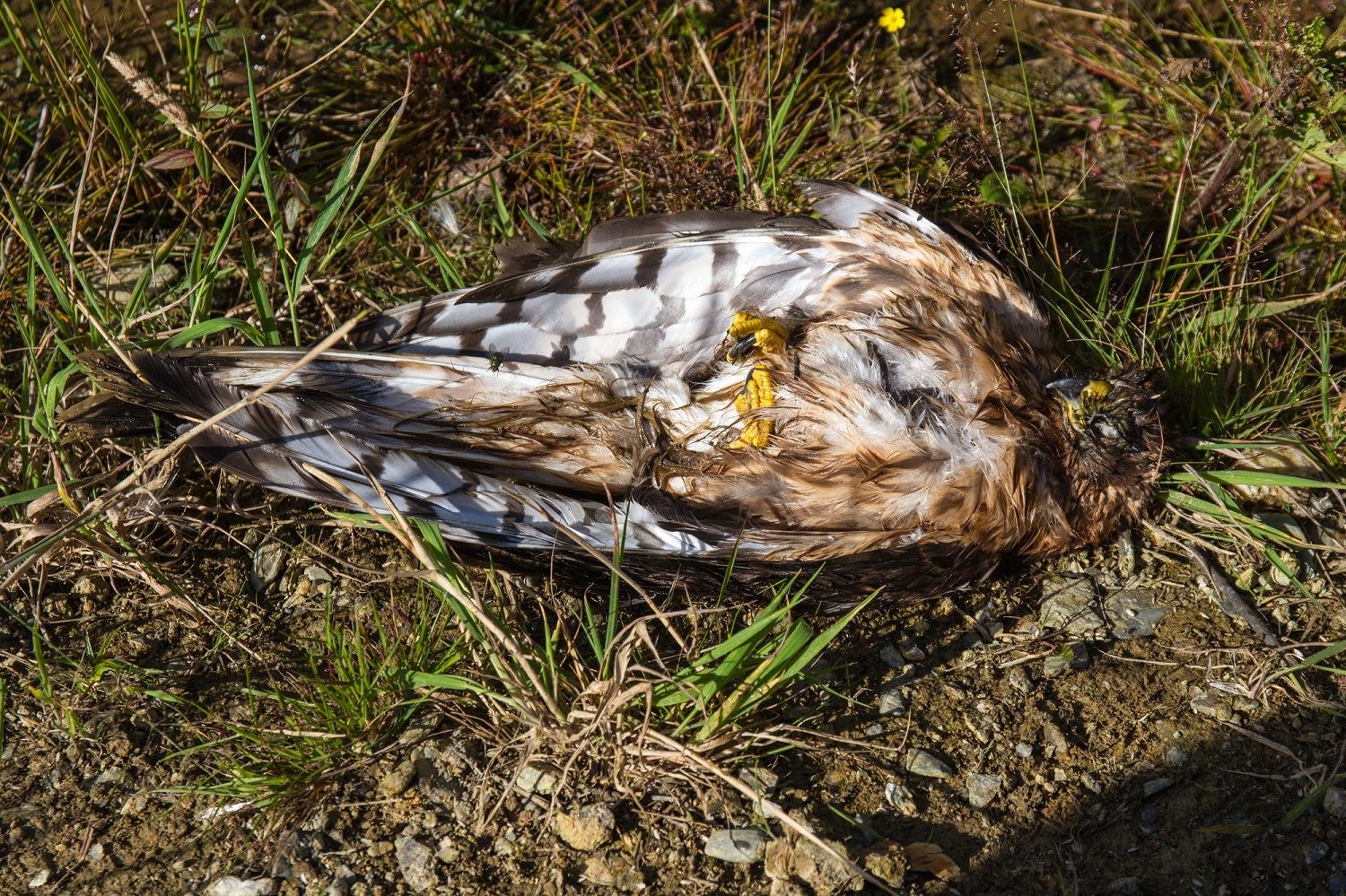 But a double-tragedy was to strike. Just a few weeks after fledging, Grayse's tag showed she had become motionless in the hills of the Isle of Man. Thanks to her satellite tag, her corpse too was recovered. And as with her brother, Grayse's cause of her death is believed to be natural causes.
Neil Morris, Managing Director of Manx Birdlife said "Everyone involved in the project is desperately sad that Grayse and Mannin have perished. Their early demise highlights the vulnerability of young birds learning to fend for themselves in the first few weeks and months after leaving the nest. It desperately underlines the vital need for large healthy populations that can withstand such losses.
"At the same time, it's wonderful to see last year's tagged harrier, Aalin, coming through her first year so well, and to get detailed insights to her behaviour and movements. We need to know so much more about these wonderful birds of prey in order to formulate effective, joined-up conservation strategies. We shall continue to work with RSPB and others to study Hen Harriers here on the Isle of Man and beyond."
The tags continued to work
While the deaths of Grayse and Mannin through natural causes is upsetting, the recovery of their bodies and satellite tags was straightforward. The robust transmitters continued to provide accurate location data, even after one had spent ten days in the sea.
It's worth noting that this is in marked contrast to the disappearance this summer of Calluna in Scotland (and numerous other Hen Harriers in the UK). The young female Hen Harrier's tag had been functioning perfectly. Then, transmissions ended abruptly in mid-August. Her last recorded position was on a grouse moor, a few miles north of Ballater in the Cairngorms National Park. Like so many before, her disappearance can be regarded as highly suspicious.
As with so many similar cases, it is likely that the tag was deliberately destroyed to prevent investigators locating Calluna's corpse and her persecutors.
Folllow the Hen Harriers
You can follow news of the ten remaining Hen Harriers tagged this year across the British Isles as part of the Life+ project at https://www.rspb.org.uk/our-work/conservation/henharrierlife/.
Calluna's story is told at http://www.rspb.org.uk/community/ourwork/skydancer/b/skydancer/archive/2017/09/01/calluna-has-disappeared.aspx.
You can also read more about the Hen Harrier Life+ project at www.rspb.org.uk/henharrierlife and follow developments on twitter @RSPB_Skydancer.
With thanks to our sponsors
Manx BirdLife is grateful to Tesco's 'Bags of Help' scheme and to the Isle of Man Steam Packet Company for their support of this year's Hen Harrier work on the Isle of Man, and to the Isle of Man Society for the Preservation of the Manx Countryside and Environment for its support of Aalin.