Morris' Musings
The following is a compilation of the short, quarterly columns written by Neil G. Morris, Managing Director of Manx BirdLife (2016-2023), published in RSPB's Nature's Voice newsletter.
---
Spring/summer 2022
Small steps towards big goals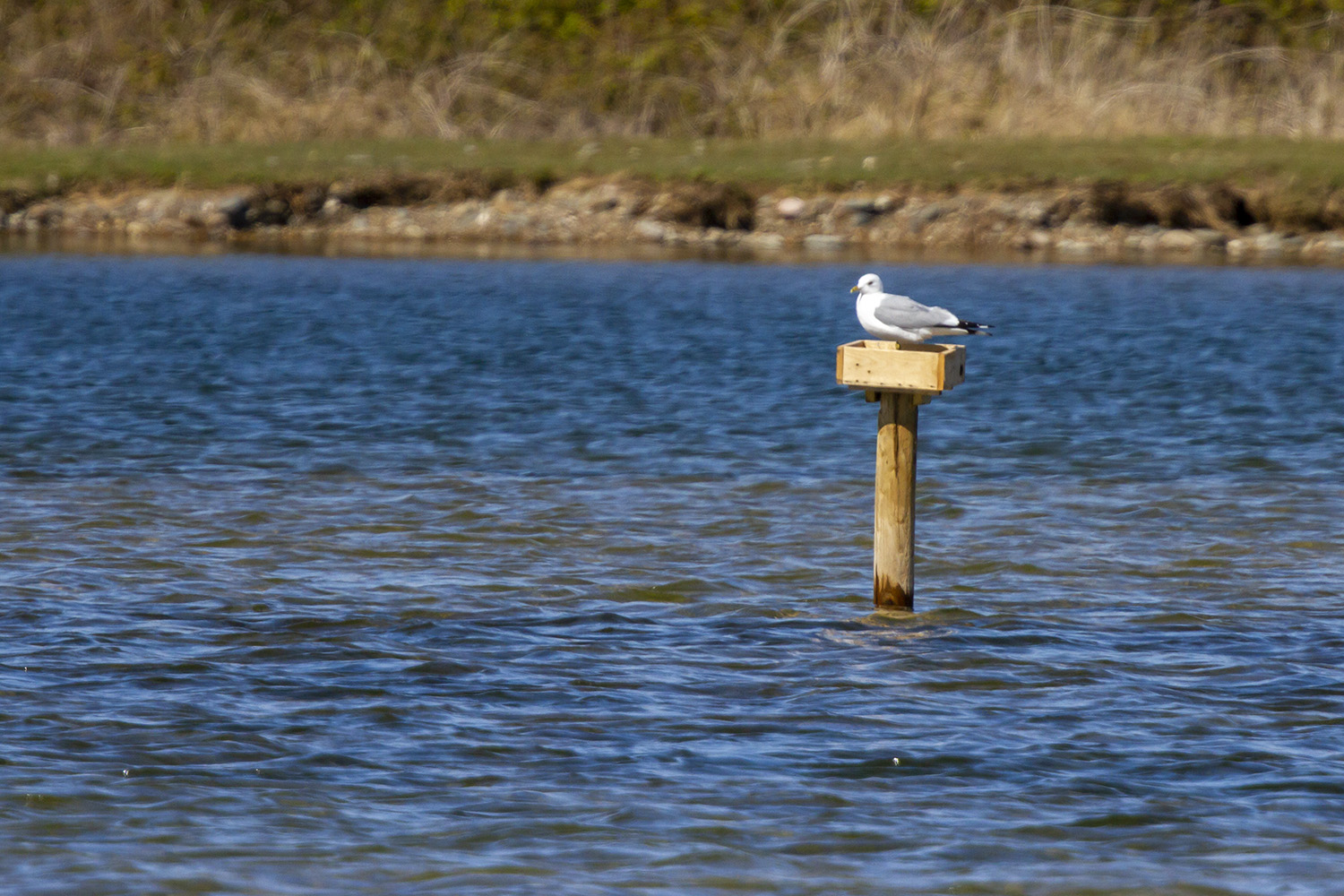 Nature conservation. A global problem in need of landscape-scale solutions. Yet every conservation success, no matter how small, should be celebrated.
Manx BirdLife's new reserve at the Point of Ayre is a partnership project involving the quarry company Island Aggregates, Isle of Man Government and your very own RSPB, whose expert staff and generous members have made valuable contributions. The reserve is yielding tangible benefits for some of our Island's rarest breeding birds.
The release of alien species such as Polecat ferret, hedgehog and wallaby into the Island's delicate ecosystem – along with myriad feral cats – presents ground-nesting and ground-roosting birds with huge challenges. Our two rarest breeding gulls are among the casualties; until last year, neither Black-headed nor Common gulls had successfully bred in recent times, largely because of predation.
Last summer, inspired by RSPB Dungeness, we erected five nesting platforms at the Point of Ayre – from which two pairs of Common Gull fledged five young.
With volunteers helping to construct and install the platforms, the cost was just £6 per fledgling! For this year's breeding season, we've put up more platforms in the hope of growing a sustainable colony of these gentle larids.
As for helping Black-headed Gull, we shall be creating shingle islands on the lagoon and launching further floating rafts. Perhaps we might even attract the island's first breeding Little Ringed Plovers or encourage the return of nesting Common or Sandwich Terns. We can dare to dream.
And while not all conservation goals can be so readily achieved, it's good to know that 'taking the small steps' can be so productive – and so rewarding for all involved.
We plan to take many more small steps towards the big goals for our Island's birds.
---
Winter/spring 2022
In search of elusive larids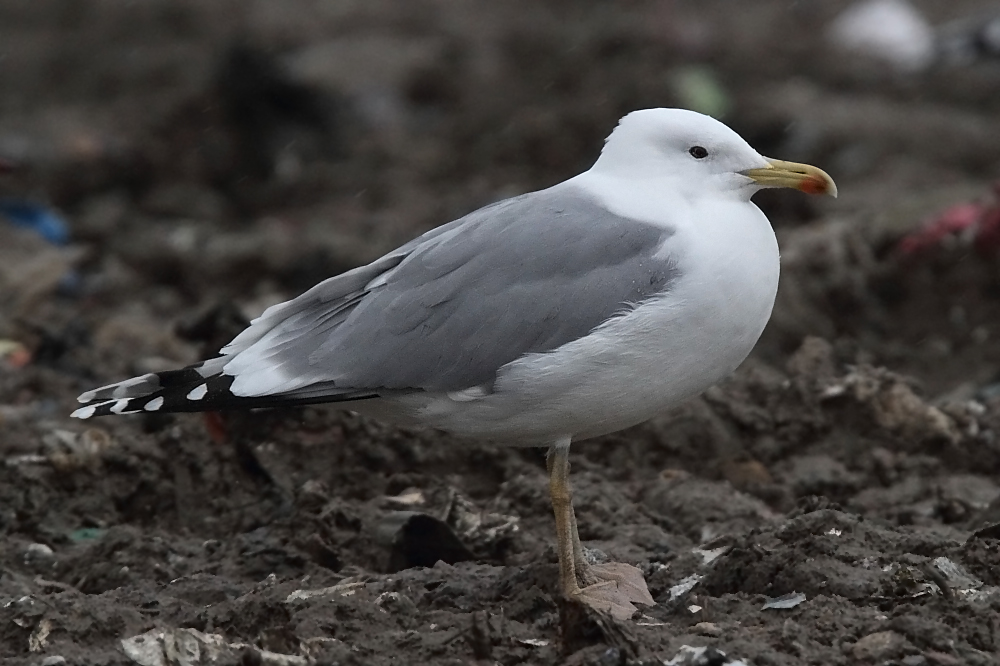 OK, it's time to confess. I admit to being a larophile – birding parlance for someone who likes gulls (which belong to the family Laridae, comprising gulls, terns, skimmers and noddies).
'Gulling' is at its best in the depths of winter. It can be a brutal pursuit: squatting in freezing conditions on the dusk-lit banks of an inland reservoir, peering through the evening gloom at the incoming roost; or spending the day in an unheated, clapped-out 4x4 atop an Essex landfill while clogged in mud and enveloped by the stench of rotting domestic waste. It's not for everyone!
Straining to read leg rings and seeking out rare Eurasian and Nearctic larids is, thankfully, a comfier affair on the Isle of Man. From a warm roadside car, storm-driven coastal flocks and feeding congregations in fields can readily be studied.
Mediterranean Gulls now reach the Island with regularity and our west coast yields both Iceland and Glaucous Gulls. Yet Little and Yellow-legged Gulls remain stubbornly sporadic.
I am intrigued by how few gulls I have spied that have been ringed elsewhere. In six years of searching, I have noted just two Herring Gulls, both from Dublin.
Last weekend, I noted a ringed Black-headed Gull that almost certainly was ringed off-Island. Surprisingly, I've found no European-ringed Great Black-backed or Herring Gulls.
It seems our Island's gull population is rather insular. Many birders are caught out by the extensive white in the primaries of Manx Herring Gulls, optimistically misidentifying them as 'Scandinavian' argentatus Herring Gulls.
For me, a Manx Caspian Gull remains the holy grail. So once again this winter, I'll be advising my family that, "I am just going outside and may be gone some time." At least until I find that elusive cachinnans.
---
Autumn/winter 2021
Keeping it local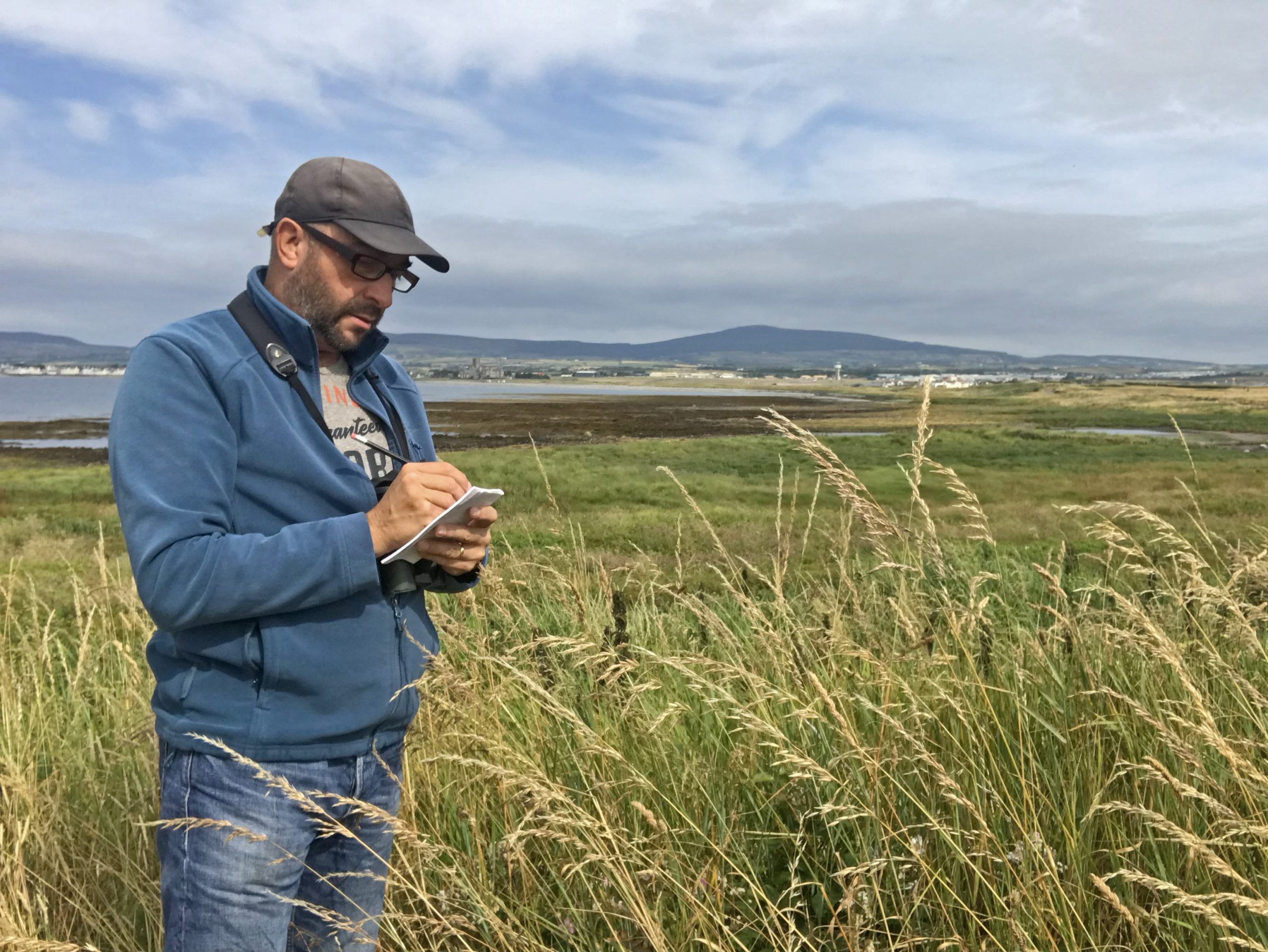 Conservation is a global business these days. It needs to be. How else do we tackle climate change, decline of migratory species, depletion of our oceans, and more?
While multi-jurisdictional collaboration and landscape-scale programmes are prerequisites to safeguarding the world's nature, it is equally vital that we keep a fix on local nature conservation.
Targeted, site-specific and species-specific initiatives with gainful local outcomes act as the seedstock for the success of larger scale, strategic conservation.
Just as local success cannot be optimised without resolving underlying global issues, so global efforts will be undermined if local action to save species and habitats fails.
The same is true of the data – the evidence base – by which all conservation work is planned and measured. Yet there is a steady loss, exportation, of the data needed to inform local conservation.
Many of us now post our sightings and records onto popular international databases, particularly the more organised listers and archivists amongst us. Conversely, there is an opposite and growing tendency not to provide that data to local bird recorders. Sadly, it is overly time-consuming for the stalwarts who maintain the ornithological records for their county, region or nation to retrieve this data; worse still, some of the global data aggregators make it difficult for that data to come back into the local community.
The resulting information outflow leaves conservation bodies less knowledgeable about the state of nature in their own localities. Ergo, conservation efforts become less well-informed, less efficiently targeted and less effective at delivering meaningful local outcomes.
Every birdwatcher, birder, twitcher and lister should make it their priority to support the data needs of their local conservation bodies – while, of course, continuing to support the global business of nature conservation.
---
Summer/autumn 2021
Isle of Man's birds of conservation concern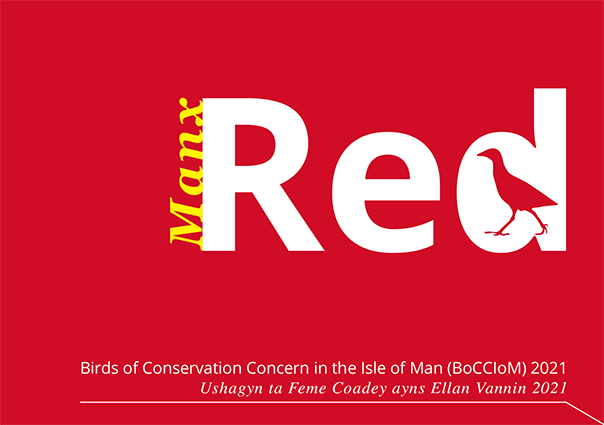 Hot on the heels of Birds of Conservation Concern in Ireland (BoCCI) 4: 2020–2026, I'm delighted to report that Manx BirdLife has completed the first-ever comprehensive assessment of the state of wild birds on the Isle of Man.
BoCCIOM 2021 draws together current and historic knowledge of the Island's bird populations—their abundance, distribution and international significance.
Of 332 species on the Manx List, 166 regularly occurring species were assessed. Using the familiar traffic light indicator system, 48 (29%) were Red-listed, 68 (41%) were Amber-listed and 50 were Green-listed.
BoCCIOM 2021 will assist government and NGOs to determine conservation priorities, policy, strategy and funding. As the definitive, up-to-date account of the state of Manx birds, it will be the authoritative resource for international conservationists wishing to understand the importance of the Island's birds and their habitats.
Ground-nesting species, including Curlew and Skylark, are in particular jeopardy. They are threatened by loss of habitat, disturbance and predation. Twelve out of the Island's 16 breeding species of seabird, including Razorbill, Black Guillemot, Shag and Puffin, are declining in the face of local and global changes to their marine environment.
Even familiar birds such as Linnet, Meadow Pipit and Kestrel are in trouble. Fourteen once-native species no longer breed, including Yellowhammer and Corn Bunting. Once abundant in the Isle of Man, they are now locally extinct. Whinchat, Lapwing and others are on the same trajectory.
It is to be hoped that BoCCIOM 2021 is the wake-up call needed to galvanise meaningful action to save the Isle of Man's vibrant avifauna. You can read the full results at ManxBirdLife.im/BoCCIOM.
---
Spring/summer 2021
Artificial borders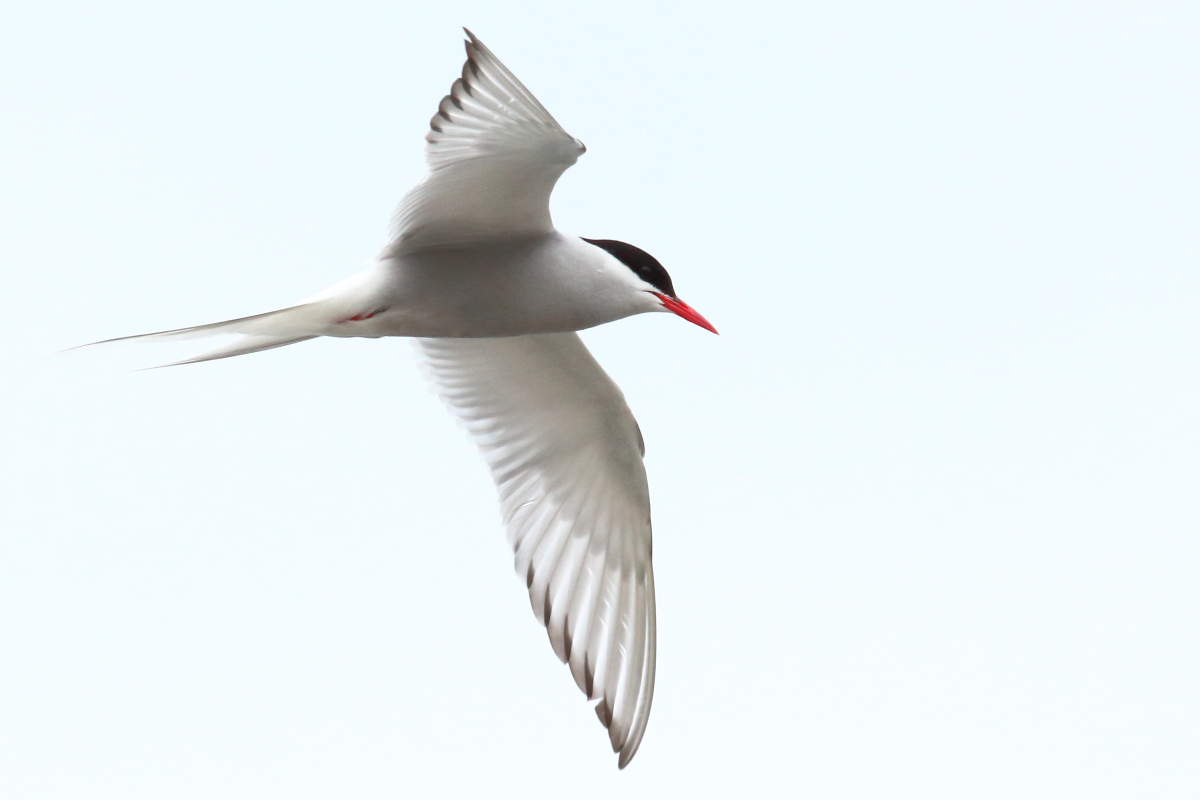 If the Covid-19 pandemic has taught us one thing, it's that viruses respect no borders. And so it should be with all nature.
Living in an island community brings into sharp relief the benefits and disadvantages of living with borders.
Isolation can provide safety and security. Yet in turn, disconnection can disrupt continuity of life. Political and cultural divisions truncate our efforts to keep communities healthy – and our wild birds diverse, abundant and free to move as they need and choose.
I am reminded that just 27% of Manx birds are considered 'resident'. Some 250 species appear here in spring, summer, autumn or winter only because they evolved to cross borders. Manx BirdLife recognises that the success of its very own wetland project at the Point of Ayre depends on the success of conservation efforts elsewhere, as well as our own.
We have been installing the first nesting rafts for terns and platforms for gulls in the main lagoon. We wait with great anticipation, and a little anxiety, to see if these will be adopted this breeding season.
It is now known that there is constant cross-border exchange of breeding terns within the Irish Sea, and indeed between the Irish and North Seas. Availability of food, weather and disturbance can all play a part in which colonies individuals choose to nest in a particular year.
In reformulating and reinvigorating our efforts to protect birds across borders, seabirds and wetland species must stay high on our list of priorities. I'm delighted to note and applaud the three-country, multi-organisation Co-operation Across Borders for Biodiversity project. I wish those involved every success.
Perhaps working together to protect nature across borders can become the 'new normal'.
---
Winter/spring 2021
Winter: the Achilles' season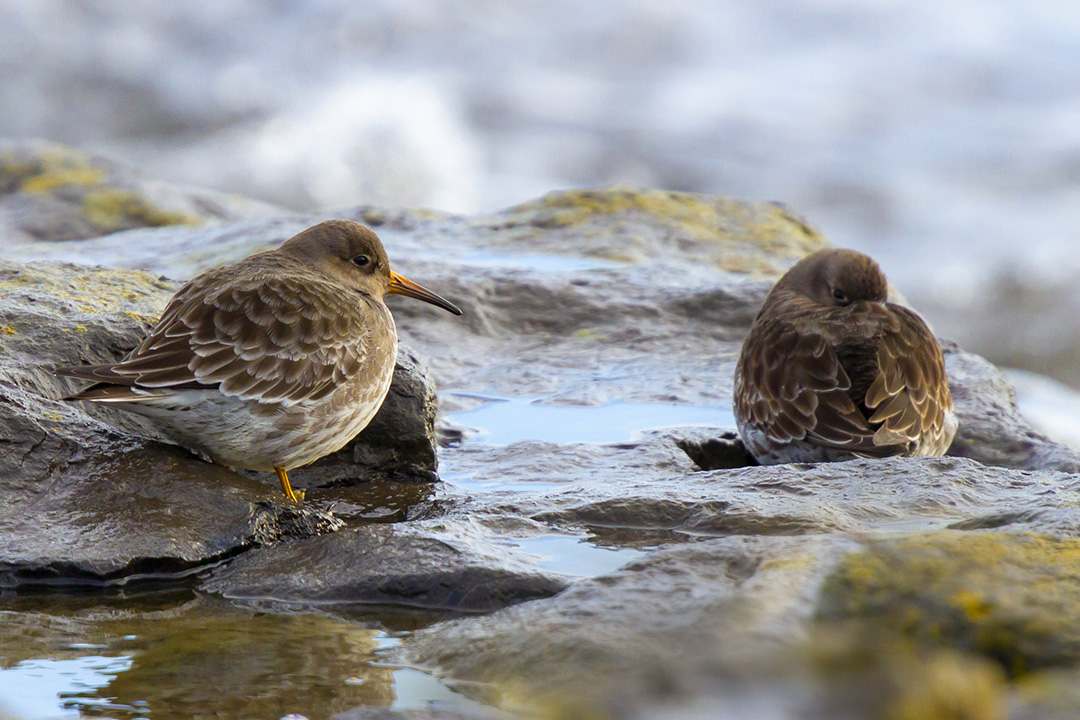 Short daylight hours, poor weather, reduced food and other hardships make winter a tough season for our wild birds – especially young birds straining to survive their first 'hiemal hiatus'.
It's a season of vulnerability, of living on the edge. Why, then, do we compound these challenges by giving wild birds the least protection in law during this harshest of all seasons?
UK and Manx laws protect most species from wilful killing and injury. Schedule 1 provides further protection for selected species (including nests, eggs and dependent young) during the breeding cycle. But what's the point of safeguarding one part of the life cycle, when others are left vulnerable?
There is no 'whole life' continuity of protection for wild birds.
Many species depend on traditional nesting sites. No legal protection is afforded to those sites once the nesting season is over. Neither does the law protect important roosting or foraging sites from destruction or disturbance.
Enforcement of safeguards and by-laws, even within areas designated for wildlife, is woeful. Decision-makers apparently cannot see votes in asking the electorate to behave more sensitively towards nature.
In winter, birds are constantly harassed and stressed while attempting to feed and rest; that is, assuming they are lucky enough to find their foraging and roosting sites intact in the first instance.
It's time wildlife laws and designations were fit for purpose. Protecting the continuity of the life cycle is critical.
Greek legend records what happens when such 'chinks in the armour' are left exposed.
---
Winter 2020
Seeing is not observing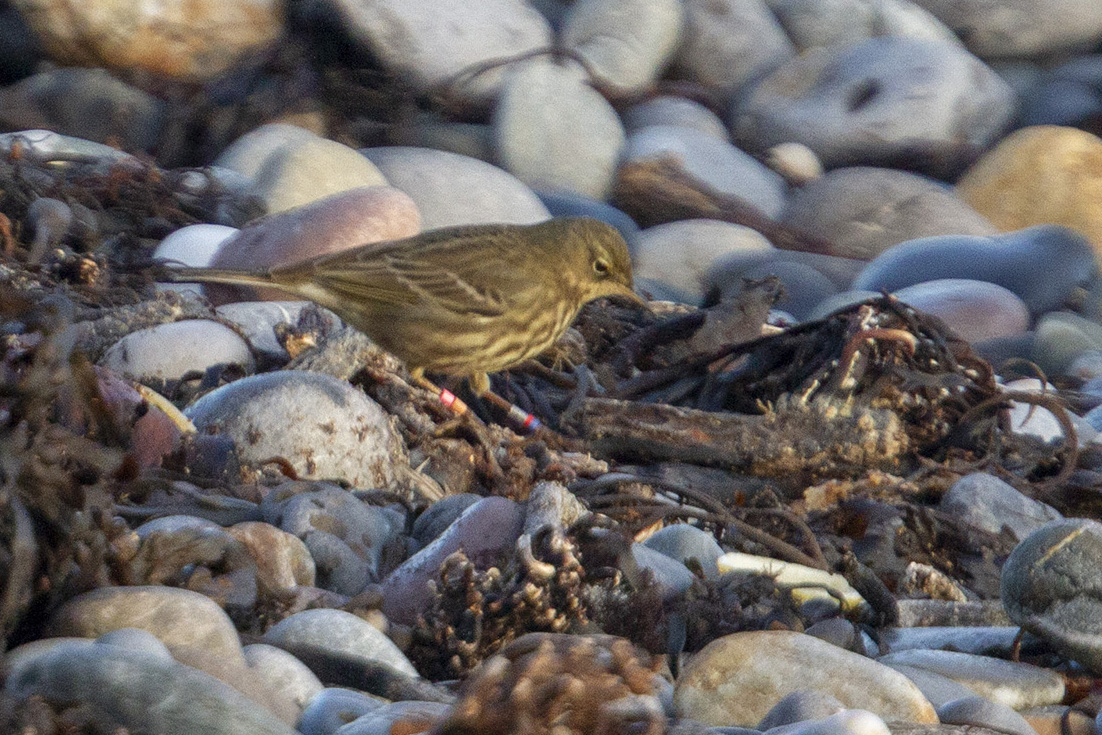 I was recently struck by a conversation I had with Manx ornithology stalwart Chris Sharpe. We were debating how to improve the quality of data that is collected about bird life on the Isle of Man.
In a sense, the starting point is obvious. This challenging Covid year provided many of us with new and extended opportunities to see nature. Record numbers of people on the Isle of Man have shared news of what they've seen – which species, how many and where. Yet in the old education parlance, 'seeing is awareness, observing is understanding'.
Seeing birds is to count, to list, to form memories. Satisfying as this might be, it yields only superficial appreciation of what is going on in the 'bird world'.
Chris would wish each of us to observe and note details such as age, sex, moult, condition and behaviour. Such information enriches our understanding of breeding success, population health and needs. It provides the insights needed to identify species dynamics and trends – on which conservation action is predicated.
The British Isles has possibly the greatest army of birdwatchers anywhere in the world. How might we encourage these foot soldiers of conservation to gain – and share – a deeper understanding of the birds and wildlife they witness?
Next time you go birdwatching, think about this. When you are noting the finches, thrushes, wildfowl and raptors of winter, try to determine how many are young birds, if any are wearing rings, the balance of males and females within a flock, and any notable behaviour.
I'm certain your local bird recorder will appreciate this extra insight. And as the Isle of Man's new National Recorder, I know Chris Sharpe will be itching to learn what you have observed and not simply seen.
---
Autumn 2020
A chance to rethink and reset?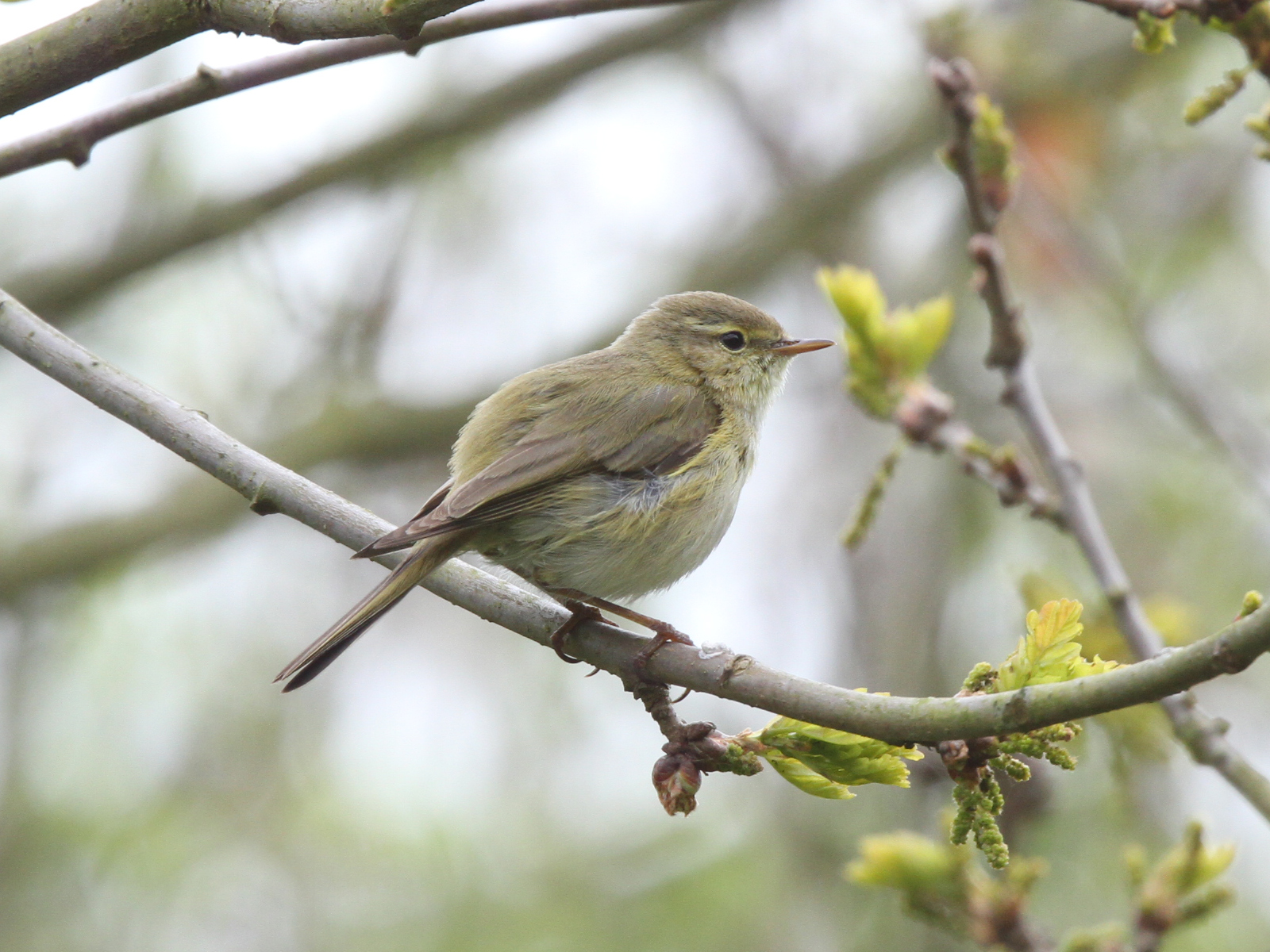 There's been much conjecture about the impact of Covid-19 on our world. Has nature really benefited from the peace and quiet, from less disturbance and pollution?
It is, of course, our indomitable human nature to seek out the positives, no matter how bad the situation.
While my wife's work at the NHS Nightingale hospital in London has been a constant reminder of the very real threat – and tragedy – of this novel pathogen, all I have had to cope with is trying to work efficiently from home; the worst of which has been doing daily battle with the technology messiahs whose customer service feels like the work of the devil.
Moments of techno-impasse have their upsides, too. Time spent sitting on the phone waiting for someone (anyone, please!) to answer (and offer reasons why it's my fault their software doesn't work) is time well spent by a window.
Like Gilbert White of Seldon, I've mused over the Chiffchaffs and Willow Warblers in my garden. Unlike White, I've deployed state-of-the-art insights in an attempt to unearth the Isle of Man's first Iberian Chiffchaff!
In the process of observing more closely, I've relearned the joy of listening to Willow Warbler sub-song and the enigma that is bird behaviour.
 Not all Chiffs dip their tail; not all Willows flick their wings; and some Phylloscs, tired from long journeys, simply sit docile, waiting for food to come to them rather than flitting textbook-like through the foliage.
Alas, no Iberian Chiffchaff; but rediscovering simple pleasures is surely one of the best lessons of the pandemic.
We will have to wait until next year to truly know if nature has profited.
 Meanwhile, we should look to the opportunity to rethink and reset so much of how we live our lives.
---
Summer 2020
A messenger of hope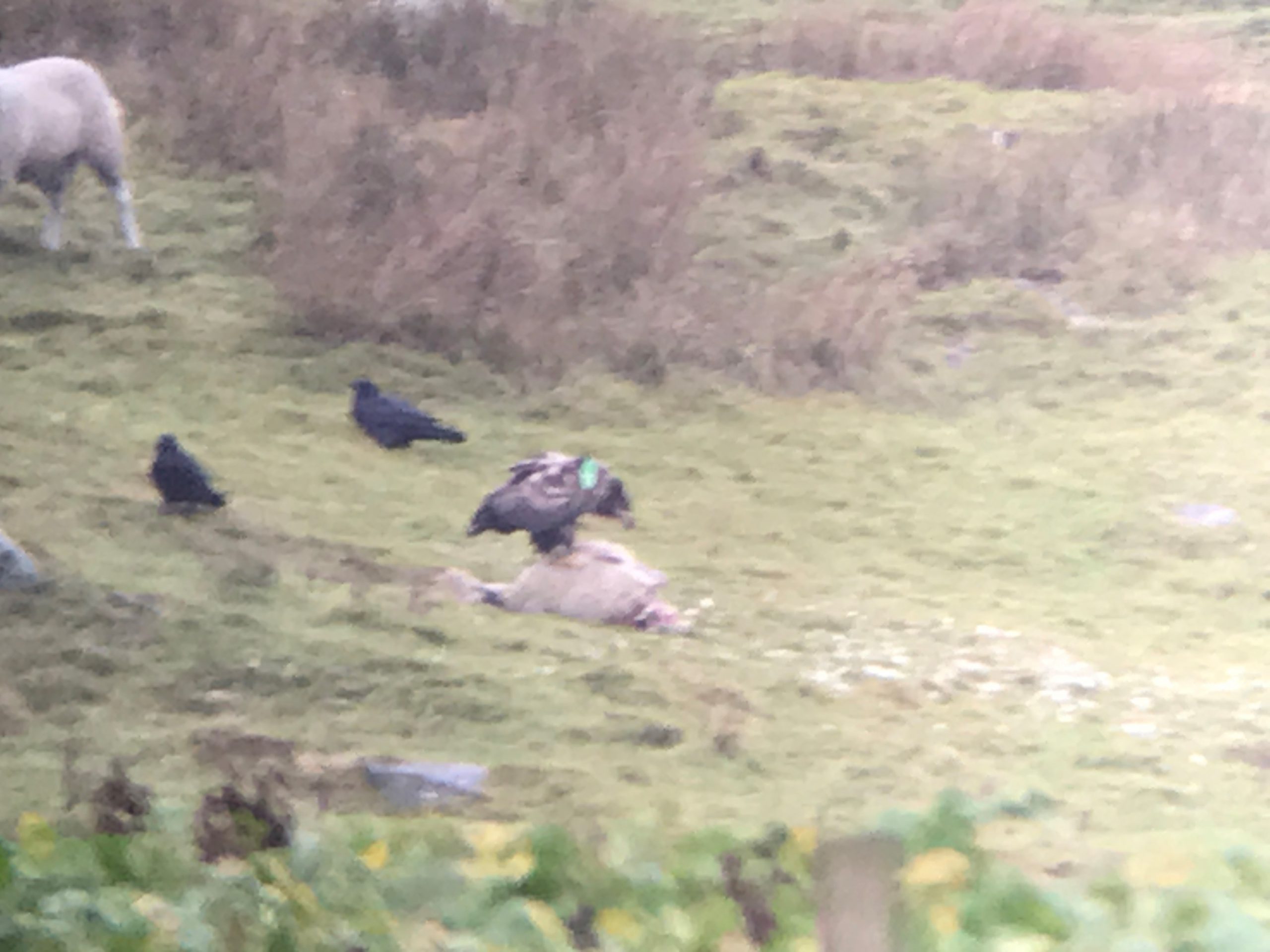 Like many conservationists, I worry about how bleak the outlook for much of our birdlife has become. So it's great to be able to share a conservation 'good news' story.
This year, the Isle of Man was graced by the presence of a young White-tailed Eagle – only the second in two centuries, and the first definite sighting of the species on the Island in 112 years.
Aonghus, as he was named by his attendant Irish research team led by Dr Allan Mee, had left his natal home in Co. Galway to explore Scotland and the north of England. On his way back west – presumably heading home – he discovered the Isle of Man.
Regrettably, the sensitivity of Aonghus's roosting site, plus persistent low cloud, prevented arrangements being made for public viewing on the Island's hilltops where he fed unobtrusively on sheep carrion.
In the first spell of fine weather since his arrival, with blue skies and favourable winds, Aonghus departed. He was spotted by startled islanders heading north out of the central Manx hills towards the Point of Ayre. Satellite data reveals he then crossed the open sea to make landfall on Dumfries & Galloway.
Rather than taking the direct route west from the Isle of Man to Ireland, Aonghus decided on a longer route – but one that involved a much shorter sea crossing. Clearly a case of discretion over valour.
Aonghus's appearance is a happy reminder of the growing success of White-tailed Eagle reintroduction projects across Britain and Ireland. Thanks to these, we have every hope of another visit by one of these magnificent creatures.
Under different circumstances, we hope that this - nature conservation at its very best - will enable many more people to enjoy seeing a once-lost species returning to our skies.
---
Spring 2020
Winter gulls galore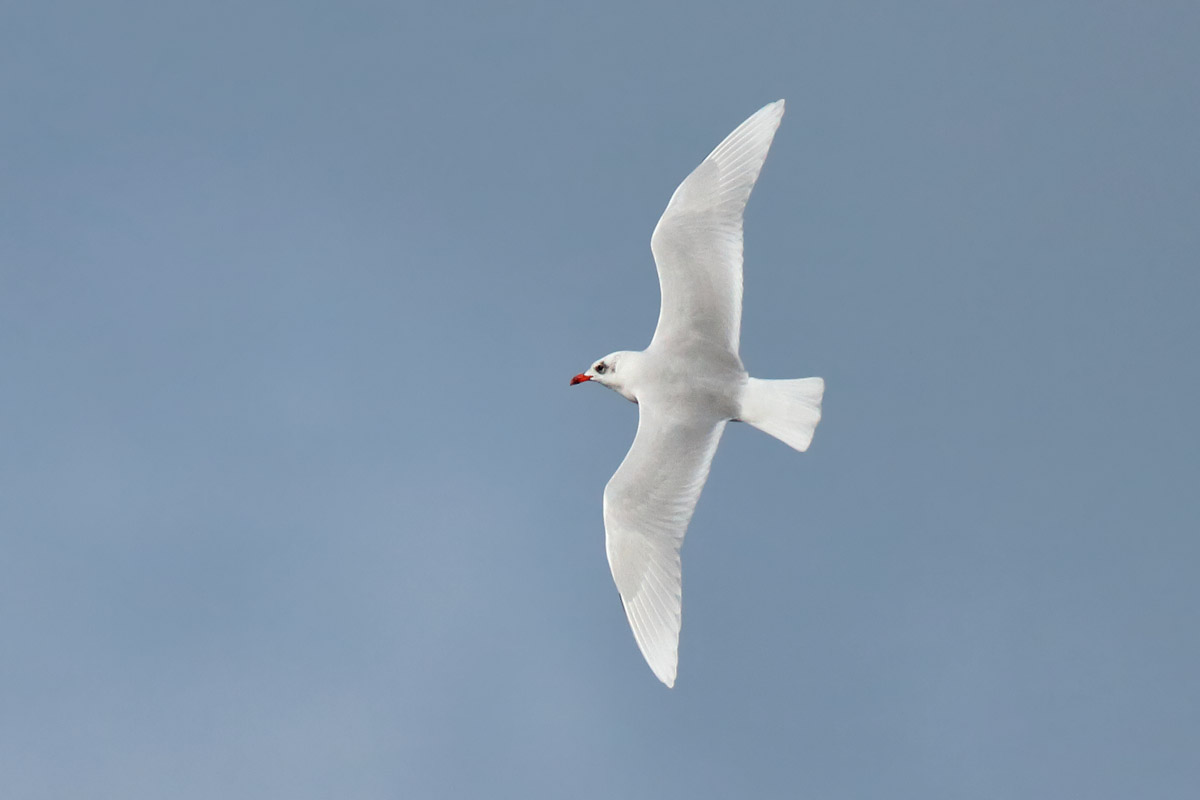 What we do at a young age embeds itself in the psyche forever.
As a teen, I spent cold winter afternoons sifting through rafts of roosting gulls on Ardingly and Weir Wood Reservoirs in Sussex. I learned the different primary patterns of swarthy northern Herring Gulls. There were leucistic birds too, just to add to the challenge.
I vividly remember the excitement of relaying news of Weir Wood's first Mediterranean Gull, and discussing the nuances of 'Faroe' Snipe and Ring-billed Gulls with Mr Shackleton, an affable gentleman whom I looked up to as Weir Wood's doyen of bird scrutineers.
Gulls are one of those 'Marmite' types. Personally, I admire their resourcefulness and tenacity. I find them charismatically cryptic and am still absorbed by the identification challenge they pose.
Today, Peel is the 'larid centre' of the Isle of Man. The sheltered sandy beach has a small sewage outlet that attracts passing gulls, and just beyond Peel Castle is Traie Dullish scallop chute. As the tractor jettisons discards from the scallop processing factory, thousands of gulls gather. It's a magnificent sight, accompanied by the pungency of long-dead shellfish.
I've been lucky enough to find Glaucous, Iceland, Kumlien's and Sabine's Gulls at Peel. And while northern 'Scandie' Herring Gulls have been absent, I have again enjoyed finding snow-white winter Mediterranean Gulls too.
---
Winter 2019
Good things are worth the wait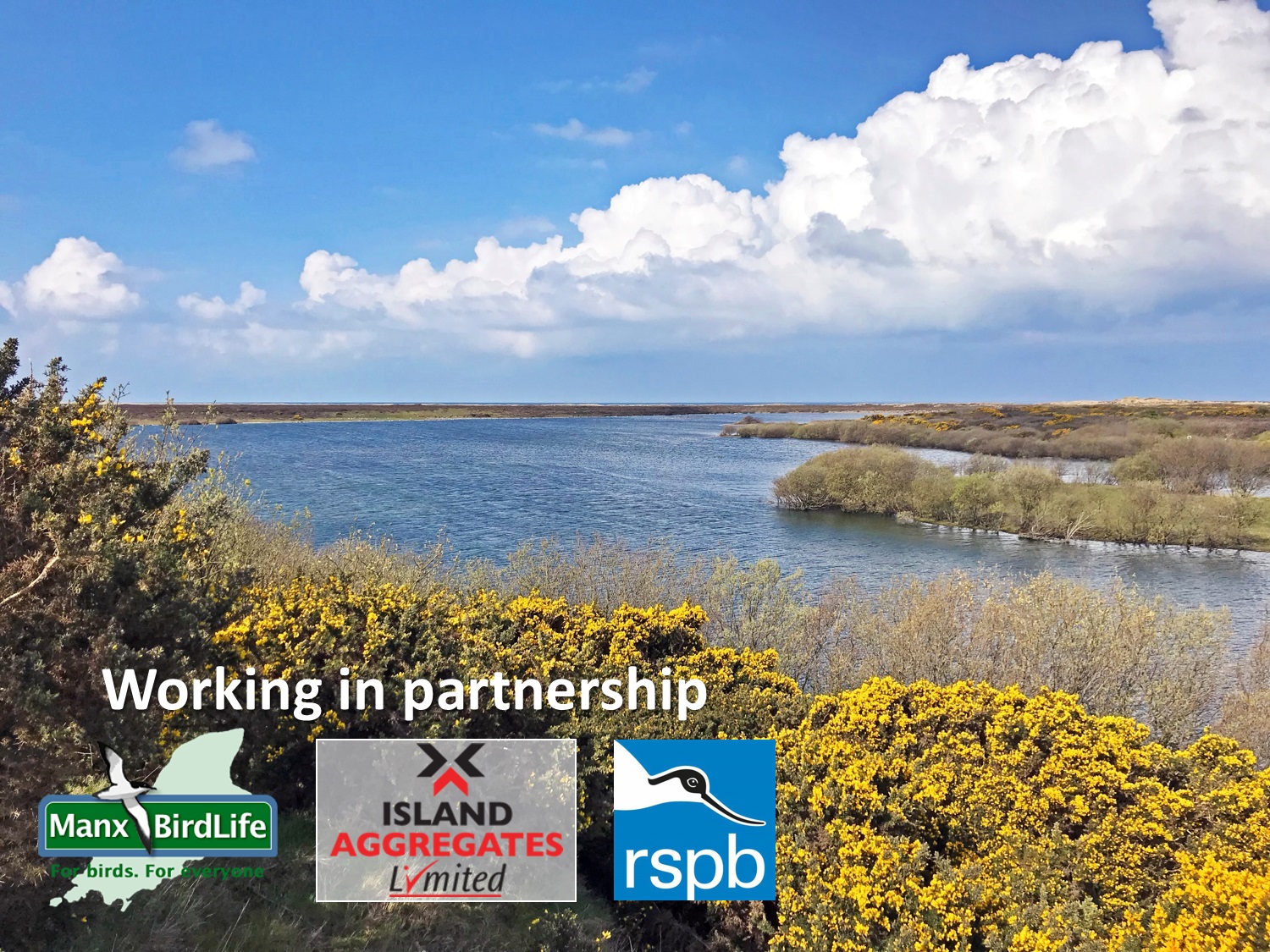 After 20 years of negotiation, Manx BirdLife is creating an exciting new nature reserve at the Isle of Man's famous Point of Ayre.
Restoration of 105 acres of quarried land will yield a complex of freshwater, scrub and heathland habitats. As further land is exhausted of its commercial aggregates, the reserve could grow to more than 450 acres.
It's a project of unique scale and scope for the Island's community. Strategically located at the Island's northernmost point, the reserve will be a magnet for breeding, migrating and wintering species.
Nature is already moving in. Bare gravel is being reclaimed by carpets of flowers and attendant pollinators. Nutrient-poor waters are acquiring organic communities.
Birds have been quick to spot the opportunity, too. Such is the potential that already 178 species have been recorded – over half the entire Manx avifauna.
Two species that have never before nested in the Isle of Man – Gadwall and Red-breasted Merganser – have bred.
Its proximity to the magnificent Ayres coast brings Hen Harriers, Choughs and Merlins as well as Whooper Swans, waders, Goosanders, Goldeneyes, divers and more. Five gull species nest on the shingle islands and the shallows fill with summering and migrant waders and wildfowl.
The project has been made possible by Island Aggregates, part of Belfast's Northstone Materials division of building materials firm CRH. Together, our goal is to build a centre of excellence for nature conservation and education.
There's much work to be done, not least raising £420,000 to set up and run the reserve.
I hope you won't have to wait too long before visiting for yourself. You can find out more at manxbirdlife.im/point-of-ayre.
---
Autumn 2019
Quantum migration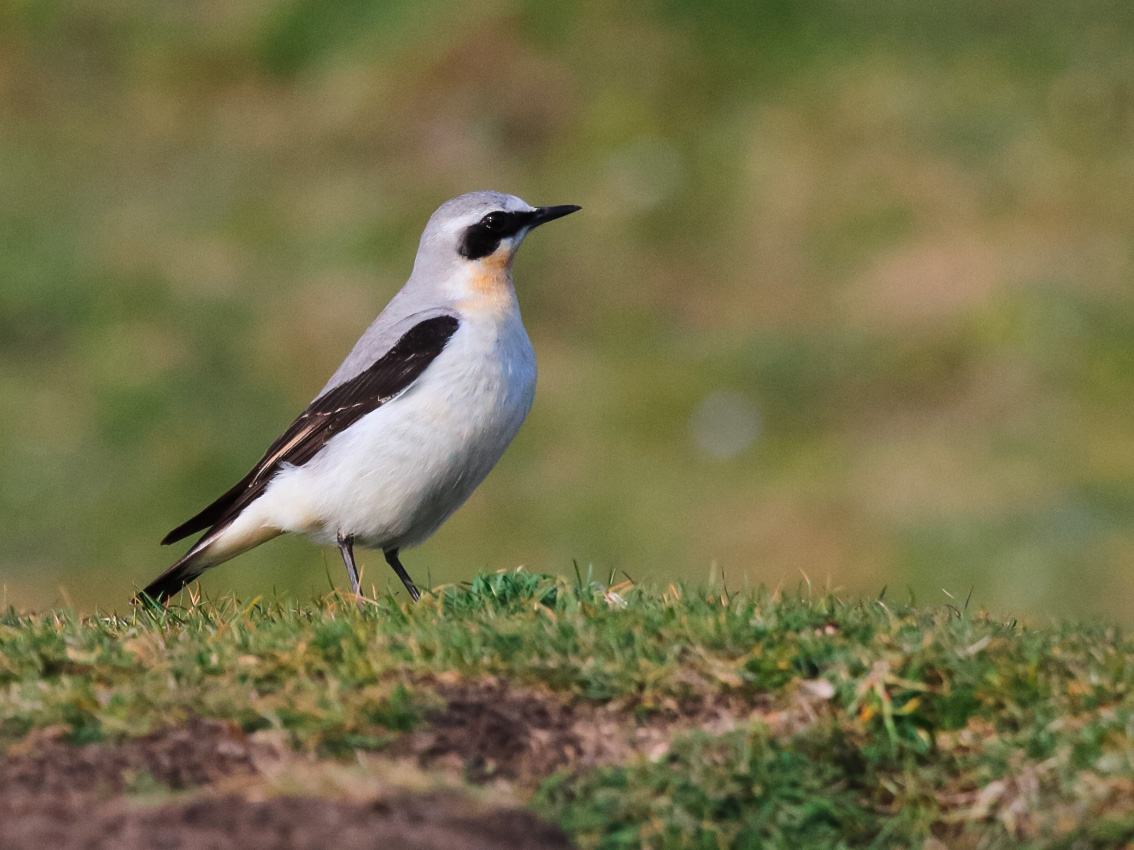 The return of our wading birds, the build-up of starling flocks in the meadows and the departure of our seabirds from the cliffs herald the onset of autumn – and that magical phenomenon, migration.
One of the pleasures of my role is meeting people across the Isle of Man to discuss the joy of nature (and debate the imperatives for its conservation). Migration is a theme that frequently arises and always inspires.
Of 332 bird species recorded on the Island, 255 species are migrants: 31 summer visitors, 43 winter visitors, 35 passage migrants and 146 vagrants.
These birds have amazing tales, from the global travels of Arctic Terns and the intercontinental journeys of Wheatears, to the social bonds of journeying Pale-bellied Brent Geese.
Modern science is revealing some of the best stories yet. As well as yielding novel research technologies, it is implicating esoteric theories in, for example, bird behaviour and survival.
For example, Quantum Entanglement (QE) – a result arising from Einstein's famous theories, that says that entangled particles remain connected so that actions performed on one will instantaneously affect the other, even when separated by great distances. Whether or not this effect actually existed, or was just an oversight in Einstein's calculations was the subject of a thirty-year debate between the great man and another eminent physicist, Niels Bohr.
Now, thanks to modern science, we know it does! Moreover, assisted by a mysterious protein called cryptochrome (found only in the right eye of birds), QE seems to be a crucial mechanism in bird navigation.
Our appreciation of the distances birds travel to be with us grows. And when you consider that some species and their offspring will navigate through or over more than 60 nations during their annual return migrations, it brings a whole new meaning to the expression "our birds".
---
Summer 2019
Spring (over)shoots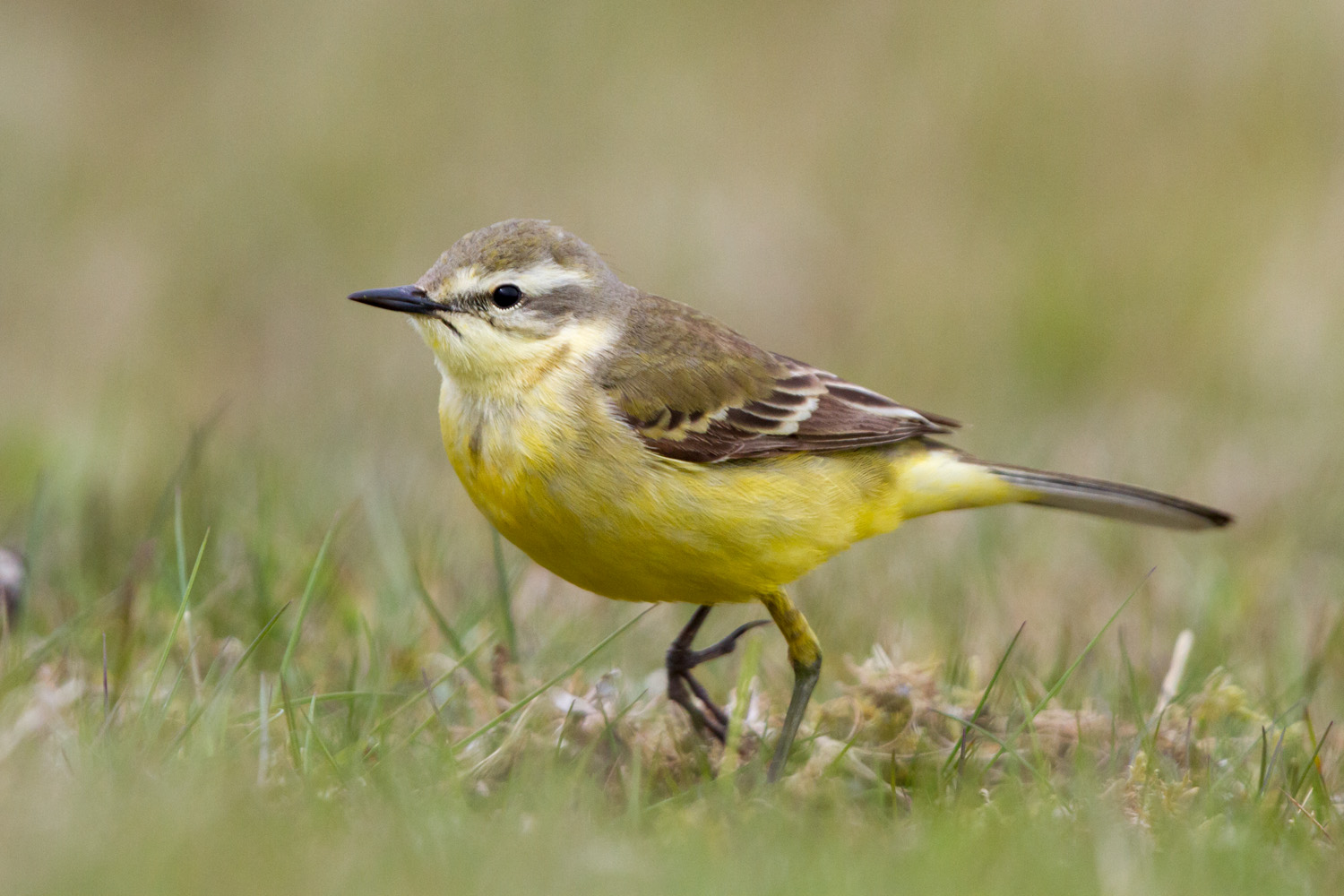 I recently attended an excellent presentation by Aron Sapsford, Ornithological Warden of the Calf of Man Bird Observatory.
Aron's charts, compiled from five decades of ringing records and observations, neatly showed that the six weeks of late April and May provide the best opportunity of the year to find scarce and rare birds in the Isle of Man.
Of course, ornithology isn't just about rare birds. Yet they are a reminder of the extraordinary journeys wild birds undertake to reach their nesting grounds each summer – and that not every bird is the perfect navigator.
In spring, when a bird's navigation system fails it can mean disaster – overshooting the breeding grounds, veering off course, or worse.
This was the case with a blue-headed type wagtail I found at the Point of Ayre during Aron's "rarity window" in the middle of May last year. The nearest breeding population of Blue-headed Wagtail is in continental Europe. It's certainly a rare bird on the Island (as sadly is its UK counterpart, the Yellow Wagtail). This was most likely an example of an inexperienced young bird overshooting while making its first spring migration.
Such navigation errors are not always disastrous. There can be evolutionary advantage to wandering, whether instinctively or inadvertently, enabling species to exploit new areas. Examples include Little Egrets – a recent UK colonist and surely an imminent new breeding species for the Isle of Man – and the wandering flocks of Cattle Egret and Glossy Ibis that now appear to be following suit.
Perhaps "my" wagtail found its way back to its breeding grounds. Perhaps it didn't. Understanding the losses and opportunities that migration creates certainly puts a broader perspective on watching the common, scarce and rare birds that spring, once again, will bring.
---
Spring 2019
Patiently waiting for twite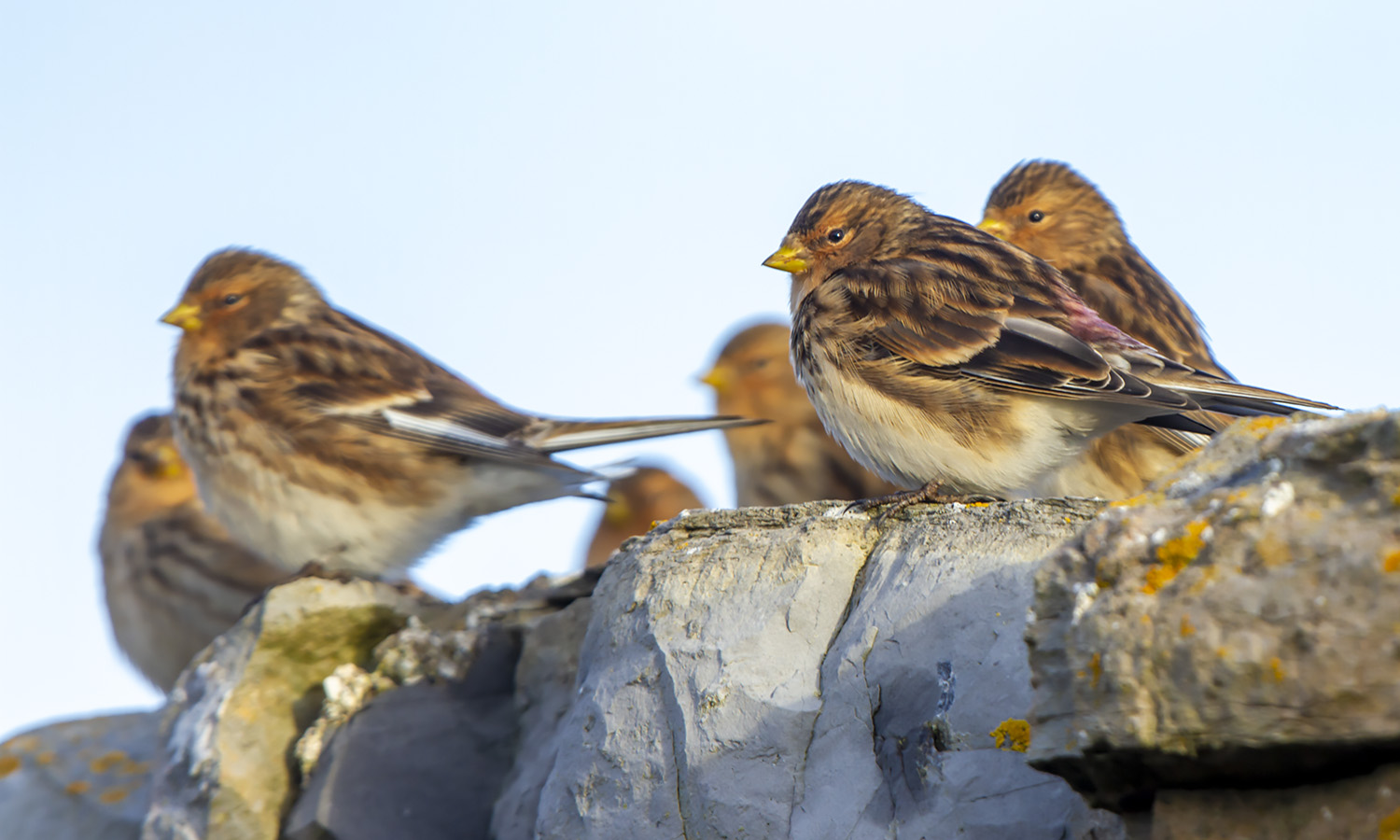 With the hustle and bustle of the tourist season over, the Isle of Man is a calmer place where both birds and birders can find quiet refuge. It offers intimacy and exclusivity to the winter birdwatcher.
Though there will always be hardy souls walking the coast in any weather, the sight of even two optics-wielding birders chatting together "trading the gen" can be considered a crowd.
My typical winter jaunt takes me across the fields by our house where Peregrines, Merlins, Hen Harriers and Buzzards hunt. Their regular forays upset the gathered Greylags and gulls, which rise up noisily in protest. Mixed flocks of Linnet, Reed Bunting and Meadow Pipit join the aerial melee, unlike Redwings and Fieldfares which dramatically stoop for cover in the hedgerows, loudly clucking their ire.
The fields give way to a kelp-strewn rocky shore. Teal and Wigeon wistfully take advantage of the freshwater that trickles over black rock ledges, creating carpets of nutritious green algae. Where sweet water gives way to salt, groups of Eider dive in their constant quest for molluscs.
Surprisingly, Eiders were first recorded around the Island in 1928 but it wasn't until 1992 that the species first bred. Now common in both summer and winter, this is a welcome natural colonist. Though always wary, Eiders betray a curiosity that brings them towards the quiet observer perched patiently on the rocks.
Along the coast, as the winter tide rises, Curlew and Oystercatcher assemble in cacophonous roosting flocks. Turnstone, Redshank and Golden Plover jostle amongst them. With luck, a Bar-tailed Godwit, Knot or resting Merganser will be found.
And with patience and stealth, a small flock of that most enigmatic and crowd averse of finches, the Twite, might just settle to feed on the ground in front of me.
---
Winter 2018
All change as winter dawns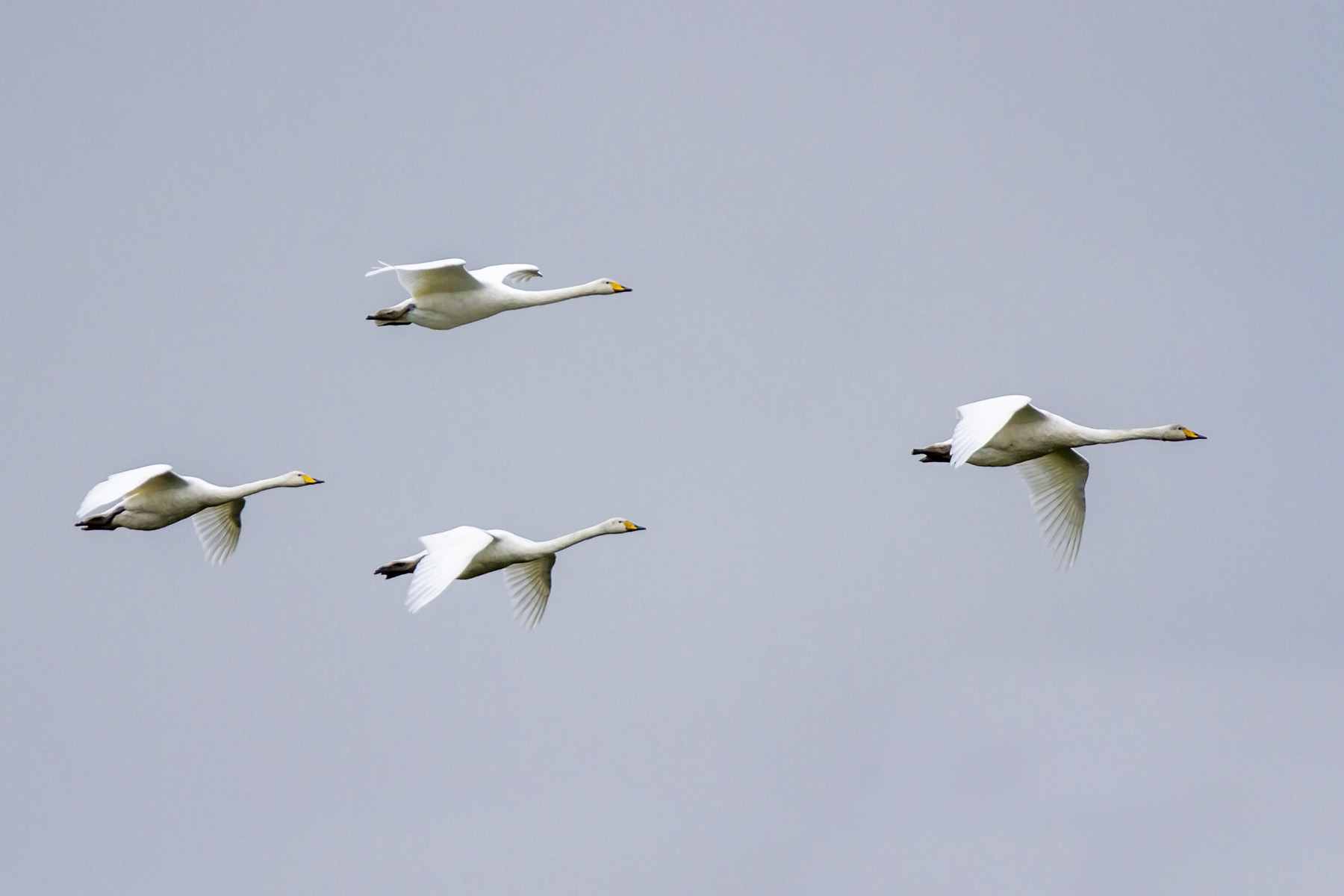 Late October sees the birdwatching impetus shift from eking out autumn's last migrants to welcoming winter's first cold weather refugees.
Late-lingering Wheatears and Swallows finally depart for another year. Vagrant Yellow-browed Warblers put in typically fleeting appearances.
It's an interesting quirk of islands that rarities can turn up along any part of the coast, even inland. There are few migration 'concentration points', though one place where such fare can routinely be enjoyed is the Calf of Man. It's a tricky islet to reach at this time of year and from which it's even harder to guarantee a timely departure!
Small shallow harbours and a lively swell make landing the Calf difficult. Many an autumn rarity has been enjoyed by just a few lucky staff who've stayed in post until the bird observatory closes at the end of the season in November.
It's hard not to feel pangs of jealousy when staring out from the main Island across the Sound towards the Calf – musing about the rarities that funnel unseen towards the islet.
Such thoughts are quickly suspended by trains of gleaming white adult and mottled brown immature Gannets streaming past the headland and through the Sound. Red-throated and Great Northern Divers follow on behind, flying surprisingly high in the sky rather than skimming low over the water. They are clearly in migration mode.
Whooper Swans often appear. Flocks hesitate as they reach the Sound. Having flown south over the Island, they are deciding whether or not to continue across the open sea. Some do, heading on towards wintering grounds in Wales or Ireland. Others turn back inland. Perhaps they'll rest up for the day before continuing southward, or maybe they'll overwinter on the Island.
It's a great time of year to be birding. Living on an island seems to amplify the comings and goings brought by the changing seasons.
Autumn 2018
Heralds of an earlier autumn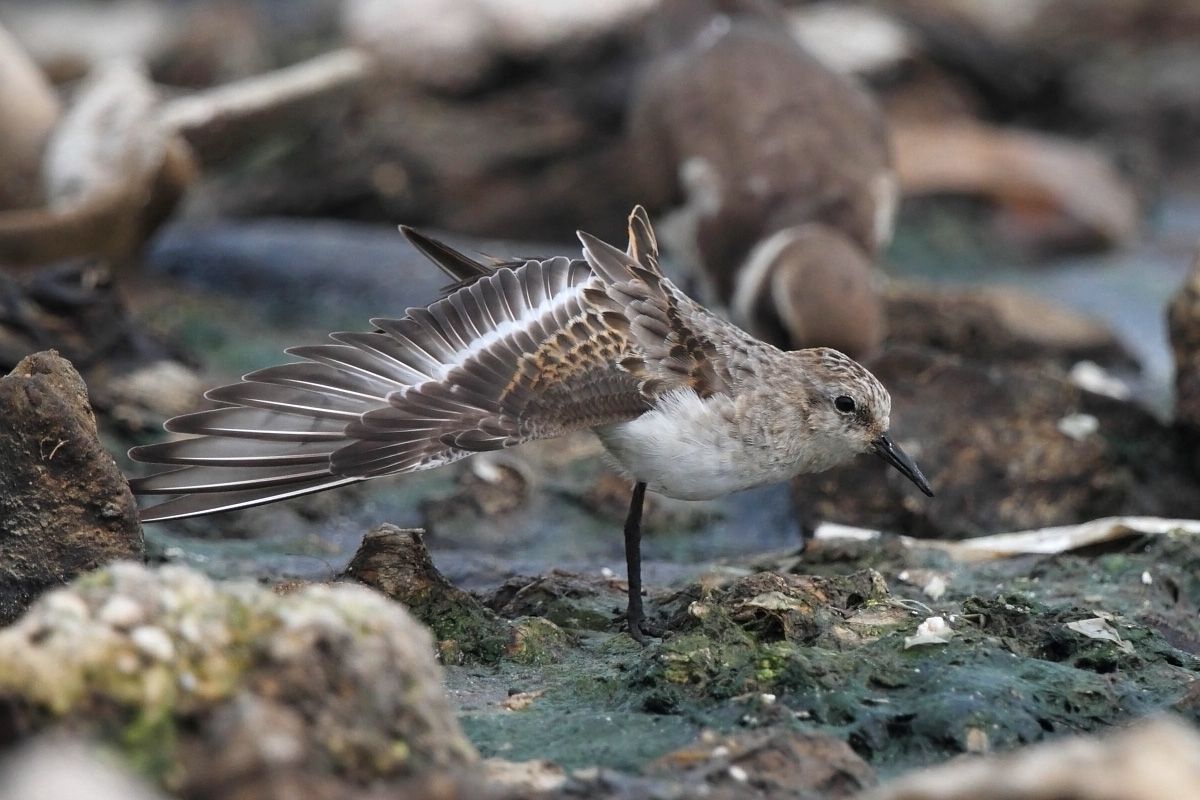 It's a peculiar paradox. Summer's warm breezes seem to arrive later each year, while autumn comes knocking just that little bit sooner.
We've only just completed the regular round of breeding surveys, yet the birds are already showing tell-tale signs of autumn.
By mid-July (it used to be early August when I was young), Willow Warblers and Chiffchaffs appear in gardens and parks as they begin their southward autumnal drift. Families of Stonechats move away from their nesting areas, joining large mixed flocks of adult and juvenile Starlings scouring coastal fields and strandlines.
Birdsong has stopped save for a few late breeders still on territory. Having become reacquainted with the sound of summer song these past weeks, now is the time to focus on bird calls.
Chiffchaffs betray their presence with upward-inflected double-whistles, while Willow Warblers offer a single mournful weep. Recognising these calls saves time peering into bushes at "little green jobs" trying to decipher leg colours and primary projections!
Autumn also sees the reappearance of wading birds on our estuaries and coastal lagoons. Careful searching reveals bedraggled adults in worn summer garb and smart juveniles in crisp post-fledgling plumage. Dunlin, Knot and Ringed Plover arrive in good numbers, along with a few Greenshank and Sanderling. If we're lucky, a Wood Sandpiper, Curlew Sandpiper or Little Stint will put in an appearance.
For gull aficionados, juveniles provide a test of identification skills. Distinguishing young Herring, Common, Lesser and Great Black-backed Gulls requires patience – but is well worth the reward of finally "working them out". Among the Black-headed Gulls there's a chance of finding the exotically-named Mediterranean Gull.
Take advantage of autumn's earlier arrival and enjoy the bristling flux of birds and wildlife.
---
Summer 2018
Summer in the uplands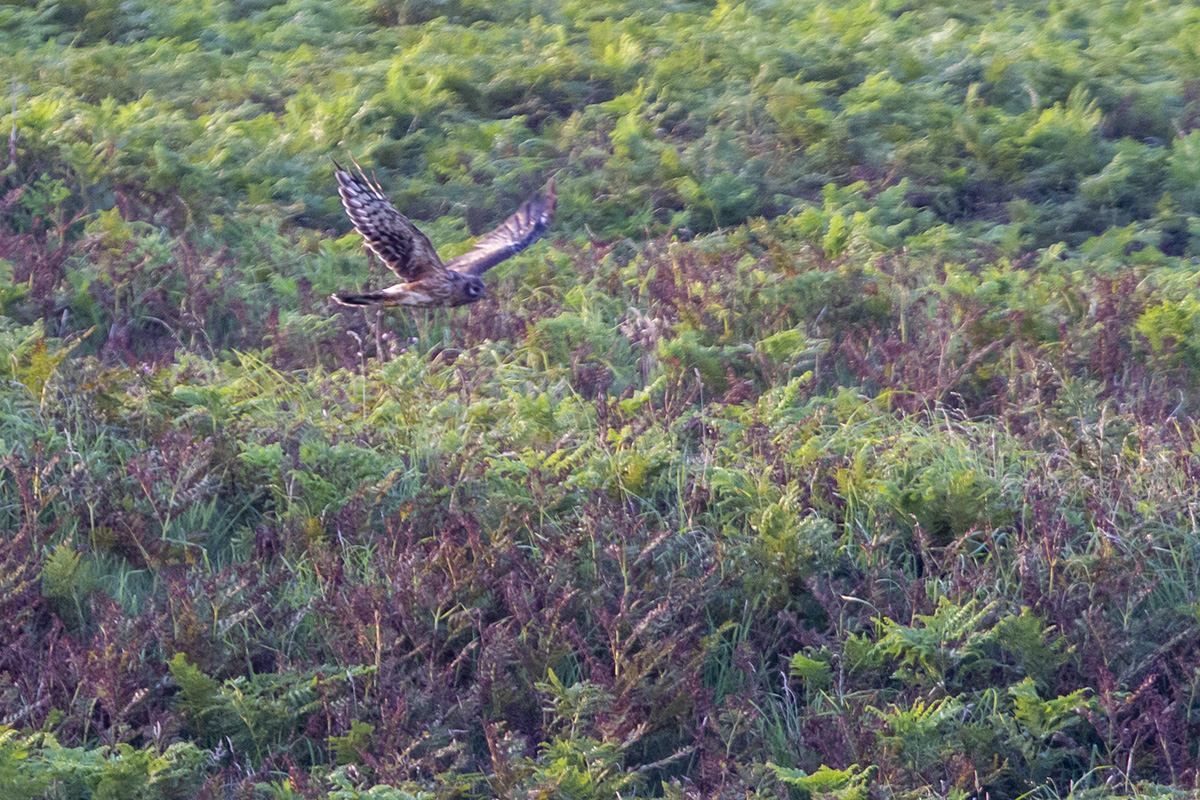 As another breeding season starts, the last flush of Icelandic migrants leave the Island. White Wagtails and Whimbrels rejoin their northward migration.
Accompanying them are Wheatears. A few of the smaller, more warmly-coloured wheatears will take up summer residence in the Isle of Man's uplands alongside parachuting meadow pipits and sky-dancing Hen Harriers; others will continue on to Scotland.
Meanwhile, the bigger, more boldly-plumaged Wheatears are among the latest migrants to appear on the Island and also the quickest to leave again; they are in a hurry to get to Greenland and perhaps even north-east Canada to make the most of the Arctic's narrow summer window.
With our uplands bristling with life once more after winter's recess, Cuckoos take up a brief summer residence. A bit of an upland speciality, furtive and never staying long in one place, they scour hillside carpets of gorse and heather for their favourite brood host, the Meadow Pipit.
Hen Harriers will be hunkered down incubating eggs. Though they are blessed with little or no persecution on the Island, sadly there is disturbance, often in the form of two wheels. Summer is bike season. The famous TT (Tourist Trophy) races draw in 40,000 visitors and 14,000 motorcycles. They can be heard from across the island, and a few stray off designated greenway tracks onto moorland causing incubating or brooding harriers to scramble off their nests. More effort is needed to make visitors aware of the damage - and illegality - of such reckless behaviour.
A summer's day on the Island can be pulsating and blissfully relaxing. Bike races offer brilliant, noisy, adrenaline-pumped entertainment. Yet it takes only a short stretch of the legs to get from the mountain race course to calm valleys and hills ringing to the sound of birds.
---
Spring 2018
A goose called Elle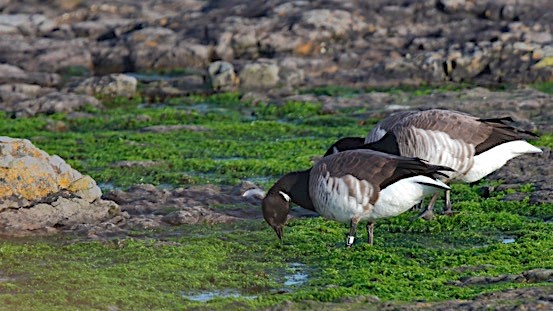 The Isle of Man is not a place to satisfy the fidgety rarity hunter. It's somewhere to enjoy the scenery and reacquaint oneself with the more common species.
Rarely do we get large flocks of wild geese and ducks. The scope for "grilling" flocks of winter wildfowl for errant rare waifs – such as Snow and Bean Goose – is limited. But this is to miss the point. The best discoveries often await us amongst the species we most take for granted.
In recent years, numbers of Pale-bellied Brent Geese on the Island have been increasing. A hundred or more now make their winter home here, and there is a turnover of family parties migrating to and from the species' main winter range in Ireland.
Last February, I spotted a party of three brents: adults and a youngster. One adult bore a white plastic ring with the letter "L". Originally there would have been two identifying rings. Yet Graham McElwaine of the Irish Brent Goose Research Group was confident this was a 17-year-old female from the High Arctic breeding population in Canada.
From now on, this goose would be fondly known as "Elle", mother and wife to her family group.
At the last RSPB NI Members' Day, I retold the finding of Elle to Kendrew Colhoun, RSPB Senior Conservation Scientist. It was probably Kendrew who put the ring on Elle! After the conference, Kendrew took me to Strangford Lough and delighted in showing me his research subjects: 15,000 Pale-bellied Brent Geese. I, too, revelled in the sight of so many geese. And I pondered whether Elle was out there somewhere in the melee.
I have yet to relocate Elle among the flocks that visit the Isle of Man. But I know that re-finding her, and her partner and offspring of the year, will bring as much pleasure as any rarity I might stumble across.
---
Winter 2017
Winter – a time for reflection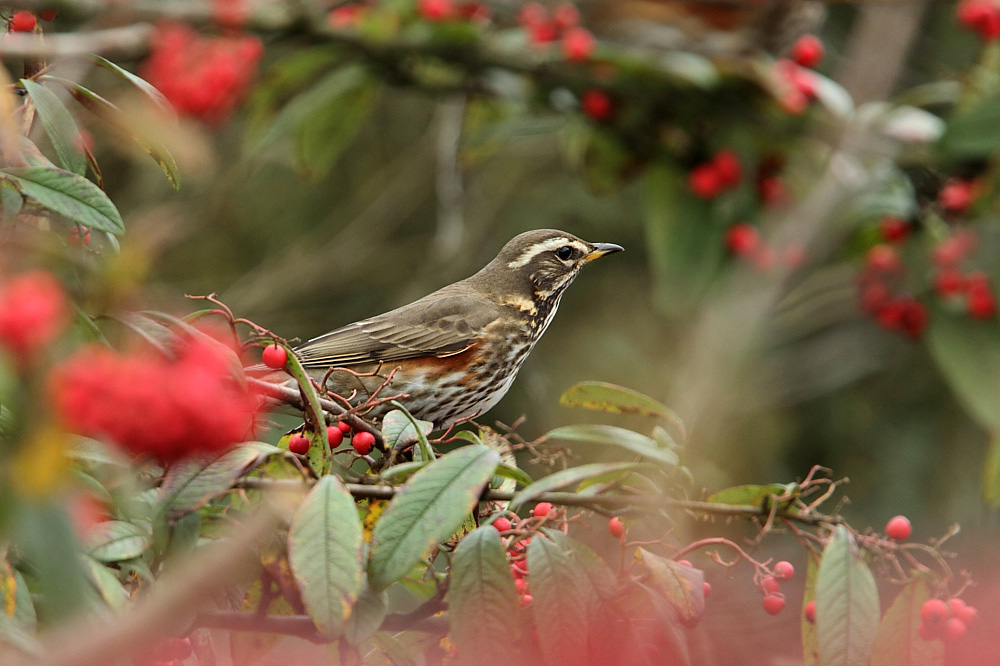 For many, winter is the 'Marmite season' – to be loved or hated.
While some folk take to snowy ski slopes in glee, others will seek comfort indoors cosied away from the damp winter chill.
I love those blue-skied winter days that bring roving flocks of winter thrushes to the hedgerows, white-winged Arctic gulls and lithe divers to the coasts, and bobbing waterfowl to inland waters.
But it's those long, unwanted spells of high wind, lashing rain and gloom of winter's other cloak that makes me ambivalent towards the season.
We certainly seem to get our fair share of wind during the Manx winter. Such 'unbirdable' days mean winter is also a time for reflection (and sorting photographs), for recalling the colour of the breeding season just passed; or the excitement of autumn migration and the far-travelling exotic sprites it rained down on us.
Sadly, and too often these days, it's a time for reflecting on species that again will not feature in the 'year list' – birds that our surveys could not locate in their traditional residences or which failed to return for the summer season. The Isle of Man is facing a crisis with its ground-nesting and feeding-bird populations.
All the familiar factors are to blame. Yet looking back on last summer, I recall the pleasure of surveying a few farms where efforts to help such species were bringing early rewards.
This winter I hope to revisit these 'microcosms of stewardship' to discover how the seed stock left in the ground is helping these birds. How it would help the cause to be able to showcase the success of these private endeavours in the hope of inspiring other landowners towards better wildlife stewardship!
Of course, finding the finches, larks – and just maybe, the Yellowhammers – that stand to benefit will require some calm, blue-skied birdwatching-friendly days in-between the frigid squalls this winter!
---
Autumn 2017
My bird life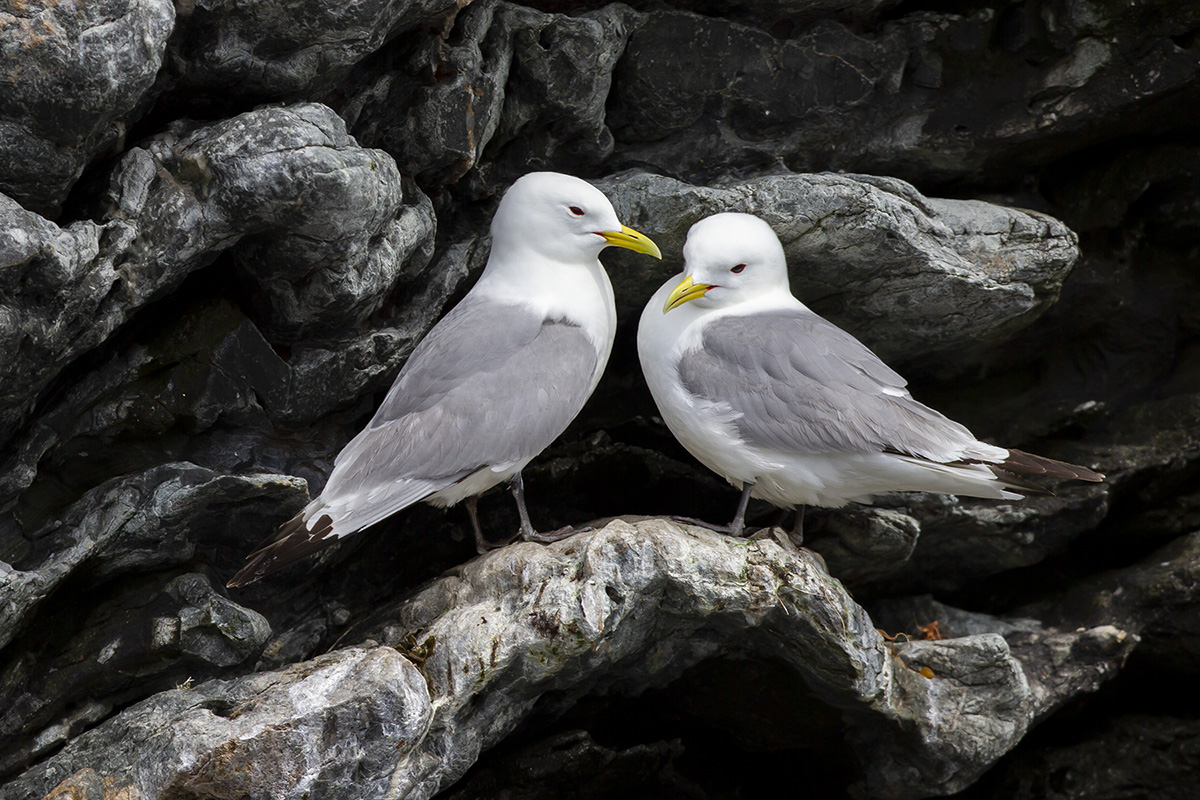 As summer begins to give way to autumn, the seabird 'cities' around our Island are starting to fall silent.
On the cliffs, just a few late-hatched Guillemots and Razorbills remain. It's touch-and-go whether they'll make it out to sea and survive the autumn, let alone the rigours of winter. Kittiwakes and their offspring will linger rather longer into early autumn, becoming more and more challenging to spot on the white-splattered ledges as their numbers thin.
In the fields above the cliffs, the scene is very different. Curlew numbers are starting to build. Some will remain on the Island while others will head south and west to winter in milder climes. Families of Chough  forage noisily on the turf. At this time of year cattle dung is a surprisingly important source of insectivorous food for young Chough, offering relatively easy pickings.
A noticeable feature of the Manx late summer and autumn is the influx of Icelandic White Wagtails and Meadow Pipits. Proving the identification of White Wagtails at this time of year is challenging but there's something clean and clinical about the plumage of a White Wagtail compared to the drab and smudged tones of a Pied.
In a typical year, the Calf of Man Bird Observatory rings more Grey Wagtails than any other British Isles observatory. Presumably these are Scottish breeders heading south. For me, the adult male Grey Wagtail is one of our brightest and most handsome birds with its striking yellow plumage; but despite a lot of ideal-looking water courses, the species is a surprisingly scarce resident on the Island.
Summer is truly at an end once the Hen Harriers descend from the hills to quarter the coastal strip. Joined by migrant Short-eared Owls and Merlins, the lowlands become a perilous retreat for resident and migrant passerines.
But, as is always the way, just as some habitats fall silent others start to throng. Duck, geese and swans will soon be arriving in the wetlands, heralding winter's long, dark cloak.
---
Summer 2017
Skydancers soar high on the Isle of Man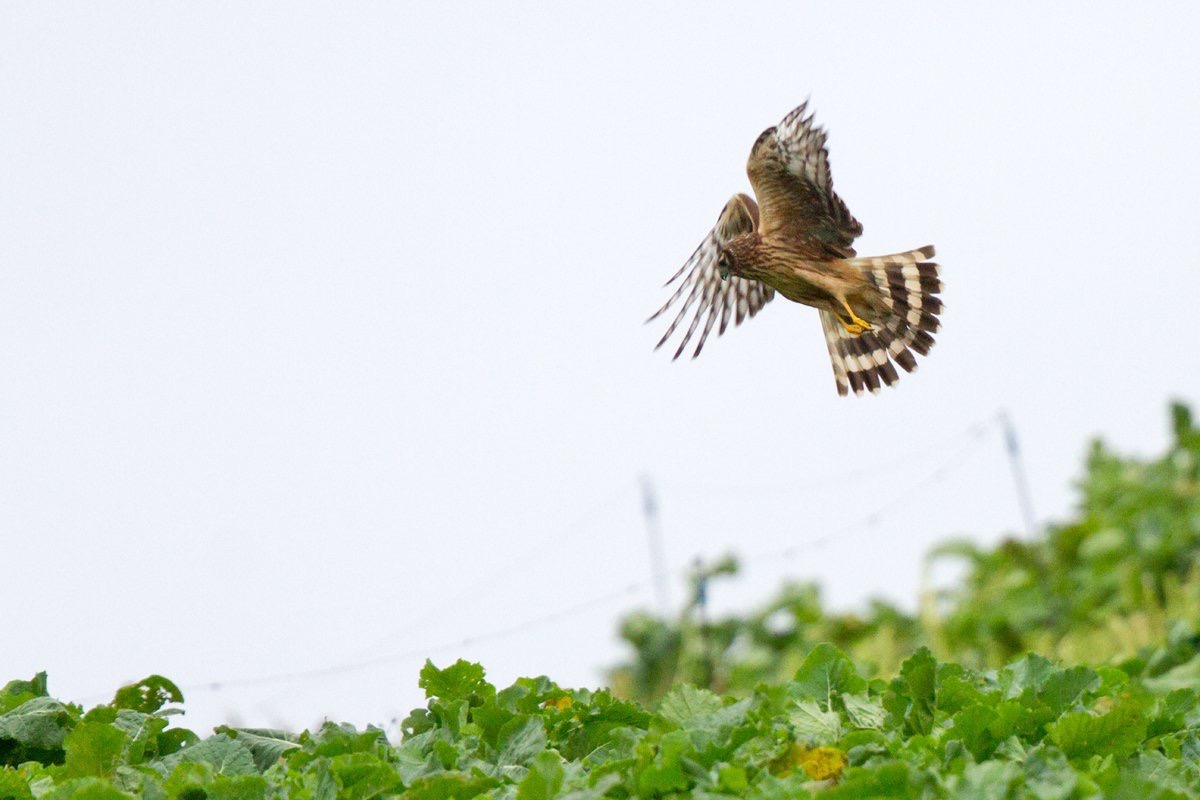 A vital part of Manx BirdLife's work is to ensure that the Island's community recognises the value of its natural heritage.
Without doubt, our Hen Harrier population is one of our finest jewels.
As well as participating in the RSPB's Hen Harrier breeding census, the Isle of Man undertakes comprehensive winter roost counts. The great success of these counts is down to Louise Samson from the Department of Environment, Food and Agriculture and her band of volunteers. Several times each winter, they give up the warm comfort of the indoors to sit in wild remote locations under the dying light of the winter sun (or more usually, under a cold wet blanket of grey clouds) to count these wonderful birds into roost.
Brown ringtails arrive first, with grey males arriving later. Most birds arrive on their own, sometimes with full crops holding prey to digest overnight. A typical island-wide winter count will be between 30 and 60 birds.
Last winter, I was privileged to watch a dozen harriers fly into roost at a location near my home. On one occasion, the usual stealth and silence of arriving birds was broken by the loud shrill chattering of a group of four birds arriving together. After some aerial jostling and noisy exchanges, they headed to their individual roosting platforms – small, bare areas of ground hidden within heather and gorse – where they settle out of the wind and out of sight for the night. Perhaps this was a family group deciding whether mum, dad or one of the siblings should have the best platform. A tight blanket of heather and spiky gorse keeps them safe overnight from all but the most determined predators.
Late one afternoon, I watched a female harrier hovering above a field of brassica. Her persistence paid off as a flock of Fieldfare shot out of cover and one unlucky laggard was grasped mid-escape. With this, she flew off out of sight, perhaps to swallow the unfortunate thrush into her crop and head to the safety of her roost site where she could digest her evening meal.
Living on the Island offers constant reminders of what a privilege it is to share the company of so many Hen Harriers – and a stark example of the delights that our natural heritage, if looked after, can offer us.
---
Spring 2017
The sights and sounds of Mann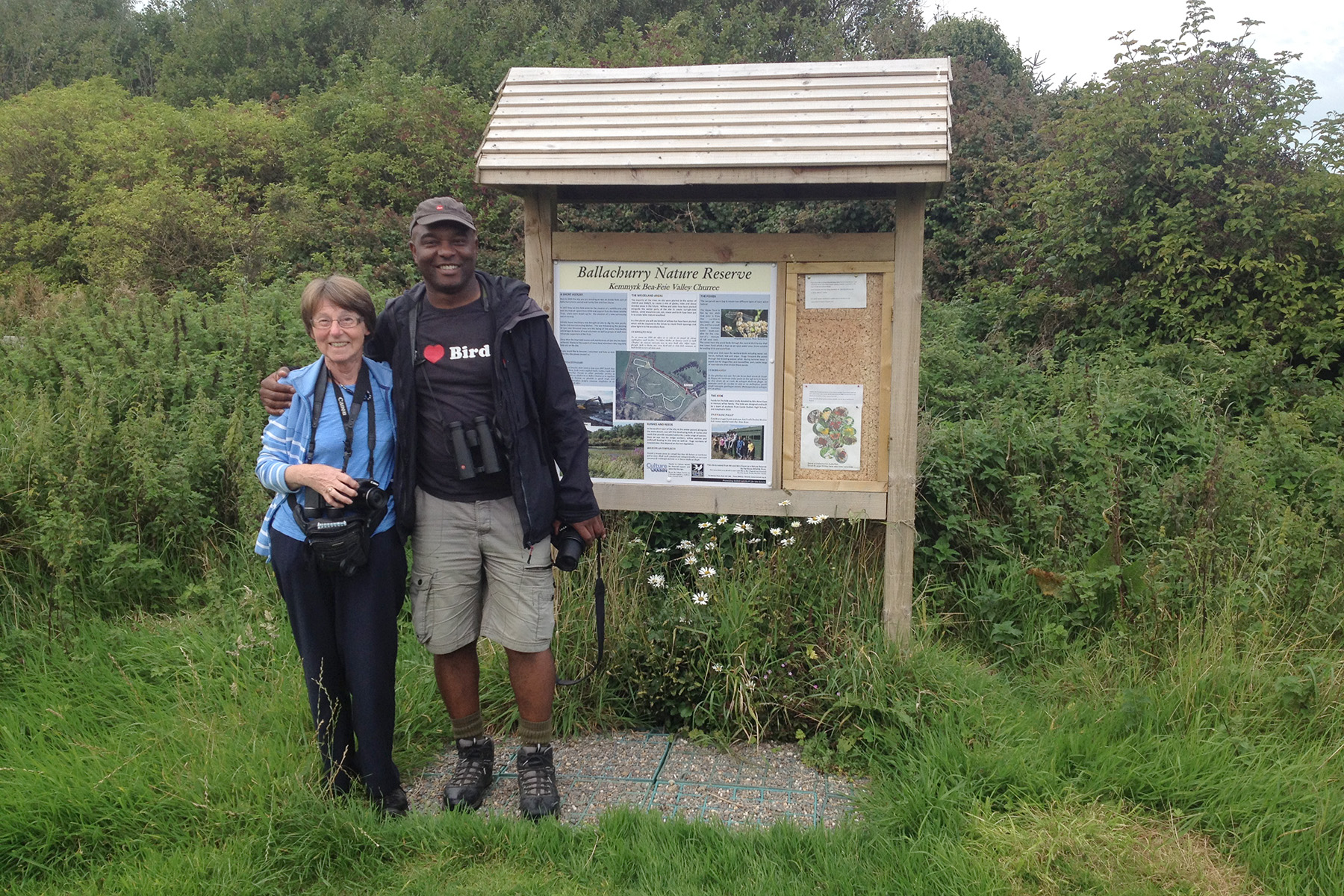 I recently had the privilege of sharing some of the sights and sounds of the Isle of Man with a number of special visitors.
David Lindo and Helen Lennard of BBC Radio 4's Open Country brought with them blue skies and a welcome drop in the wind. So with calm seas, what more atmospheric place from which to record a radio programme than the enigmatic Calf of Man? This difficult-to-access, square mile of rock hosts a famous bird observatory and breeding colonies of the eponymous shearwater.
David and Helen recorded the wardens ringing the morning's catch, accompanied by a cacophony of Chough echoing from the surrounding fields.
Following hot on their heels were the RSPB's very own Joanne Sherwood and Shaun Thomas. With just a short day to spend on the Island, I whisked them down to the Sound of Man. Here we watched and listened to Chough, saw two Peregrines chasing down a Golden Plover and caught a flash of Merlin – all while enjoying a cup of tea in the comfort of the Sound Restaurant.
From here we travelled through the Island's southern uplands on our way to the day's business meeting. On a clear day you can spy Northern Ireland's Mourne Mountains, Snowdonia in Wales, Scotland's Mull of Galloway and the English Lake District - all from the one hilltop!
As a Crown dependency, the Isle of Man hosts the Queen's representative to the Island – its Lieutenant Governor.
On a day of horizontal rain and howling winds, I took Sir Richard Gozney, recently installed as Lieutenant Governor, to the Point of Ayre at the northern end of the Island. A keen birdwatcher, Sir Richard was unfazed by the battering wind and penetrating rain while touring the Island's gravel pits – home to such Manx rarities as Shoveler, Gadwall, Little Grebe and our only breeding pair of Red-breasted Merganser.
As the sun set and the wind subsided, we sat with Louise Samson from the Department of Environment, Food and Agriculture and counted 23 Hen Harriers into roost, with several hundred honking Greylag Geese doing likewise. In the dying light we headed home, car heaters on full blast, reflecting on another magical day experiencing the sights and sounds of Mann.
---
Winter 2016
Manx BirdLife appoints new MD
You could say my career has taken a somewhat unorthodox route to my new role as MD of Manx BirdLife.
As a child, I was inspired by the wildlife exploits of Jaques Cousteau and David Attenborough. Learning that Bill Oddie of Goodies fame was a birder sealed my early interest in birding. As I watched early autumn flocks of Redwing and Fieldfare from my classroom window, I'd ponder their amazing journeys from Scandinavia and beyond - much to the amusement of my German teacher, Mr Brittan (I kid yee not)!
After graduating in Joint Hons. Botany and Zoology from Bristol University, I fulfilled my ambition of working for the RSPB – but not quite in the type of role I had anticipated. Instead of being posted to one of the Society's legendary reserves, I was thrust into the world of marketing and advertising. I have since worked for various not-for-profit organisations including the Royal National Lifeboat Institution and latterly the Institute of Direct and Digital Marketing.
A career break took me to Qatar, setting up the Qatar Bird Records Committee and helping the Ministry of Environment with conservation and publishing projects, before exchanging the blistering heat of the desert for the cool climes of the Isle of Man.
Over 30 years of marketing, my interest in birds and conservation has never waned. So I was excited to take over the executive leadership of Manx BirdLife in May this year. I'm looking forward to building a conservation programme that meets the needs of the Island's wild birds and habitats.
The Island's famous TT Races are not for the faint-hearted, but watching Hen Harriers, Peregrines and Merlins above my new Manx home gets my heart racing every time!
---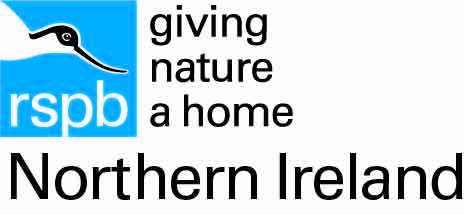 With thanks to Rachael Stiles, Sarah Hamilton Cardy, Angela Mahon, Brian Campbell, Kathryn Cochrane and the staff of RSPB Northern Ireland and Nature's Voice.