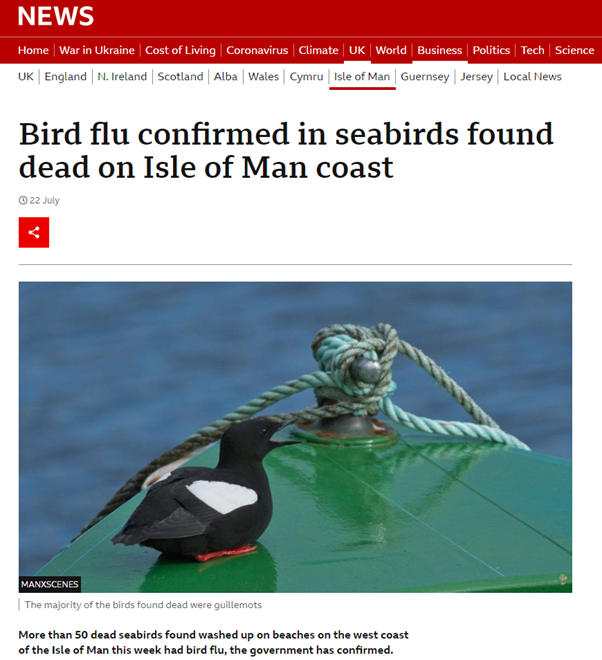 Avian Influenza (bird flu) of the highly pathogenic form HPAI has been confirmed in the Isle of Man.
As reported on the BBC website, on 22 July 2022, the Department of Environment, Food & Agriculture (DEFA) confirmed that high pathogenic avian influenza (HPAI) had been found in seabirds from beaches on the west of the Island.
The Island's Chief Veterinary Officer further reported on 11 August 2022 that more dead wild birds were being collected and sampled for avian influenza. Two Gannets Morus bassanus collected from Spaldrick beach (Port Erin) proved positive for HPAI as did a Peregrine Falco peregrinus from Ramsey Road, Peel.
No zones or restrictions have been put in place, but anyone who keeps birds is urged to practice good biosecurity and reduce any contact kept birds might have with wild birds.
A further update from DEFA on 15 August 2022 stated that a Buzzard Buteo buteo found in the river in Glen Maye on the 10th August 2022 had tested positive for HPAI, being the second bird of prey to test positive following the Peel Peregrine.
What is the risk to human health?
DEFA state, 'The risk to human health from the virus is currently low but it is important not to touch any dead or visibly sick birds.'
How to report birds suspected of carrying HPAI
DEFA requests members of the public to report findings of either: two or more large waterfowl (such as swans or geese) found together and freshly dead, or 6 or more smaller birds found together and all freshly dead.
Manx BirdLife adds that the symptoms of live birds in the later stages of infection are now well known - presenting as blindness, uncoordinated movement and erratic twitching, which can be a distressing sight.
Please report any sightings to:
Animal Health Team – Regulation Directorate
Thie Slieau Whallian,
Foxdale Road,
St John's,
IM4 3AS
Telephone: +44 1624 685844
Email: agriculture@gov.im
Please leave details of your finding and its location. DEFA might collect some of these birds and test them, but please be aware that not all birds will be collected. Wild birds are susceptible to a range of diseases and injuries and not all dead birds will have been infected with avian influenza. Please note the phone and emails are not being monitored outside of normal office hours, so voice messages and emails will be picked up on the next working day.
Latest updates
For the latest information, see Isle of Man Government - Avian Influenza (bird flu).