As an antidote to Covid-19 restrictions and statistics, we thought we'd share some highlights of how nature is providing delightful distraction from any 'lockdown' lows.
Year to date
Since the beginning of the year (2020), Manx BirdLife has received through its online sightings reporting form a total of:
2,788 reports
from 157 different observers
of 156 species of birds
from 324 locations around the Island
Lockdown
During the recent period of 'lockdown', effectively extending from mid-March to date (12 May 2020), we have received a total of:
1,934 reports
from 123 different observers
of 147 species of birds
from 307 locations around the Island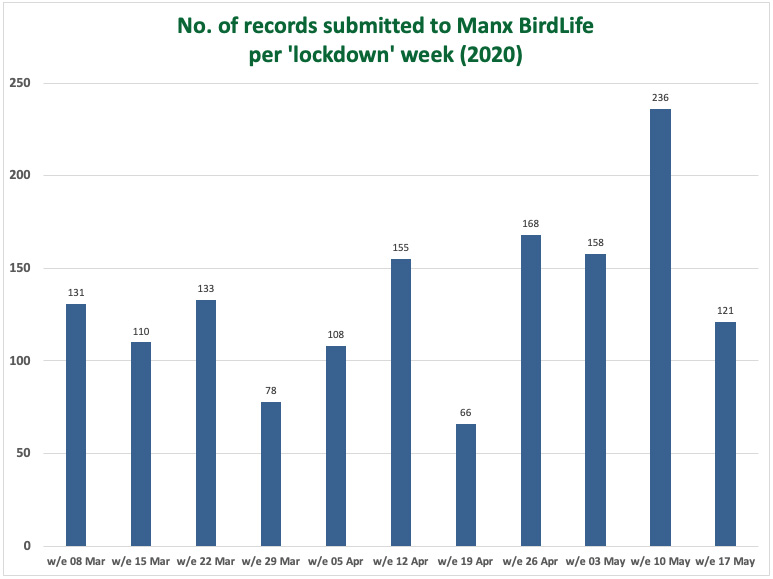 Highlights
Lockdown hasn't stopped us from noticing that spring migration has been in full swing with many reports of returning sub-Saharan warblers, Cuckoos, Swallows and even a couple of briefly-calling Corncrakes.
The Island has also hosted a very special Continental summer visitor in the form of the extremely rare - and shy - Little Bittern. The recent appearance of a splendid male in full summer regalia was first reported by none other than Sir Richard Gozney KCMG CVO, the Island's Lieutenant Governor. A number of photographers took up the challenge of capturing images of this diminutive skulking heron (while social distancing of course).
Pete Hadfield (Manx Wildlife Videos) went one better and filmed a lovely video sequence, which you can view on YouTube, or watch below:
Keep your reports coming!
We look forward to receiving your ongoing reports as spring turns to summer and, hopefully, as lockdown restrictions are further relaxed.
If you are out birdwatching, or simply watching the birds from the comfort and safety of your own house or garden, please let us know by using the reporting form at www.manxbirdlife.im/sightings/submit.
Thank you - and please enjoy your birdwatching whilst keeping yourself and others safe.