An Island-wide census of nesting Hen Harriers Circus cyaneus undertaken by Manx BirdLife during 2022 has found that, although the Manx breeding population remains well below its historic peak, numbers appear to have been stable over the last few years.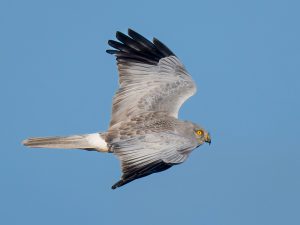 The Isle of Man Hen Harrier Breeding Census 2022, organised by wildlife conservation charity Manx BirdLife, took place between 28th March and 5th July this year. Up to three visits were made by Manx BirdLife's survey team to each of 86 known recent and historic Hen Harrier nesting sites in the Isle of Man's uplands.
Standardised surveys from carefully chosen vantage points located 38 territorial pairs, with a further four possible pairs. Hen Harriers were seen at another 13 sites but were judged to be merely hunting over these areas and not using them for breeding.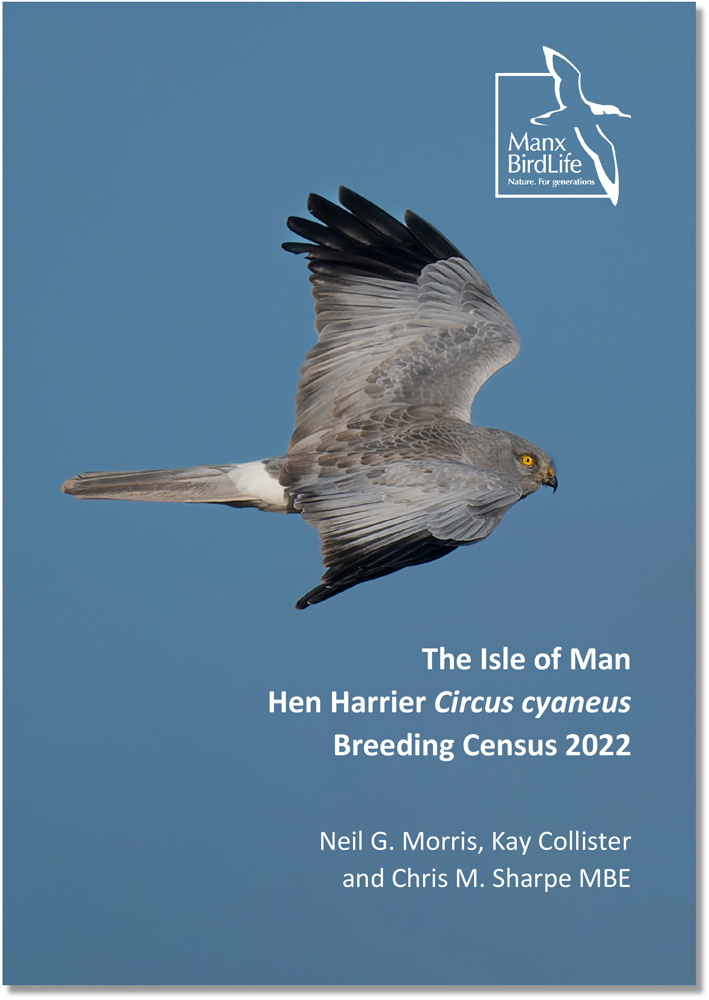 Results
The total of 38 territorial pairs is the highest such count since 2004 when the Manx breeding population peaked at 57 territorial pairs.
Each territory found in 2022 was attended by one female and one male Hen Harrier. However, male Hen Harriers can be polygynous, serving one or two females. Among 31 of the studied territorial pairs, just 27 different males were observed, indicating that at least four of the territories involved a polygynous male.
A copy of the The Isle of Man Hen Harrier Circus cyaneus Breeding Census 2022 report is available to download for free.
Perspective
Neil Morris, Managing Director of Manx BirdLife and census project director commented, "It's pleasing to have some good news to report. Though we're well off the peak of 57 pairs recorded at the beginning of this Century, this year's census appears to show that the Manx Hen Harrier population has been sustaining itself. We're grateful to the census team for the long hours they spent in the Manx uplands surveying more than eighty locations and documenting hundreds of harrier sightings."
Morris added, "There is of course no room for complacency. The Island's uplands are under unprecedented pressure from climate change and increasing human disturbance. It's imperative we do everything in our power to protect our harrier population and the large tracts of wild, open land on which they depend. The Isle of Man is internationally recognised as a stronghold for this iconic bird of prey, and we have a duty to keep it that way."
The results of the Isle of Man Hen Harrier Breeding Census 2022 will be shared with an internationally coordinated census group across the British Islands that is being led by the Royal Society for the Protection of Birds (RSPB).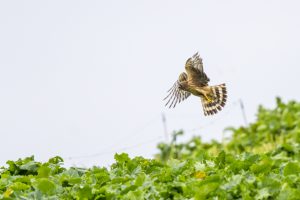 A bird of significant conservation concern
The Hen Harrier was Amber-listed in the Birds of Conservation Concern in the Isle of Man (BoCCIoM) 2021 report produced by Manx BirdLife.
Morris says, "Thankfully, there is no need to review the status of Hen Harrier on the Isle of Man following the census. The species remains of moderate conservation concern. However, even a small decline in the future could see it elevated to the Isle of Man Red List due to its small range and dependence on undisturbed, good condition habitat."
Acknowledgements
Manx BirdLife is grateful for the support, information and practical contributions made by the Gough Ritchie Charitable Trust, Manx Ornithological Society members, Government officials and landowners, and to the many members of the public who reported their Hen Harrier sightings during the 2022 breeding season.
Links and reading
Reacquainting ourselves with 'Maye' (13 Aug 2020)
Manx Hen Harrier 'Mary' illegally poisoned in Eire (30 Jan 2020)