Manx BirdLife is delighted to announce the appointment of Anna Graham as Education Manager, with a remit to inspire young people to discover and cherish the Island's wild birds and the places where they live.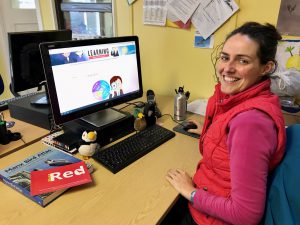 Anna will be responsible for delivering Manx BirdLife's Education Programme, aimed at primary-aged children and their families in school and community settings. Anna takes over from Michelle Storton who has left Manx BirdLife after six years in the role to pursue a professional teaching career. Miss Storton was fondly known by many children across the Island as the 'Bird Lady' and we wish her every success in her future career.
Nurturing young people's appreciation of nature
The aim of Manx BirdLife's Education Programme is to nurture young people's enjoyment and appreciation of wild birds as part of our natural heritage, and to introduce them to the challenges that wild birds and the natural world now face.
Anna will be supporting teachers to deliver in-school lessons, assemblies and projects, as well as outdoor trips to see wild birds in their natural habitats. Activities are designed to provide the flexible, exciting and memorable learning experiences and to nurture the positive learning dispositions targeted by the Department of Education, Sport and Culture's 'Essentials for Learning' (E4L) curriculum statement.
Anna comments, "I am thrilled to build on the excellent work started by Michelle and Manx BirdLife in supporting educators and inspiring young people. I look forward to working with teachers and youth group leaders across the Island." She continued, "We have given the up-and-coming generations a huge challenge in looking after our natural world. I passionately hope we can nurture their desire to act as thoughtful stewards of our bird life and other nature. Birds provide such enjoyment and are a valuable indicator of our Island's health."
Manx Birdlife Managing Director, Neil Morris, added, "We are delighted to announce Anna's appointment and we wish her well in this important role. Anna brings a wealth of outdoor and indoor teaching experience to the team, including environmental education, Forest School, care farming, primary classroom and TEFL. She has also volunteered with other nature conservation organisations across school and community projects and nature reserves. Manx BirdLife is grateful to the Scheinberg family for supporting our vital education programme."
To explore how your class, school or youth group could benefit from a visit by Anna, please call 01624 861130 or email education | at | manxbirdlife.im.