Manx BirdLife's Education Programme is encouraging homeowners and landowners to install nestboxes around their homes, gardens and properties in order to provide much needed nesting opportunities for the Island's birds.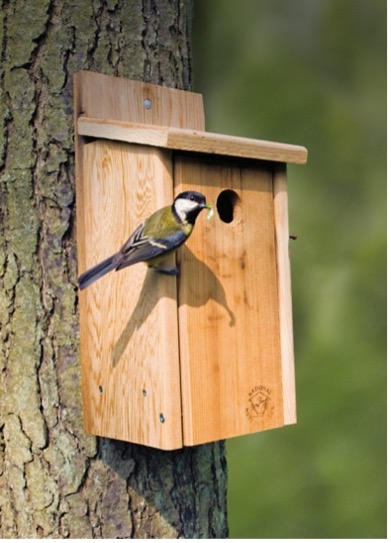 National Nestbox Week is celebrated for one week every year from 14th February. With nesting season nearly here, it puts the spotlight on breeding birds. Many species, even some of our most familiar, are in decline. As well as the many things we often talk about related to plastics, climate change and pollution, there is one thing that gets overlooked: our obsession with neat and tidy outdoor spaces. Gardens, parks, woodlands and open areas are made ever tidier and neater. Natural nesting opportunities provided by bushy scrub and shrubs, tangled vegetation, mature and fallen trees and thick hedgerows are much less available to birds and other wildlife than even a few years ago.
Moreover, modern homes and outbuildings are made to such a high standard that they provide no small crevices in which birds can make their nests. Modern sheds have tightly fitting windows which prevent entry to birds such as Swallows. Smooth plastic sofits and fascias prevent House Martins from securing their nests under rooves. Older buildings with lovely nooks and crannies under the eaves and in the corners are blocked up to keep them sightly and weatherproof for the benefit of their human inhabitants.
All of these factors have created an increasing shortage of places for birds to make their nests. However, hope is not lost.
You can help!
Nestboxes are cheap to buy and easy to install. If you are handy with a saw and can spare a little time, they are easy to make. Nestboxes come in an array of styles and sizes to suit different species. There are small open-fronted boxes to attract Robins and Flycatchers, and boxes with round holes for Great Tits and Blue Tits. Terrace boxes are designed to attract the humble House Sparrow and Tree Sparrow. Both Sparrows are in serious decline across the British Isles. Starlings, also declining due to lack of available nesting holes in mature trees and buildings, are beautiful iridescent, speckly 'chatterboxes'. They are easily attracted to nest in boxes with larger round holes. Swift boxes, Swallow and House Martin 'bowls' are also available; and if you own fields or open areas, why not try a Kestrel or Owl box?
By helping birds, particularly some of our most-loved species, we are also helping ourselves. It is well documented how time watching nature is great for our mental health and wellbeing. If you are able to build your own nestbox, you can take great satisfaction from watching your feathered visitors using it for many years to come.
For more information regarding National Nestbox Week, please visit www.nestboxweek.com. If you would like to get involved in the Manx BirdLife Garden Birdwatch Scheme by recording your sightings and helping us to monitor birds around the Island, please visit www.manxbirdlife.im.
About Manx BirdLife
Manx BirdLife is the charity based in the Isle of Man working to conserve wild birds and their habitats using scientific research, advocacy and public awareness.
Founded in 1997 under the name Manx Bird Atlas, it was renamed Manx Birdlife in 2008. The charity monitors the status of breeding and visiting birds through extensive fieldwork and conservation action in partnership with expert scientists, conservationists and like-minded organisations.
Contacts
Michelle Storton, Education Officer, Manx BirdLife, michelle@manxbirdlife.im 07624 223085
Neil Morris, Managing Director, Manx BirdLife, neil@manxbirdlife.im
35 New Road
Laxey
Isle of Man
IM4 7BG