Taking Action for Swifts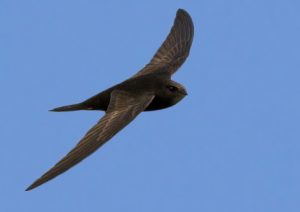 Possibly the greatest of all avian flyers, Swifts are true masters of their aerial environment. But the number of these birds returning from Africa each summer to breed across the British Isles appears to be rapidly declining.
Hence, we're asking you to help us to discover more about this enigmatic species and to provide additional nesting opportunities around the island.
'Taking Action for Swifts' is a joint initiative of the Manx Ornithological Society and Manx BirdLife. Our aim is to:
Learn more about where Swifts nest and feed on the Isle of Man
Assess the breeding population and monitor its fortunes
Optimise the number of nesting opportunities around the island for the species
Raise awareness and appreciation of this amazing creature and its incredible feats
Do you know where Swifts nest on the Isle of Man?
In the first instance, we would like to know of any places where you have suspected Swifts to be nesting. Please click the button below to provide information about the location and numbers of birds you have seen this year or over recent years (the last five years or so).
We know that Ramsey, Peel, Port Erin, Port St Mary as well Douglas have been historical strongholds; however recent information is lacking, and we are keen to learn where else on the island there might be nesting Swifts. Please don't worry about being precise with your numbers or dates; what's crucial is where you suspects Swifts to have nested.
For more information about how you can help the Isle of Man's Swifts, please email 'anna | at | manxbirdlife dot im'.
Thank you.
---
Find out more about what you can do to help Swifts by visiting the Action for Swifts blog.