Peregrine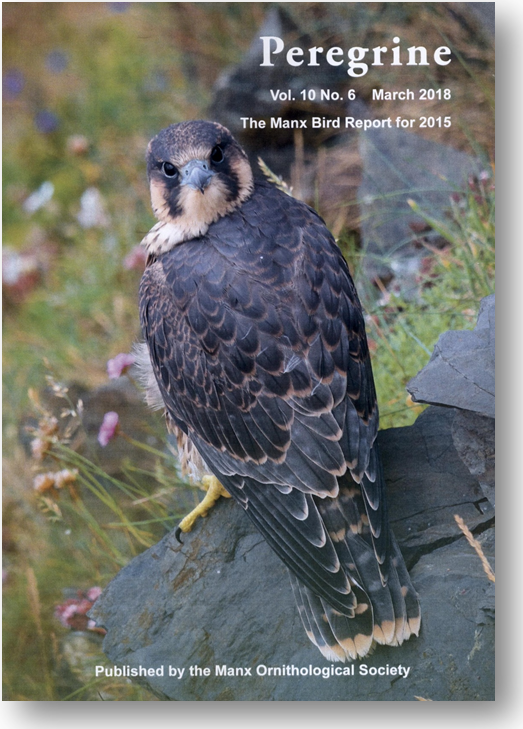 Over the years, hundreds of articles including the Manx Bird Report, have appeared in Peregrine, the journal of the Manx Ornithological Society (MOS).
Each article and the issue in which it was published is listed below including volume, number, year of publication, title, author(s), start page, end page and category.
!   Vol. 11 (Published October 2020) edition now available   !
Featuring the Manx Bird Report 2016.
Peregrine was founded in 1941 by Will Cowin and Ken Williamson as the journal of the Manx Field Club and continued under Will Cowin's guidance until his death in 1958. After this, Field Club members were offered membership of the Field Section of the Isle of Man Natural History and Antiquarian Society, which took over responsibility for the journal.
In 1973, Peregrine became a joint publication of the NH&AS and the Manx Bird Club (now the Manx Ornithological Society). Since 1976, production has been the responsibility of the Manx Ornithological Society.
The MOS is keen to publish general natural history articles of local interest as well as ornithological articles.
Obtaining back issues of Peregrine
A selection of back issues are available on request from Mark Pidgeon. Subject to availability, prices are:
Vols 11, 10.5, 10.4, 10.3, 10.2,

10.1

, 9.4, 9.3, 9.2, 9.1: £7.45 inc. P&P (or £5.50 to MOS members if collected in person);
Vols 8.4 and earlier: £9.95 inc. P&P.
Vol.
No.
Publication
date
Title
Author
From
page
To
page
Category
1941
Publications
10
6
2018
Editorial
Allen S. Moore
624
Editorial
10
6
2018
The Manx Bird Report for 2015
Allen S. Moore
625
684
Manx Bird Report
10
6
2018
Manx Ringing Group Report for 2015
Kevin Scott, Sean Gray & Louise Samson
685
701
Bird ringing
10
6
2018
The Manx Chough Census of 2014 & 2015
Allen S. Moore
702
711
Chough
10
6
2018
Choughs in the Isle of Man in 2015
Allen S. Moore
711
713
Chough
10
6
2018
Manx Bat records to 2015
Nick Pinder
714
720
Bat records
10
6
2018
The Manx Butterfly Report for 2015
Garry Curtis
721
727
Manx Butterfly Report
10
6
2018
Red Grouse in the Isle of Man in 2015
Bruce Walker & Dennis Hughes
728
Red Grouse
10
6
2018
Gannets in December 2015
Allen S. Moore
729
730
Gannet
10
6
2018
Kumlien's Gull - A New Bird for the Isle of Man?
Neil G. Morris
731
732
Kumlien's Gull
10
6
2018
Rookery Census in 2015
J. P. Cullen
733
Rook
10
6
2018
Gazetteer
Allen S. Moore
734
738
Gazetteer
10
6
2018
The Manx Bird List 2018
Chris Sharpe
739
746
Manx Bird List
10
4 & 5
To be added
10
3
2015
Editorial
Allen S. Moore
222
223
Editorial
10
3
2015
The Manx Bird Report for 2010 and 2011
Allen S. Moore
224
303
Manx Bird Report
10
3
2015
Manx Ringing Group Report for 2010 and 2011
Kevin Scott
304
319
Bird ringing
10
3
2015
Red Grouse in the Isle of Man in 2010 and 2011
Bruce Walker and Denis Hughes
320
321
Red Grouse
10
3
2015
Choughs in the Isle of Man in 2010, 2011 and 2012
Allen S. Moore
322
331
Chough
10
3
2015
Obituaries: Franklin Moore and Peter Weaver
Allen S. Moore, Pat Cullen
332
334
Obituary
10
3
2015
Gazetteer
335
340
Gazetteer
10
3
2015
The Manx Bird List 2014
341
349
Manx Bird List
10
2
2014
Manx Butterflies in 2009
Gail Jeffcoate
131
132
Lepidoptera
10
2
2014
Red Grouse in the Isle of Man 2009
Bruce Walker and Denis Hughes
133
133
Red Grouse
10
2
2014
Choughs in the Isle of Man in 2009
Allen S. Moore
134
137
Chough
10
2
2014
Cattle Egrets in the Isle of Man
Pat Cullen
138
138
Cattle Egret
10
2
2014
First nesting of the Buzzard in the Isle of Man
Garry Curtis
139
141
Buzzard
10
2
2014
Guy Madoc and the Blue Rock Thrush
Pat Cullen
142
143
Obituary
10
2
2014
A Lesser Horseshoe Bat grounded at Glen Chass
Richard Selman
144
146
Bats
10
2
2014
Manx Ringing Group Report for 2009
Kevin Scott
147
154
Bird ringing
10
2
2014
The Manx Bird Report for 2009
Richard Selman, Allen S Moore & Chris Sharpe, with a summary of the year by Pat Cullen
155
206
Manx Bird Report
10
2
2014
Gazetteer
207
212
Gazetteer
10
1
2009
The Manx Bird Report for 2008
Pat Cullen
2
68
Manx Bird Report
10
1
2009
Red Grouse in 2008
Bruce Walker and Denis Hughes
69
69
Red Grouse
10
1
2009
Choughs in the Isle of Man in 2008
Allen S. Moore
70
73
Chough
10
1
2009
An American Wigeon on Langness
Kevin Scott
73
74
American Wigeon
10
1
2009
An American Golden Plover at the Point of Ayre
Edward J Abraham
75
76
American Golden Plover
10
1
2009
Manx Ringing Group Report for 2008
Kevin Scott
77
86
Bird ringing
10
1
2009
Manx Butterflies in 2008
Gail and Stephen Jeffcoate
87
94
Lepidoptera
10
1
2009
Current knowledge of the Status of Cetaceans in Manx Waters
Tom Felce
94
117
Cetaceans
10
1
2009
Gazetteer
118
122
Gazetteer
10
1
2009
The Manx Bird List 2008
123
128
Manx Bird List
9
4
2008
The Manx Bird Report for 2007
Pat Cullen
274
327
Manx Bird Report
9
4
2008
Red Grouse in 2007
Bruce Walker and Denis Hughes
328
Red Grouse
9
4
2008
Choughs in the Isle of Man in 2007
Allen S. Moore
329
333
Chough
9
4
2008
Manx Ringing Group Report for 2007
Kevin Scott
334
339
Bird ringing
9
4
2008
How far do Manx Choughs travel?
Allen S. Moore
340
349
Chough
9
4
2008
Obituary - Gordon Douglas Craine
350
351
Obituary
9
4
2008
Gazetteer
352
356
Gazetteer
9
4
2008
The Manx Bird List 2007
357
364
Manx Bird List
9
3
2007
The Manx Bird Report for 2006
Pat Cullen
190
239
Manx Bird Report
9
3
2007
Some old unpublished records
Pat Cullen
240
241
Birds
9
3
2007
Manx Ringing Group Report for 2006
Kevin Scott
242
253
Bird ringing
9
3
2007
Choughs in the Isle of Man 2006
Allen S. Moore
254
256
Chough
9
3
2007
Review - Manx Bird Atlas
David A. Quine
257
Manx Bird Atlas
9
3
2007
Red Grouse - 2006
Bruce Walker and Denis Hughes
258
Red Grouse
9
3
2007
Gazetteer
259
263
Gazetteer
9
3
2007
The Manx Bird List 2007
264
272
Manx Bird List
9
2
2006
The Manx Bird Report for 2005
Pat Cullen
86
133
Manx Bird Report
9
2
2006
Red Grouse in the Isle of Man 2005
Bruce Walker
133
Red Grouse
9
2
2006
Early and late dates of migrants in 2005
Pat Cullen
134
135
Birds
9
2
2006
Choughs in the Isle of Man 2005
Allen S. Moore
136
139
Chough
9
2
2006
2004 - A very good year for Choughs in the Isle of Man
Allen S. Moore
140
145
Chough
9
2
2006
Welsh Choughs in the Isle of Man
Allen S. Moore
146
152
Chough
9
2
2006
Report of the Manx Ringing Group 1997 - 2005
Kevin Scott
153
175
Bird ringing
9
2
2006
Gazetteer
176
180
Gazetteer
9
2
2006
The Manx Bird List 2006
181
188
Manx Bird List
9
1
2005
The Manx Bird Report for 2004
Pat Cullen
2
56
Manx Bird Report
9
1
2005
A White-rumped Sandpiper on Langness
Chris Wormwell
57
58
White-rumped Sandpiper
9
1
2005
A Ring-necked Duck at the Point of Ayre Gravel Pit
Ted Abraham
59
60
Ring-necked Duck
9
1
2005
The Red-footed Falcon and the leucistic Kestrel
Pat Cullen and Chris Sharpe
61
62
Red-footed Falcon
9
1
2005
Rookeries in the Isle of Man - the 2005 census
Pat Cullen
63
70
Rook
9
1
2005
Gazetteer
71
75
Gazetteer
9
1
2005
The Manx Bird List 2005
76
84
Manx Bird List
8
4
2004
The Manx Bird Reports for 2003 and 2003
Pat Cullen
254
338
Manx Bird Report
8
4
2004
Choughs in the Isle of Man in 2002, the year of the International Census
Allen S. Moore
338
343
Chough
8
4
2004
A Desert Wheatear at Niarbyl
Pat Cullen
343
344
Desert Wheatear
8
4
2004
A King Eider at Rue Point
John Thorpe
344
345
King Eider
8
4
2004
The Manx Southern Grey Shrike and some thoughts regarding its race
John Thorpe
345
347
Southern Grey Shrike
8
4
2004
Occurrence of Red-winged Laughingthrushes Garrulax formosus on the Isle of Man
John Thorpe and Chris Sharpe
348
351
Red-winged Laughingthrush
8
4
2004
Bats in the Isle of Man
Anne Blackwell
351
355
Bats
8
4
2004
Butterflies of the Isle of Man at the beginning of the 21st century
Stephen Jeffcoate
356
358
Lepidoptera
8
4
2004
Gazetteer
359
363
Gazetteer
8
4
2004
Manx Bird Atlas - An Update
Chris Sharpe
363
364
Manx Bird Atlas
8
3
2003
The Manx Bird Reports for 2000 and 2001
Pat Cullen and Peter Weaver
165
226
Manx Bird Report
8
3
2003
Report on Rare and Unusual Birds on the Calf of Man 2000 - 2002
Tim Bagworth
227
230
Calf of Man
8
3
2003
A Wilson's Phalarope at the Point of Ayre
Malcolm Stott
231
Wilson's Phalarope
8
3
2003
A Great White Egret on Langness
Pat Cullen
232
233
Great White Egret
8
3
2003
White-throated Sparrow
Pat Cullen
232
White-throated Sparrow
8
3
2003
A Surf Scoter at the Lhen
John Thorpe
233
234
Surf Scoter
8
3
2003
Rookeries in the Isle of Man - the 2000 census
Pat Cullen
234
242
Rook
8
3
2003
The Manx Bird List 2003
Manx Ornithological Society
243
252
Manx Bird List
8
2
2002
The Manx Bird Reports for 1997
Pat Cullen
63
96
Manx Bird Report
8
2
2002
The Manx Bird Reports for 1998
Peter Weaver and Pat Cullen
96
128
Manx Bird Report
8
2
2002
The Manx Bird Reports for 1999
Pat Cullen
129
154
Manx Bird Report
8
2
2002
Calandra Lark - the first Manx record
Chris Sharpe
155
Calandra Lark
8
2
2002
The 'Manx' frigatebird
John Thorpe
156
159
Magnificent frigatebird
8
2
2002
Rose-coloured Starling - the first Manx record
Allen S. Moore
156
Rose-coloured Starling
8
2
2002
Pectoral Sandpipers
John Thorpe
159
160
Pectoral Sandpiper
8
1
2000
The Manx Bird Report for 1996
Pat Cullen
2
42
Manx Bird Report
8
1
2000
Brian Karran (1932-1999)
Gordon Craine
42
Obituary
8
1
2000
Rare and unusual birds on the Calf of Man 1994-1995
Jason Bishop
43
Calf of Man
8
1
2000
Rare and unusual birds on the Calf of Man 1996-1999
Tim Bagworth
47
50
Calf of Man
8
1
2000
Moth and Butterfly Report 1997
Gordon Craine
51
53
Lepidoptera
8
1
2000
The Manx Bird Atlas
Chris Sharpe
54
55
Manx Bird Atlas
8
1
2000
Breeding of the Golden Plover Pliuvialis apricaria on the Manx Hills
Jason Bishop and Peter Giovannini
56
57
Golden Plover
8
1
2000
Unusual Species
Manx Bird Records Sub-committee
58
Manx Ornithological Society
7
5
1999
The Manx Bird Report for 1995
Allen S. Moore, Gordon Craine, Pat Cullen, Aron Sapsford, John Thorpe
396
452
Manx Bird Report
7
5
1999
Corrections and additions to the Manx Bird Report for 1994
Allen S. Moore
453
Manx Bird Report
7
5
1999
Manx Ringing Group report for 1995 and 1996
Aron Sapsford
454
462
Bird ringing
7
5
1999
The Manx Rookery Census of 1995
Pat Cullen
463
471
Rook
7
5
1999
The Red Grouse in 1995
Bruce Walker and Denis Hughes
472
Red Grouse
7
5
1999
Little Shearwater off the Calf of Man in 1994
John Thorpe
473
474
Little Shearwater
7
5
1999
Green-winged Teal at Langness - the first Manx record
Aron Sapsford and Chris Sharpe
474
Green-winged Teal
7
5
1999
A comparison of the status of the Marsh Harrier in Northern Ireland and the Isle of Man
Don Scott
475
481
Marsh Harrier
7
5
1999
Moth and Butterfly Report 1995
Gordon Craine
482
486
Lepidoptera
7
5
1999
Moth and Butterfly Report 1996
Gordon Craine
487
492
Lepidoptera
7
5
1999
Unusual Species
The Manx Bird Record sub-committee
493
494
Manx Ornithological Society
7
4
1999
The Manx Bird Report for 1994
Gordon Craine and Allen S. Moore
296
356
Manx Bird Report
7
4
1999
Corrections and additions to previous years' Manx Bird Reports
Allen S. Moore
357
358
Manx Bird Report
7
4
1999
Manx Ringing Group report 1993 and 1994
Aron Sapsford
359
373
Bird ringing
7
4
1999
Ravens in the Isle of Man
Allen S. Moore
374
389
Raven
7
4
1999
The Red Grouse in 1994
Bruce Walker and Denis Hughes
390
Red Grouse
7
4
1999
Moth and Butterfly Report for 1994
Gordon Craine
391
394
Lepidoptera
7
3
1995
The Manx Bird Report for 1992 and 1993
Gordon Craine, Pat Cullen and Allen. S. Moore
180
282
Manx Bird Report
7
3
1995
The Fulmar in the Isle of Man - population and productivity in 1991 - 1994
Allen S. Moore
285
288
Fulmar
7
3
1995
Golden Eagle over Dalby Mountain
Jason Bishop
289
Golden Eagle
7
3
1995
A 'Black' Hen Harrier at Ballaugh Curragh
John Thorpe and G M Kelly
289
290
Hen Harrier
7
3
1995
Further notes on the Peregrine (compiled)
290
291
Peregrine
7
3
1995
Unusual behaviour of Stonechats
J amd M Kneen
291
Stonechat
7
3
1995
Moth Report 1993
Gordon Craine
292
293
Lepidoptera
7
2
1994
The Manx Bird Records committee
Pat Cullen
85
86
Manx Ornithological Society
7
2
1994
The Manx Bird Report 1991
Allen S. Moore and Gordon Craine
87
143
Manx Bird Report
7
2
1994
Manx Ringing Report 1991 and 1992
Brian Karran
144
151
Bird ringing
7
2
1994
Rare Birds on the Calf of Man 1991 - 1993
Norman McCanch
152
154
Calf of Man
7
2
1994
Shorebird study of Langness
Ian Mitchell
155
160
Birds
7
2
1994
Chough survey 1992
Aron Sapsford and Allen S. Moore
161
169
Chough
7
2
1994
Moth reports 1991 and 1992
Gordon Craine
170
174
Lepidoptera
7
2
1994
A Clouded Yellow Year 1992
Gary M. Curtis
175
176
Lepidoptera
7
1
1991
Editorial
1
2
General
7
1
1991
The Manx Bird Report 1990
Tony Hopson and Allen S. Moore
3
39
Manx Bird Report
7
1
1991
Manx Ringing Report 1990
Brian Karran
40
42
Bird ringing
7
1
1991
Report on the birds of the Calf 1990
Aron Sapsford
43
44
Calf of Man
7
1
1991
The occurrence of a Night Heron Nycticorax Nycticorax, a species new to the Isle of Man
Tony Hopson and Allen S. Moore
45
46
Night Heron
7
1
1991
Choughs in winter: observations of Pyrrhocorax pyrrhocorax during the winter 1990-1991
Allen S. Moore
47
53
Chough
7
1
1991
Land use change and birds in the Isle of Man
Gwyn Williams
54
59
Miscellaneous
7
1
1991
Observations of migration of Hen Harriers (Circus cyaneus) in the Isle of Man
John Thorpe
59
Hen Harrier
7
1
1991
Manx Bat records 1991
Sandra M Bolton
60
61
Bats
7
1
1991
New microlepidotera for the Isle of Man in 1990
Gordon Craine
61
Lepidoptera
7
1
1991
Recent records of rarer Manx lepidoptera
Gordon Craine
62
72
Lepidoptera
7
1
1991
Some recent records of fleas (insecta: siphonaptera) for the Isle of Man
James Rogers
73
74
Fleas
7
1
1991
Hedgerow and willow basketry in the Isle of Man
Larch S. Garrard
75
77
Plants
7
1
1991
International Chough Survey
78
Chough
7
1
1991
Mammal records
78
Mammals
7
1
1991
Manx Ornithological Society
78
Manx Ornithological Society
6
4
1990
The Manx Bird Report 1989
Tony Hopson and Allen S. Moore
2
38
Manx Bird Report
6
4
1990
Manx Ringing report 1989
Brian Karran
39
41
Bird ringing
6
4
1990
Report on the birds of the Calf 1988
David Walker
42
45
Calf of Man
6
4
1990
Report on the birds of the Calf 1989
Aron Sapsford
46
49
Calf of Man
6
4
1990
Records of the Fieldfare (Turdus pilaris) in Glen Rushen during 1989
Allen S. Moore and John Thorpe
50
51
Fieldfare
6
4
1990
Manx Rookery Census 1990
Pat Cullen
52
59
Rook
6
4
1990
Macrolepidoptera new to Manx fauna since 1970
Gordon Craine
60
63
Lepidoptera
6
4
1990
Records of lepidoptera new to the Manx fauna 1987-1989
Gordon Craine
64
65
Lepidoptera
6
4
1990
Some recent bat records
Nick Pinder and Sandra Bolton
66
67
Bats
6
4
1990
Stuart Collister (1939 - 1990)
68
69
Obituary
6
4
1990
Manx Ornithological Society
71
Manx Ornithological Society
6
3
1989
The Manx Bird Report 1987
Pat Cullen
2
27
Manx Bird Report
6
3
1989
Ringing Report 1987
Brian Karran
28
31
Bird ringing
6
3
1989
Report on the birds of the Calf 1986-1987
David Walker
32
35
Calf of Man
6
3
1989
The Manx Bird Report 1988
Tony Hopson and Allen S. Moore
36
65
Manx Bird Report
6
3
1989
Ringing Report 1988
Brian Karran
66
68
Bird ringing
6
3
1989
1987 - a mixed year for the Red Grouse (Lagopus lagopus)
Bruce Walker
69
70
Red Grouse
6
3
1989
Black Guillemots (Cephus grylle) in the Isle of Man in 1987
Allen S. Moore
71
73
Black Guillemot
6
3
1989
Breeding gulls on Langness
Allen S. Moore
74
75
Birds
6
3
1989
Breeding of the Corncrake (Crex crex) in the Isle of Man
John Thorpe
76
77
Corncrake
6
3
1989
Some previously unpublished bird records
77
Birds
6
3
1989
Recent survey work on Manx invertebrates
Larch S. Garrard
78
81
Invertibrates
6
3
1989
Cochlicella acuta (Muller) Point Snail in the Isle of Man
Larch S. Garrard
82
Snails
6
2
1987
The Manx Bird Report 1985
Pat Cullen and Allen S. Moore
3
27
Manx Bird Report
6
2
1987
Ringing Report 1985
Brian Karran
28
30
Bird ringing
6
2
1987
The Manx Bird Report 1986
Pat Cullen
31
56
Manx Bird Report
6
2
1987
Ringing Report 1986
Brian Karran
57
60
Bird ringing
6
2
1987
Prosecution
60
Miscellaneous
6
2
1987
Report on the birds of the Calf 1984-1985
David Walker
61
63
Calf of Man
6
2
1987
The numbers and distribution of seabirds breeding on the Isle of Man during 1985-1986
Allen S. Moore
64
80
Birds
6
2
1987
Use of nests of other birds by Fulmers in 1985-1986
Allen S. Moore
80
81
Fulmar
6
2
1987
Unusual markings of juvenile Hen Harriers
John Thorpe
81
Hen Harrier
6
2
1987
Notes on the Red Grouse in the Isle of Man in 1986
Bruce Walker
81
82
Red Grouse
6
2
1987
Mass migration of Wheatears
John Thorpe
82
83
Wheatear
6
2
1987
A Jay near Cronk y Voddy
John Thorpe
83
84
Jay
6
2
1987
Siskin summer
Pat Cullen
84
85
Siskin
6
2
1987
Manx plant records 1982 - 1986
David Allen and Larch S. Garrad
85
88
Plants
6
1
1985
The Manx Bird Report 1984
Allen S. Moore and Pat Cullen
3
31
Manx Bird Report
6
1
1985
Ringing Report 1984
Brian Karran
32
35
Bird ringing
6
1
1985
The first Manx nest of the Red-breasted Merganser
Pat Cullen
35
Red-breasted Merganser
6
1
1985
Manx Rookeries in 1985
Pat Cullen
36
41
Rook
6
1
1985
Robin taking food pellets
Douglas Tinkler
42
Robin
6
1
1985
The Chough in the Isle of Man in 1984
Allen S. Moore
43
45
Chough
6
1
1985
Hoverflies in the Isle of Man
Steve Crellin
45
46
Hoverflies
6
1
1985
The Fulmar in the Isle of Man, 1927-1984
Allen S. Moore
47
59
Fulmar
6
1
1985
The Little Egret - a new Manx bird
Pat Cullen
60
Little Egret
5
6
1984
The Manx Bird report 1983
Allen S. Moore
245
271
Manx Bird Report
5
6
1984
Ringing Report 1983
Brian Karran
272
276
Bird ringing
5
6
1984
Recent additions to the Manx bird list from the Calf of Man and further records of some scarce migrants
Adrian del Nevo
277
281
Calf of Man
5
6
1984
An instance of co-operative breeding in the Chough
Pete Jennings
282
Chough
5
6
1984
Selfish, false alarm - calling by female Blackbird
Pete Jennings
283
Blackbird
5
6
1984
Unusual nest of Magpie
Pete Jennings
283
Magpie
5
6
1984
Nesting of Common Gull in a Manx gravel pit
Pat Cullen
284
Common Gull
5
6
1984
Merlin entering rabbit holes
Tom Whipp
284
Merlin
5
6
1984
A probable first Manx record of Chervil
Larch S. Garrard
285
Plants
5
5
1983
The Manx Bird Report 1982
Pat Cullen and Allen S. Moore
197
220
Manx Bird Report
5
5
1983
Ringing Report 1982
Brian Karran
221
224
Bird ringing
5
5
1983
The recent status of the Manx Shearwater on the Calf of Man
Pete Jennings
225
Manx Shearwater
5
5
1983
The Choughs of the Calf
Ian Bullock and Adrian del-Nevo
226
229
Chough
5
5
1983
The Chough on the Isle of Man
Ian Bullock, D.R. Drewitt and S.P. Mickleburgh
229
237
Chough
5
5
1983
A survey of Ravens in the Isle of Man
Graham Elliott and John Nuttall
238
239
Raven
5
5
1983
Peregrine prey on the Calf of Man
Pete Jennings
240
Peregrine
5
5
1983
Miscellaneous records
Larch S. Garrard
241
Miscellaneous
5
5
1983
John Nuttall
242
Obituary
5
4
1982
The Manx Bird report 1981
Pat Cullen
130
156
Manx Bird Report
5
4
1982
Ringing report 1981
Brian Karran
157
160
Bird ringing
5
4
1982
Scarce migrants on the Calf of Man in 1981 including two additions to the Manx list
Pete Jennings
161
163
Calf of Man
5
4
1982
Some notes on breeding Cormorants near Maughold Head
Graham Elliott
163
164
Cormorant
5
4
1982
Tree selection in Manx rookeries
Pat Cullen
165
166
Rook
5
4
1982
Short notes on five new species - Black-browed Albatross
Iain Watt
166
167
Black-browed Albatross
5
4
1982
Short notes on five new species - Bee-eater
J.D.F. Corlett
167
Bee-eater
5
4
1982
Short notes on five new species - Monarch or Milkweed Butterfly
John Hedges
167
Lepidoptera
5
4
1982
Short notes on five new species - Mediterranean Gull
Keith Johnson
167
Mediterranean Gull
5
4
1982
Short notes on five new species - Nuthatch
Joy and Stuart Nixon
167
Nuthatch
5
4
1982
The Rookeries of the Isle of Man
Pat Cullen
168
193
Rook
5
4
1982
Species of fungi added to the Manx list in 1981
D.J. Milne
194
Fungi
5
3
1981
The Manx Bird Report 1980
Pat Cullen
80
109
Manx Bird Report
5
3
1981
Ringing Report 1980
Brian Karran
109
111
Bird ringing
5
3
1981
Bird ringing at Cronk Aash 1969-1980
Brian Karran
112
113
Bird ringing
5
3
1981
Recent additions to the Manx bird list from the Calf of Man, and further records of some scarce migrants
Pete Jennings
114
119
Calf of Man
5
3
1981
A Long-billed Dowitcher on Langness
Pat Cullen
120
122
Long-billed Dowitcher
5
3
1981
An analysis of Long-eared Owl pellets
John Nuttall
122
Long-eared Owl
5
3
1981
Thoughts on the protection of Little Terns
Stephen Davies
123
124
Little Tern
5
3
1981
Lepidoptera records 1979 and 1980
Larch S. Garrard
124
125
Lepidoptera
5
3
1981
Notes on some introduced species
Larch S. Garrard
125
126
Miscellaneous
5
3
1981
Additions to the list of Manx fungi
D.J. Milne
127
Fungi
5
2
1980
The Manx Bird Report 1979
Pat Cullen
38
63
Manx Bird Report
5
2
1980
Ringing Report 1979
Brian Karran
64
65
Bird ringing
5
2
1980
Bird ringing in the Dog Mills Lough and Ballaugh Curraghs
Mark Fitzpatrick
66
67
Bird ringing
5
2
1980
A review of the status of Terns in the Isle of Man
Pat Cullen
68
73
Terns
5
2
1980
First breeding of the Tufted Duck in the Isle of Man
Mark Fitzpatrick
73
Tufted Duck
5
2
1980
A Ring Ouzel in mid winter
Allen S. Moore
74
Ring Ouzel
5
2
1980
Wren feeding juvenile Blue Tit
Jean Sayle
74
Wren
5
2
1980
Further research on Manx spiders
Larch S. Garrard
75
76
Spiders
5
2
1980
The Manx Nature Conservation Trust
Felicity Cain
77
General
5
1
1979
The Manx Bird Report 1978
Pat Cullen
2
22
Manx Bird Report
5
1
1979
Ringing Report 1978
Brian Karran
23
24
Bird ringing
5
1
1979
Bird ringing at the Ballaugh Curraghs
Mark Fitzpatrick
25
Bird ringing
5
1
1979
A survey of the Ayres beach
Colin Moore
26
29
General
5
1
1979
Some early records of Manx birds
Larch S. Garrard
30
31
Birds
5
1
1979
Alpine Swifts at Maughold Head
Pat Cullen
31
32
Alpine Swift
5
1
1979
Arctic Redpoll on the Calf of Man - first Manx record
Steve Madge
33
34
Arctic Redpoll
5
1
1979
A Crane at Scarlett
Peter Marshall
33
Crane
5
1
1979
Miscellaneous records
Larch S. Garrard
34
36
Miscellaneous
5
1
1979
Unusual Peregrine kill, a Woodlark at Cranstal
Peter Oxenham
34
Woodlark
4
6
1978
The Manx Bird Report 1977
Pat Cullen
239
259
Manx Bird Report
4
6
1978
Ringing Report 1977
Roy Cripps
260
261
Bird ringing
4
6
1978
Plants new to the Manx coast
Larch S. Garrard
261
262
Plants
4
6
1978
Four new records of spiders from the Isle of Man
John E. Dalingwater and John H Kennaugh
263
Spiders
4
6
1978
A census of breeding Ravens in the Isle of Man
Pat Cullen
264
273
Raven
4
6
1978
Recent additions to the Manx bird list from the Calf of Man
Bob Haycock
274
280
Calf of Man
4
6
1978
Common Bird Census in Cooil Dharry
Felicity Cain
281
282
General
4
6
1978
Nesting of the Hen Harrier in the Isle of Man
John McIntyre, John and Margaret Kneen and Pat Cullen
283
284
Hen Harrier
4
6
1978
A Red-backed Shrike at Port Erin
Brian Karran
285
Red-backed Shrike
4
6
1978
Lepidoptera 1977
Larch S. Garrard
286
Lepidoptera
4
6
1978
Kenneth Williamson, F.R.S.E. (1914 - 1977)
Ted Kerruish
287
Obituary
4
5
1977
Editorial
J P Cullen
203
4
5
1977
The Manx Bird Report 1976
J P Cullen
204
225
Manx Bird Report
4
5
1977
Ringing Report
Roy Cripps
226
227
Bird Ringing
4
5
1977
The Manx Ornithological Society
227
MOS Officers
4
5
1977
Manx Lepidoptera Records
Larch Garrad
228
230
Butterflies. Moths
4
5
1977
Records of Mammals, Amphibians and Reptiles 1976
Larch Garrad
231
Mammals. Amphibians. Reptiles
4
5
1977
New Species of Fungi 1976
J E & D E Milne
232
Fungi
4
5
1977
Marsh Warbler on the Calf of Man
Malcolm Wright
232
235
Marsh Warbler & Calf rarities
4
5
1977
First Record of the Goshawk in the Isle of Man
Jeffrey Harrison
236
Goshawk
4
5
1977
First Record of Temminck's Stint in the Isle of Man
Pat Cullen
236
Temminck's Stint
4
5
1977
An Unusual Magpie Nest on the Calf of Man
Bob Haycock
237
Calf of Man. Magpie
4
4
1976
Editorial
163
4
4
1976
The Manx Bird Report 1975
J P Cullen
164
185
Manx Bird Report
4
4
1976
Ringing Report of the Manx Ornithological Society
Roy Cripps
186
188
Bird Ringing
4
4
1976
Owls and Rumours of Owls
J P C
189
4
4
1976
Rookeries in the Isle of Man - 1975 Census
J P Cullen
190
196
Rooks
4
4
1976
New Species of Fungi - 1974
J E & D J Milne
197
202
Fungi
4
4
1976
New Species of Fungi - 1975
J E & D J Milne
202
Fungi
4
4
1976
Manx Ornithological Society
MOS
4
3
1975
The Manx Ornithological Society
-163
MOS
4
3
1975
The Manx Bird Report 1973
J P Cullen
103
122
Manx Bird Report
4
3
1975
The Manx Bird Report 1974
J P Cullen
123
140
Manx Bird Report
4
3
1975
A Review of the Status of Certain Less Common Birds
J P Cullen
143
146
Kingfisher. Nightjar
4
3
1975
Recoveries of Ringed Birds on the Isle of Man 1973
147
148
Bird Ringing
4
3
1975
The Ayres, Isle of Man
British Lichen Society
148
Lichens
4
3
1975
Manx Fungus Records 1970
R W G Dennis
149
157
Fungi
4
3
1975
Fieldwork on the Moths of the Calf
J D Martin
158
160
Calf of Man. Moths
4
3
1975
Help Wanted
162
Trees
4
2
1973
Additions to the Manx Flowering Plant List, 1969-1973
D E Allen
55
61
Flora
4
2
1973
Lepidoptera Record 1972
K M Bond
61
Moths
4
2
1973
A Review of the Status of Certain Less Common Birds
J P Cullen
62
68
Bittern. Common Sandpiper. Dipper
4
2
1973
Wildlife Records 1969-1972
69
70
Wildlife - general
4
2
1973
Non-marine Moluscs of the Isle of Man III
L S Garrad
71
72
Non-marine Molluscs
4
2
1973
Manx Fungi Records. 1970. 1971.1972
J E & D J Milne
73
78
Fungi
4
2
1973
Recent Additions to the Manx Bird List from the Calf
Malcolm Wright
79
85
Calf of Man
4
2
1973
Manx Ornithological Notes 1972
J P Cullen
86
101
Manx Bird Report
4
2
1973
Convolvulus Hawkmoths in the Isle of Man
101
4
2
1973
Ringing Recoveries 1972
R Cripps
102
Bird Ringing
4
2
1973
Editorial
4
1
1972
Additions to the Manx Flora 1964/8
D E Allen
3
7
Flora
4
1
1972
The Manx Fungus Flora
J E & D E Milne
7
14
Fungi
4
1
1972
Notes on the Lepidoptera of the South of the IOM
Kenneth Bond
14
15
Butterflies and Moths
4
1
1972
A Rookery Census of the Isle of Man
L S Garrad
15
17
Rooks
4
1
1972
A Breeding Bird Census of the Ayres, 1965
J M Wallace
18
21
Ayres
4
1
1972
The Wildlife of the Ayres
L S Garrad
21
41
Ayres. Wildlife general
4
1
1972
Non-marine Moluscs of the Isle of Man II
L S Garrad
41
44
Non-marine Molluscs
4
1
1972
The Bugs of the Isle of Man - some introductory notes
L S Garrad
44
46
Insects
4
1
1972
Manx Wildlife - 1968 Records
46
54
Wildlife - general
3
6
1968
New and Uncommon Birds on the Calf of Man 1962-66
Peter Bennett
173
175
Calf of Man
3
6
1968
Wildfowl in Man
L S Garrad
175
177
Wildfowl
3
6
1968
Notes on Manx Auk Colonies in 1967
D J Slinn
177
179
Alcidae
3
6
1968
Death's Head Hawkmoth in the Isle of Man
180
Moths
3
6
1968
Emperor Moth on the Calf
180
Moths
3
6
1968
Breeding Birds - Census Scheme 1966
180
183
Manx Bird Census
3
6
1968
The Non-marine Molluscs of the Isle of Man
L S Garrad
184
188
Non-marine Molluscs
3
6
1968
Some Manx Fungi
J E & D J Milne
189
192
Fungi
3
6
1968
The Dense-flowered Orchid in the Isle of Man
D E Allen (abridged)
192
193
Flora
3
6
1968
Check-list of bthe Lepidoptera of the Isle of Man
J M Chalmers-Hunt
194
205
Butterflies and Moths
3
6
1968
Manx Ornithological Notes 1964 - 1967
E D Kerruish
206
247
Manx Bird Report
3
6
1968
Editorial
E F Ladds
248
3
5
1965
Recent Additions to the Manx Flora
D E Allen
141
144
Flora
3
5
1965
Birds in Hard Weather
L S Osmaston
144
New Forest
3
5
1965
An Unusual Plant-Gall
D E Allen
144
Flora. Insects
3
5
1965
Breeding Birds on the Calf of Man (1962 and 1963)
Gordon Craine
145
147
Calf of Man
3
5
1965
Woodland Species on Manx Hilltops
D E Allen
148
149
Insects. Flora
3
5
1965
Calf of Man Migrants in 1962 and 1963
Gordon Craine
149
150
Calf of Man
3
5
1965
Notes on the Birds of Douglas Bay
E D Kerruish
151
155
Douglas Bay
3
5
1965
A Long-lived Tern
R Hudson
155
Arctic Tern
3
5
1965
Manx Ornithological Notes, 1962 and 1963
P R Foulkes-Roberts
156
171
Manx Bird Report
3
5
1965
The Manx National Trust
MNT Information
3
4
1963
Gannet Dispersal o0ff the Manx Coast
Malcolm Calvert
113
118
Gannet
3
4
1963
Cold Winters and Shore Life
N S Jones
119
121
Marine Biology
3
4
1963
Chough Enquiry 1963
121
Notice of intended survey
3
4
1963
The Status of Natterer's Bat in the Isle of Man
John Crellin
122
Bats
3
4
1963
The Greater Spotted Woodpecker in Man
R Carol Bracegirdle
123
126
Great Spotted Woodpecker
3
4
1963
A Rookery Census in 1962
E F Ladds
126
127
Rooks
3
4
1963
O'Kelly's Orchid in the Isle of Man
D E Allen
128
129
Flora
3
4
1963
Some Common Manx Moths
John T Pugh
130
131
Moths
3
4
1963
Oiled Sea-birds
R Carol Bracegirdle
131
Oiled Seabirds
3
4
1963
The Great Spotted Cuckoo
P R F-R and K W
132
Great Spotted Cuckoo
3
4
1963
Manx Ornithological Notes, 1961
P R Foulkes-Roberts
133
140
Manx Bird Report
3
4
1963
The Manx National Trust
MNT Information
3
3
1962
The Fulmar in the Isle of Man
D J Slinn
81
92
Fulmar
3
3
1962
Our Knowledge of the Manx Fauna and Flora in 1961
D E Allen
93
96
Insects and Flora
3
3
1962
Long-tailed Skua at Douglas
Kenneth Williamson
97
98
Long-tailed Skua
3
3
1962
Tawny Owl and Red-backed Shrike on the Calf
Gordon Craine
98
Tawny Owl. Red-backed Shrike. Calf of Man
3
3
1962
Autumn Movements at the Calf, 1961
Gordon Craine
99
Calf of Man
3
3
1962
Manx Ornithological Notes, 1960
P R Foulkes-Roberts
100
112
Manx Bird Report
3
2
1960
Ten Years of Manx Botany
D E Allen
33
37
Flora
3
2
1960
Birds of thye Southern coast
Frank Edwards
37
38
Coast from Gansey to Spanish Head
3
2
1960
Kite (Milvus milvus) at Ballaugh
John C Crellin
39
Red Kite
3
2
1960
Some Wild Flowers of the Ayres
M B Bing
40
41
Ayres. Flora
3
2
1960
The Breeding Birds of the Calf of Man in 1959
Einar Brun
42
48
Calf of Man
3
2
1960
Migration on the Calf, early Spring, 1960
Peter Evans
48
54
Calf of Man
3
2
1960
Is the Hedgehog Native to Man?
D E Allen
54
55
Mammals
3
2
1960
Taxonomic Notes on Some Birds in the Manx Museum
Kenneth Williamson
55
58
Avian Taxonomy
3
2
1960
The Kittiwake in the Isle of Man
D J Slinn
58
62
Kittiwake
3
2
1960
Manx Ornithological Notes, 1958 and 1959
P R Foulkes-Roberts
63
80
Manx Bird Report
3
2
1960
Editorial
K W & E F L
3
1
1959
Breeding Population of the Great Black-backed Gull
D J Slinn
3
7
Great Black-backed Gull
3
1
1959
Observations on the Chough
Kenneth Williamson
8
14
Chough
3
1
1959
Bird Notes from the Calf, Spring 1958
Marion Williams
14
Calf of Man
3
1
1959
In Memoriam - William Stanley Cowin (1908-1958)
15
18
Obituary
3
1
1959
In Memoriam - George D Clementson
L V C
18
Obituary
3
1
1959
The Fifteen Orchids of Man
D E Allen
19
22
Flora
3
1
1959
An Invasion of Tits on the Calf nof Man
Kenneth Williamson
22
Calf of Man. Tits
3
1
1959
Manx Ornithological Notes 1957
P R Foulkes-Roberts
23
29
Manx Bird Report
3
1
1959
A Birding Holiday in the Isle of Man
H W J Cuss
30
32
Holiday on the Isle of Man
3
1
1959
Editorial
P R F-R
2
5
1957
Red-breasted Flycatcher in the Isle of Man
T E Corlett
3
Red-breasted Flycatcher
2
5
1957
The Breeding Status of the Great Black-backed Gull
D J Slinn
4
11
Great Black-backed Gull
2
5
1957
Two Races of the Lesser Celandine in the Isle of Man
D E Allen
14
15
Flora
2
5
1957
Manx Ornithological Notes
W S Cowin
16
28
Manx Bird Report
2
5
1957
Further Observations on the Distribution of the Alcidae
A G Bourne
29
36
Alcidae
2
4
1956
Editorial
1
2
4
1956
Roseate Terns in the Isle of Man
W S Cowin
1
Roseate Tern
2
4
1956
Alcidae in the South-West of the Isle of Man
Arthur G Bourne
2
5
Alcidae
2
4
1956
Bird-watching on Hilbre
M C Glasman
6
7
Hilbre Island
2
4
1956
The Vanished Forests
D E Allen
7
9
Flora
2
4
1956
Manx Ornithological Notes 1954 and 1955
W S Cowin
9
30
Manx Bird Report
2
4
1956
Ornithological Notes for the Calf of Man
D J Slinn
31
35
Calf of Man
2
4
1956
Frontispiece. Woodcock on nest
2
3
1955
Green Woodpecker on the Chicken's Rock
Jas W Mainland
1
Green Woodpecker
2
3
1955
Probable Yellow-browed Warbler in the Isle of Man
W S Cowin
1
2
Yellow-browed Warbler
2
3
1955
Airfields, Aircraft and Birds
K D G Mitchell
2
6
Airports. Birds
2
3
1955
Our Missing Butterflies
W S Cowin
6
8
Butterflies
2
3
1955
Manx Ornithological Notes 1952 and 1953
W S Cowin
8
22
Manx Bird Report
2
3
1955
Additions to the Micro-Lepidoptera of the Isle of Man
W S Cowin
22
24
Insects
2
3
1955
Birds of the Chicken's Rock
A MacEacharn
24
25
Chicken's Rock
2
3
1955
Editorial
2
2
1953
Editorial
1
2
2
1953
Sabine's Gull in the Isle of Man
R J Moss
2
Sabine's Gull
2
2
1953
The First Breeding of the Whinchat in the Isle of Man
J C Cowley
2
3
Whinchat
2
2
1953
Three Tears of Manx Botany
D E Allen
4
7
Flora
2
2
1953
Obituary. Henry Montague Rogers
W S C
7
Obituary
2
2
1953
Manx Ornithological Notes. 1950. 1951
W S Cowin
8
18
Manx Bird Report
2
2
1953
Manx Memories
M J Seago
19
21
Birds and Mammals
2
2
1953
Entomological Notes
W S Cowin
22
23
Insects
2
2
1953
The Wintering of a Leaf-Warbler in the Isle of Man
G F Crellin
23
24
Willow Warbler/Chiffchaff
2
1
1952
The Firecrest
W S Cowin
1
Firecrest
2
1
1952
Some Recent Ringing Recoveries
E D Kerruish
1
2
Ringing
2
1
1952
A Contribution Towards a List of Manx Plant Galls
D E Allen
3
4
Insects and Flora
2
1
1952
The Mayflies of the Isle of Man
W S Cowin
4
Insects
2
1
1952
Manx Ornithological Notes. 1948.1949
H M Rogers & W S Cowin
5
15
Manx Bird Report
2
1
1952
Notes on Some Mammals and Amphibians
D E Allen
16
18
Mammals. Amphibians
2
1
1952
Kittiwakes at Maughold Head
J C Crellin
18
19
Kittiwakes
2
1
1952
An Inland Gull Colony
R J Moss
20
Herring Gulls
2
1
1952
The Re-appearance of the Holly Blue Butterfly in Mann
W S Cowin
21
Butterflies
2
1
1952
Who Wrote the Botany for "Backwell's Guide"?
D E Allen
22
23
Bibliography. Flora
2
1
1952
Short Note. - Unusual Site for a Swallow's Nest
M Creer
23
Swallow
2
1
1952
Obituary. John James Gill
W S C
24
Obituary
1
6
1949
Wanted - A Manx Bird Observatory
Kenneth Williamson
1
5
Calf of Man
1
6
1949
The Cirl Bunting
H M Rogers
6
Cirl Bunting
1
6
1949
Collecting in the Isle of Man in War and Peace
S H Kershaw
7
12
Butterflies and Moths
1
6
1949
Recovery of an Iceland-Ringed Snipe in the Isle of Man
W S Cowin
13
Snipe
1
6
1949
Bird Ringing in 1948
Raymond Moss
14
16
Ringing
1
6
1949
Late Breeding of Barn Owls
P R Foulkes-Roberts
16
Barn Owl
1
6
1949
Three Common Birds of Canada
Evelyn Draper
17
18
Canada
1
6
1949
Rivers ---Old and New
Ramsey B Moore
19
21
Glass and Dhoo
1
6
1949
Longicorn Beetles in the Isle of Man
W Pool
21
Beetles
1
6
1949
Notes on Manx Lepidoptera
Cyril L Paton & W S Cowin
24
26
Butterfies and Moths
1
6
1949
The Isle of Fairies
J P Cregeen
27
31
Folklore
1
6
1949
Obituary. Cyril Ingram Paton
31
32
Obituary
1
6
1949
Editorial
32
1
6
1949
Short Notes. - Late Terns. A New Plant-Bug. Syrphidae. Unrecorded Kitiwake Colony
5, 6, 12, 23
1
5
1948
The Little Bittern
W C Kelly
1
2
Little Bittern
1
5
1948
Some Birds of Maughold Head
R & G Crellin
2
5
Maughold Head
1
5
1948
The Clouded Yellow Immigration of 1947
W Pool
6
Butterflies
1
5
1948
Lapwing habitats in the Isle of Man
Kenneth Williamson
7
10
Lapwing
1
5
1948
Northwest Movement of Chaffinches in Autumn
R H Dunt
11
Chaffinch
1
5
1948
Notes on the List of Syrphidae of the Isle of Man
Albert E Wright
12
15
Insects
1
5
1948
The Waxwing Invasion During the Winter of 1946-47
W S Cowin
16
17
Waxwings
1
5
1948
The First Nesting of the Shoveler
P R Foulkes-Roberts
18
Shoveler
1
5
1948
Botanical Report, 1945-1947
C I Paton
19
21
Flora
1
5
1948
The First Nesting of the Black-headed Gull
E F Ladds
22
23
Black-headed Gull
1
5
1948
The Little Auk
George Clementson
23
24
Little Auk
1
5
1948
The Man in the Hut
Johnny Beg
25
28
Boats
1
5
1948
Editorial
(ii)
(iii)
1
5
1948
Short Notes. - Pied Flycatchers. New spiders.Wheatear. Arctic Skua. Camberwell Beauty
5, 10, 15, 17, 28, iii
1
5
1948
Frontispiece. Waxwing at Ramsey
1
4
1947
The West Coast Movement of the Black Redstart
Kenneth Williamson
1
6
Black Redstart
1
4
1947
Island Days in Occupied Germany
M C Glasman
6
8
Germany
1
4
1947
A New Asilid. EPITRIPTUS COWINI
W S Cowin
9
10
Insects
1
4
1947
The Ramsey Wagtail Roosts
J J Gill
11
15
Pied/White Wagtail
1
4
1947
Spiders
Frank Dixon
16
19
Spiders
1
4
1947
Siskins
W Pool
19
20
Siskins
1
4
1947
Five Grains of Cobweb
E M Megaw
21
22
Cobwebs
1
4
1947
High Mortality Among Barn Owls
W SW Cowin
23
Barn Owls
1
4
1947
The Hawfinch in the Isle of Man
George Clementson
24
25
Hawfinch
1
4
1947
Manx Purrs
C I Paton
26
27
Wild Boars
1
4
1947
Ghosts Up Behind the Moon
Johnny Beg
29
32
Ghosts
1
4
1947
Editorial
1
4
1947
Field Notes on the Dipper
H M Rogers JNR
Dipper
1
4
1947
Short Notes. - Bogbean. Swallows. Sparrowhawk/Bat. Goldfinch. Ringed Fulmar. Water-louse. Glaucous Gull
15, 25, 28, 33
1
4
1947
Illustrations: - Epitriptus cowini. Glaucous Gull feeding with Herring Gulls at Ramsey
1
3
1945
Natterer's Bat
R Wagstaffe
1
Bats
1
3
1945
The Manx Shearwater in the Faeroes
Kenneth Williamson
2
4
Manx Shearwater. Faeroes
1
3
1945
Harvestmen
C I Paton
4
5
Harvestmen
1
3
1945
Woodlice
C I Paton
5
6
Insects
1
3
1945
Notes on Manx Lepidoptera
A V Hedges & W S Cowin
6
7
Moths
1
3
1945
A Manx Record of the Scotch Argus Butterfly
Albert E Wright
8
9
Butterflies
1
3
1945
Notes on the Swallow
M C Glasman
9
1
Swallows
1
3
1945
The Nature of the Rookery
K Williamson & W SW Cowin
12
19
Rooks
1
3
1945
Heron Ringing
J C Crellin
20
Herons
1
3
1945
Unusual Nesting-Site and Multiple Nesting of Grey Wagtail W Pool
21
Grey Wagtail
1
3
1945
The Spread of the Orange-tip Butterfly in the I of Man
W S Cowin
22
24
Butterflies
1
3
1945
Nesting of the Long-Tailed Tit
R & G Crellin
24
25
Long-tailed Tit
1
3
1945
Golden Orioles near Peel
George Clementson
26
27
Golden Oriole
1
3
1945
The Great Yellow Loosestrife
W S Cowi & A H Karran
27
Flora
1
3
1945
Short Notes. - Lesser Horntail Wasps. Glaucous Gull. Smews. Lesse Broomrape
11, 28
1
3
1945
Editorial
1
3
1945
Illustrations: - Rook's Nest on Chimney. Manx Shearwater.
1944
Historical Records of the Peregrine Falcon
Kenneth Williamson
1
4
Peregrine
1941
Editorial Notes
1
2
Editorial
1941
A Census of Breeding Ravens
W S Cowin
3
6
Ravens
1944
A Memory of the Great Auk
John Gawne
4
Great Auk
1944
Woodlice
C I Paton
5
8
Insects
1941
Wild Geese in Man
George Clementson
7
8
Geese
1941
Summer on the Ayres
M C Glasman
8
10
The Ayres
1944
The Breeding of the Wood Warbler in Man
John James Gill
9
11
Wood Warbler
1941
The Calf of Man in 1941
Kenneth Williamson
11
15
Calf of Man
1944
Calf Island
H M Rogers
12
14
Calf of Man
1944
The Failure of the Terneries
Maurice & Margaret Glasman
15
16
Terns
1944
New Manx Lepidoptera
E E Sloane
16
Moths
1941
Rare Forms of the Orange-tip Butterfly
S H Kershaw
16
18
Butterflies
1944
The Barn-Owl as a Resident in the Isle of Man
R & G Crellin
17
18
Barn Owl
1944
Addition to the Flora of the Calf
W S Cowin
19
20
Flora. Calf of Man
1941
Birds of Ballure
J J Gill
19
21
Ballure
1944
The Ravens' Country
Kenneth Williamson
21
24
Ravens
1941
John Quayle and the CaLF of Man
B R S Megaw MA
22
23
Calf of Man
1944
A Peregrine at Scarlett
E F Ladds
24
Peregrine
1941
Summer Flowering Plants at Langness
C I Paton
24
27
Flora. Langness
1944
Impressions of a Hoopoe
F Wilkinson
25
26
Hoopoe
1944
Contrasts
George Clementson
26
Peel Hill
1944
Some Recent Records of the Fulmar Petrel
B R S & E M Megaw
27
28
Fulmar
1941
An Old Record of the Roller
J Margaret Stevenson
28
Roller
1944
Notes on John Ray and the Isle of Man Cabbage
C I Paton
29
30
John Ray. Flora
1944
A Preliminary List of the Odonata of the Isle of Man
R Wagstaffe
32
Dragonflies
1944
Short Notes. - Geese. Flowers. Striped Hawk-moth.Kingfisher. Peregrines.
11, 14, 20, 28
1944
Editorial
1944
Illustrations: - Peregrine Falcon at the Eyrie. The Ravens' Country
1941
Short Notes. - Wheatears. House Martins. Ring Ousels. Tuberous Bitter Vetch. Dragonflies
18, 23