Isle of Man Post Office has just issued a delightful new set of stamps celebrating the environmental and historical importance, unique character and outstanding natural beauty of the Calf of Man, nestled at the southern tip of the Isle of Man.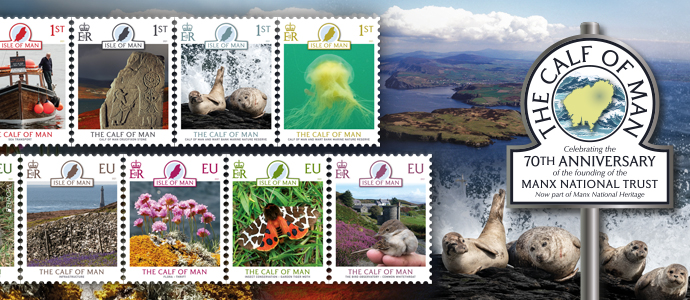 The issue spotlights aspects of the wide-ranging expert conservation stewardship of Manx National Heritage in the 70th year since the Calf of Man was taken on by the Manx National Trust. The Calf's nature conservation has made a significant contribution to the Isle of Man's designation as a UNESCO Biosphere.
The issue is dedicated to the memory of Dr Trevor Norton (Sheffield, 1940–Isle of Man, 2021), formerly Professor of Marine Biology at Liverpool University and Director of the Port Erin Marine Laboratory, Isle of Man (1983–2005). Dr Norton was a long-serving, well-respected and supportive Trustee of Manx Museum and National Trust and served as trustee from 1984 to 2012.
Full details of the issue and how to purchase one or more sets can be found https://www.iompost.com/stamps-coins/collection/the-calf-of-man/.
The ten-stamp issue is brought to life by excellent photography from Peter Killey, Mike Radcliffe, Paul Corrin, Dr Lara Howe, Kevin Scott, Hannah Ehlers and Shaun Murphy: