Sure has taken its sponsorships to the skies by becoming the Telecommunications Partner for Manx BirdLife.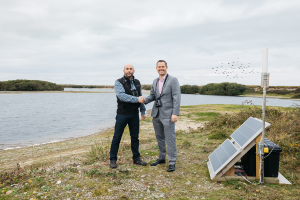 Manx BirdLife is delighted to announce that the telecoms company, Sure isle of Man, has signed a three-year sponsorship arrangement. Sure's support includes the provision of 4G services for Manx BirdLife's Point of Ayre and Barn Owl webcam observation cameras - one of which is powered by solar technology. Sure is also supporting Manx BirdLife's office administration with broadband and telephony services.
The sponsorship sees Sure provide a 4G router and directional aerial at the Manx BirdLife Point of Ayre National Reserve to allow islanders to enjoy the view and see the wildlife on the reserve – online at any time. This is in addition to the provision of a 4G router for Manx BirdLife's Barn Owl webcam; this beloved project allows islanders to watch a local Barn Owl in its nestbox via a live, high quality stream.
Sure support of the charity's office administration through the provision of broadband and telephony services has significantly improved and made easier the day-to-day administration tasks that are vital for running a not-for-profit organisation. As the sole Telecommunications Partner, Sure has committed to continuing all these activities for the next three years.
Manx BirdLife's Managing Director, Neil Morris, said: "Sure's generous sponsorship package continues to improve our work. Staying in touch with our supporters is essential and the excellent broadband and phone systems are allowing us to communicate more efficiently than ever. Sure is also providing essential 4G support to our observation cameras at the Point of Ayre and for the Barn Owls, giving everyone a wonderful armchair view of some of our island's amazing places and birds. We are hugely grateful for the company's support".
Mike Phillips, Sure Isle of Man CEO  added: "Being aware of our impact on the environment is a cornerstone of Sure's values. That's why we are thrilled to support Manx BirdLife and aid the organisation's day-to-day operations as well as supporting its observation cameras with powerful 4G connection speeds. We are delighted to give islanders a look at some of the most beautiful birds the Isle of Man has to offer and engage the community with the charity's great work".
More about Sure
Twitter: https://twitter.com/SureIOM
Facebook: https://www.facebook.com/SureIOM/