Barn Owl webcam Shamraig Caillagh-oie

Watch the wild Barn Owls in our Isle of Man nest box - live! We are grateful to Adam and Bill Denard, Michael Howland, the landowners and to Sure Isle of Man for making this possible.
At night, the nestbox might be empty as the pair are often out hunting. During the day when they are roosting, they can sit almost motionless and you need to watch carefully for movement!
Find out more about the Manx Barn Owl project and why it is important >>
To view in full frame, roll your cursor over the image and click on 

in the top right corner of the frame.
NB. The above frame might take a few seconds to load. If the frame does not display correctly (for example, a 'Video not found' or similar error message persists), try this alternative link.
---
Radio coverage
Listen to an edited version of Bob Carswell's interview with Manx Barn Owl Project Director Adam Denard, featured in Shiaght Laa on Manx Radio (12 April 2018):
---
Chronology (video clips and images archive)
Our Barn Owls are wild birds. They are free to come and go. If you are looking at the live feed above and the nestbox is empty, or if you simply wish to enjoy some of the action we have previously recorded, check out these images and video clips:
03 June 2018. Hatchling #3 greets the world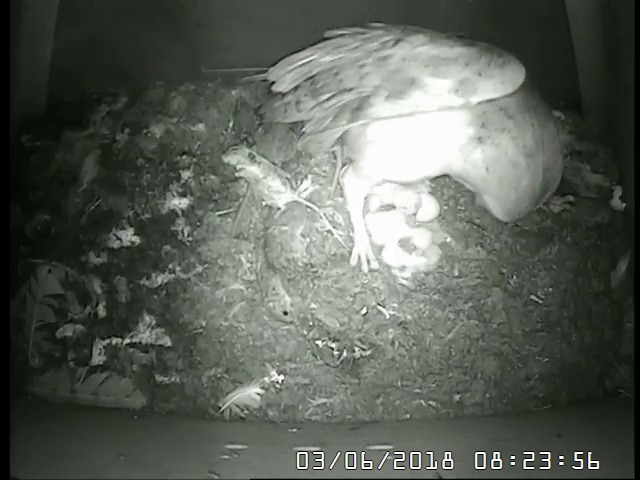 Above image: Three hatchlings. It's going to be a busy household
---
01 June 2018. Meet hatchling #2

Above image: And then there were two ... hatchlings
---
30 May 2018. Meet hatchling #1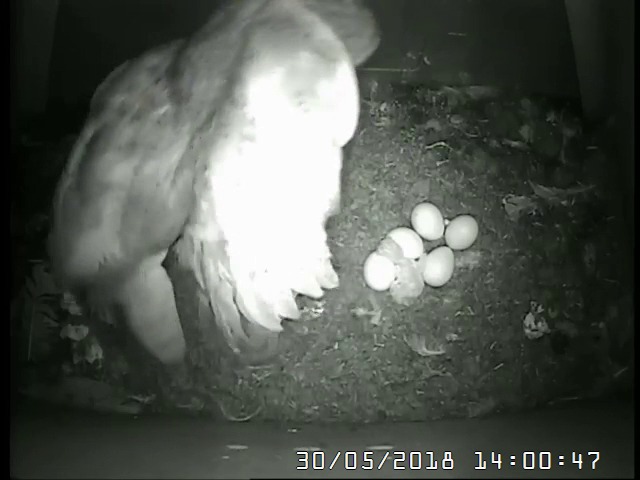 Above image: Our first glimpse of hatchling number one
---
10 May 2018. Six eggs!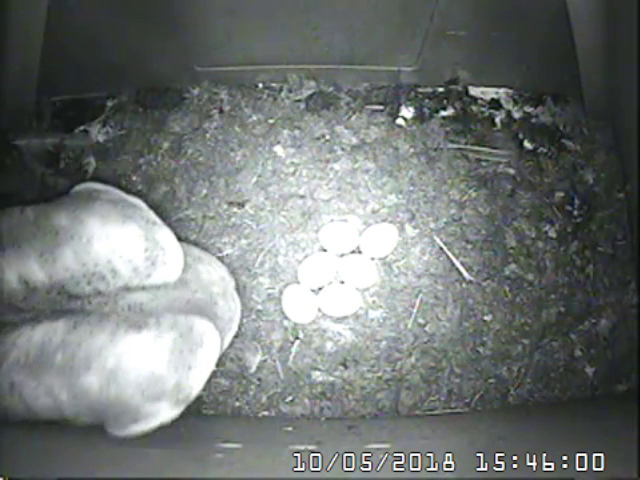 Above image: The clutch of six eggs
---
02 May 2018. Three eggs now! Tree oohyn nish!
Above video clip: Now three eggs.
---
27 April 2018. We have eggs! Ta oohyn ain!
Above video clip: The first egg.
---
09 March 2018. Early morning mating
Above video clip: Early morning mating.
---
08 March 2018. Early evening bonding
Above video clip: Two birds! First mating.
---
08 March 2018. Late afternoon domestics
Above video clip: Longtail meal time.
---
08 March 2018. Morning activity
Above video clip: 'Here's looking at you kid!'
---
20 February 2018. Late evening inspection
Above video clip: This new carpet looks interesting!
---
19 December 2017. Early afternoon visitor
Above video clip: Checking out the new pad?
---