Barn Owl webcam Shamraig Caillagh-oie

We are delighted to report that, as in 2018, our pair of Manx Barn Owls successfully fledged three youngsters during the summer of 2019.
After their early autumn absence, the pair have returned to adopt the nestbox as a roosting site for the winter season. Various clandestine incursions into the box by rodents and Jackdaws have offered gripping viewing.
We remain most grateful to Adam and Bill Denard, Michael Howland, the landowners, Sure Isle of Man and the generosity of a number of individual donors for making this exciting project possible.
See recorded video clips below >>
Find out more about the Manx Barn Owl project and why it is important >>
Two live video cameras
NB. The live images below might take a few seconds to render. If the live images do not display, try clicking on the 'Play' button (►) at the bottom of each frame.
Hint: Daytime can be best for seeing the bird(s) as they roost in the box during the day and hunt at night.
1) Below: Inside the nest box
2) Below: Outside the nest box
---
Radio coverage
Listen to an edited version of Bob Carswell's interview with Manx Barn Owl Project Director Adam Denard, featured in Shiaght Laa on Manx Radio (12 April 2018):
---
Chronology
Our Barn Owls are wild birds. They are free to come and go. If you are looking at the live feed above and the nestbox is empty, or if you simply wish to enjoy some of the action we have previously recorded, check out the images and video clips below the timeline table.
Date
Time
Event/activity
Latest
At the beginning of the 2022 breeding season, Mr and Mrs Jackdaw took up residence in the box. We shall leave them in peace, and leave you to enjoy their antics, but hope to affix a 'Corvid guard' to the box to enable the owls to return for 2023.
11 Jul 2021
05:20
An owl came into the nest box this morning and seem quite settled, before having to fight to keep out the local Jackdaws.
10 Jul 2021
23:18
Well, after quite a hiatus, a Barn Owl has returned to the box!
31 Mar 2021
Sad news. One of our fledglings from 2018 was been picked up moribund and had died at the vets 🙁
Below: Season 3, 2020
-----
-----------------------------
Wed 03 Jun 2020
23:38
She's back again. Hopefully this will become a habit.
Tue 02 Jun 2020
10:39
She's back! Though only briefly, and probably wondering what an earth is going on with all those twigs! It's been a long absence but it's good to know she is still interested in the box. Gives us lots of hope that she'll find a new mate and return for next year's nesting season.

Catch up with the latest 'Season 2020' videos below.
After some encouraging early signs, the Barn Owls have not nested this year.
A female was in occupance early in the season and tussled with the local Jackdaws who had a jealous eye on the nest box. After an encouraging appearance in the box in January, the male owl did not reappear thereafter and the female appears to have relinquished the nesting box for the time being.
Wed 15 Apr 2020
Well it's getting very late in the season now for the owls to repossess the box and start nesting. The male has not been seen since January and the female has made only infrequent visits, while the Jackdaws have continued lobbing in sticks and twigs - though they haven't had the decency or courage to stick around and actually use the box themselves for nesting! Cowards!
Below: Season 2, 2019
-----
-----------------------------
Thu 28 Nov 2019
And while the rodents make their quick escape, both owls return to the box!
Wed 27 Nov 2019
While the owls are away, the mice will play. A couple of brave rodents investigate the household.
Wed 02 Oct 2019
Now two (adults?) back in the box.
Fri 20 Sep 2019
After a few fleeting comings and goings, one of the owls is now back in the box.
Wed 24 Jul 2019
05:00
We have an empty box. To quote Adam Denard, Project Director, "Six kids in two years is above average".
Thu 18 Jul 2019
The owls feature in a full-page spread in the Manx Independent.
Sun 14 Jul 2019
One of the youngsters makes its maiden flight out of the box.
Thu 11 Jul 2019
21:56
Two fledglings now exercising on the shelf outside the nestbox.
Thu 11 Jul 2019
Number one child is getting adventurous, venturing as far as the door platform.
Fri 21 Jun 2019
22:54
Mum brings in the first of six food drops overnight.
Tue 04 Jun 2019
07:15
The fourth hatchling has died, leaving just three (half) of the brood remaining. Is the extended bad weather having an effect?
Fri 31 May 2019
23:06
It seems clear there are just four hatchlings remaining and the fourth one isn't looking too well.
Fri 31 May 2019
Oh dear, we have lost at least one, if not two, of the fledglings. Female has left the box several times and the male has put in only erratic appearances. Is something up?
Sun 26 May 2019
04:02
Six! That's the complete brood, all six eggs having produced hatchlings. Five and six are very much younger (smaller) than their siblings and it's hard not to worry that they'll have a tough time of it. Good luck little ones!
Thu 23 May 2019
07:41
Five!
Sat 18 May 2019
20:17
Four! Quicker than Liverpool goals against Barcelona, hatchling number four breaks its way into the world.
Fri 17 May 2019
Just look at the state of that nestbox. And I thought my household was untidy!
Thu 16 May 2019
17:17
Three! This is rapid fire … welcome to the world number three.
Tue 14 May 2019
15:56
Two! Second hatchling is seen on camera.
Sun 12 May 2019
05:30
One! First hatchling appears.
Wed 24 Apr 2019
18:49
◉◉◉◉◉◉ And then there were six (eggs).
Sun 21 Apr 2019
22:07
◉◉◉◉◉ Now five eggs.
Wed 17 Apr 2019
19:12
◉◉◉◉ Ta dah! Egg number four comes into view.
Mon 15 Apr 2019
03:04
◉◉◉ First sight of the third egg.
Fri 12 Apr 2019
16:02
◉◉ Egg number two reveals itself.
Wed 10 Apr 2019
06:48
◉ Result!! The first of this season's eggs is laid - two weeks earlier than last year.
Sat 06 Apr 2019
The Manx BirdLife owl squad quietly install a second camera to provide external views of the nestbox - coming online soon.
Sat 30 Mar 2019
05:00
And again … the owls arrive back and eject the Jackdaws.
Fri 29 Mar 2019
For the third time, the Jackdaws attempt to move in.
Thu 28 Mar 2019
16:00
Fight! Once again the owls return and aggresively eject the interlopers.
Thu 28 Mar 2019
For the past week, the owls have sat tight to prevent the Jackdaws returning. But on leaving the box, the Jackdaws once again make their move, bringing sticks into the box with them.
Thu 21 Mar 2019
16:14
Fight! The squatting Jackdaw is forceably evicted from the nestbox by one of the owls.
Thu 21 Mar 2019
09:02
A pair of Jackdaws is attempting to hijack the nestbox.
Thu 21 Mar 2019
03:00
After sporadic appearances, Mr and Mrs are reunited in the box.
Wed 27 Feb 2019
Mr is back in the box. Down goes a large Longtail and up comes a pellet.
Sun 24 Feb 2019
12:07
At last! Mr and Mrs are back in the box and have settled in for the day. Hopefully it's a sign of more continued presence as the build-up to this year's breeding season begins.
Fri 22 Feb 2019
06:09
After an absence of 23 days, one of the owls returned this morning.
Thu 21 Feb 2019
Where are they? The owls have not been seen for the last 22 days.
Wed 20 Feb 2019
Analysis of pellets from the vicinity of the owl nestbox reveals 2 Wood Mice, 1 Mouse sp., 1 Longtail.
Wed 30 Jan 2019
No sign of either owl today.
Tue 01 Jan 2019
Happy New Year to all our owlcam viewers!
Wed 26 Dec 2018
08:21
Both owls are now back in the box. A nice Christmas present for all our viewers.
Sun 09 Dec 2018
09:13
With the male still in the box, a brave Wren with maggot pays a fleeting visit!
Sun 09 Dec 2018
08:30
Male returns to the nestbox with item of prey.
Fri 09 Nov 2018
After a prolonged absence, one of the owls has been seen around the nesting site.
Below: Season 1, 2018
------
-----------------------------
Fri 03 Aug 2018
05:20
Nestbox is again empty with all the owls out and about. Two of the birds had returned (from hunting?) by 06:15.
Wed 01 Aug 2018
22:16
For the first time, all three juveniles are out of the nextbox.
Tue 31 Jul 2018
21:31
One of the juveniles seen out and about around the buildings.
Tue 31 Jul 2018
08:00
All juveniles back in the nestbox.
Tue 31 Jul 2018
00:32
Two juveniles leave the nestbox.
Sun 29 Jul 2018
One juvenile temporarily leaves the nestbox this evening.
Tue 24 Jul 2018
20:30
One juvenile temporarily leaves the nestbox.
Sun 01 Jul 2018
Planned downtime for maintenance work.
Fri 22 Jun 2018
04:30
Fourth hatchling died. Three hatchlings now surviving.
Mon 18 Jun 2018
Fifth hatchling has perished. Four hatchlings now surviving.
Sun 10 Jun 2018
08:00
Fifth egg hatched. Remaining unhatched egg is possibly the first one to have been laid.
Thu 07 Jun 2018
13:00
Fourth egg hatched.
Sun 03 Jun 2018
04:00
Third egg hatched.
Fri 01 Jun 2018
11:30
Second egg hatched.
Wed 30 May 2018
02:00
First egg hatched!
Thu 10 May 2018
◉◉◉◉◉◉ Sixth egg observed.
Mon 07 May 2018
◉◉◉◉◉ Fifth egg observed.
Fri 04 May 2018
◉◉◉◉ Fourth egg observed.
Wed 02 May 2018
◉◉◉ Third egg observed.
Tue 01 May 2018
Egg laying featured on Manx Radio's 6pm news programme.
Sun 29 Apr 2018
◉◉ Second egg observed.
Fri 27 Apr 2018
◉ First egg laid.
Thu 12 Apr 2018
Featured on Manx Radio's Shiaght Laa with Bob Carswel (Adam Denard and Neil Morris).
Mon 09 Apr 2018
Owl cam publicly launched.
Thu 08 Mar 2018
Detailed records of regular occupation start.
Tue 20 Feb 2018
Just two separate visits recorded today.
Tue 19 Dec 2017
13:46
First inspection by one of the Barn Owl pair.
Mon 18 Dec 2017
Streaming computer installed.
Fri 01 Dec 2017
Nest box erected on site.
Video clips and images archive
14 April 2020. Jackdaw attempted coup
Above video clip: Oh no you don't! - this morning's failed Jackdaw attempt to unseat Mrs Barn Owl
---
05 April 2020. Jackdaw eviction
Above video clip: If you love those twigs so much, build your own home
---
14 March 2020. Evening departure and next morning return
Above video clip: Simultaneous views from inside and outside the nest box
---
12 December 2019. I'm a celebrity get me out of here!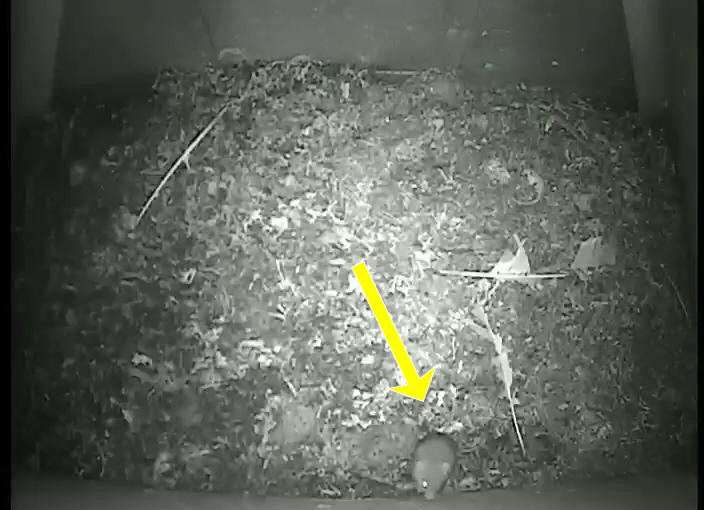 Above image: 'I'm hoping the householders don't return before I find the exit...'
---
28 November 2019. After a bit of a hiatus, the successful pair return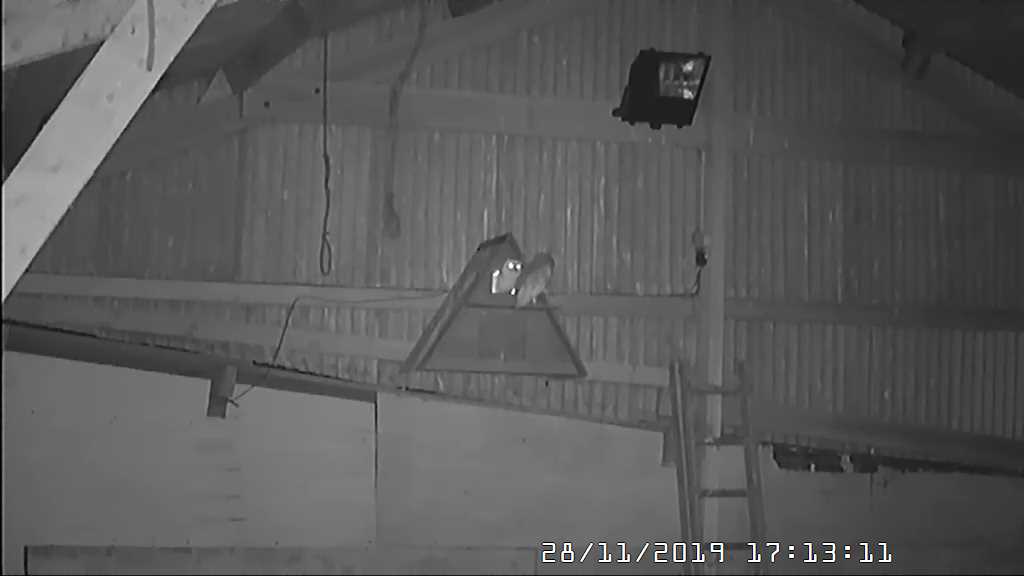 Above image: Two owls return to check on the household
---
11 November 2019. Both birds are now back
Above video clip: Good to see both Barn Owls back in the nest box this morning after there being just one present last week
---
13 October 2019. Adults departing for night time hunt
Above video clip: Lots of nocturnal activity in the barn
---
20 July - 20 September 2019. Early flights of Class of 2019
Above video clip: This season's three Amigos learn to fly
---
18 July 2019. We're in the news!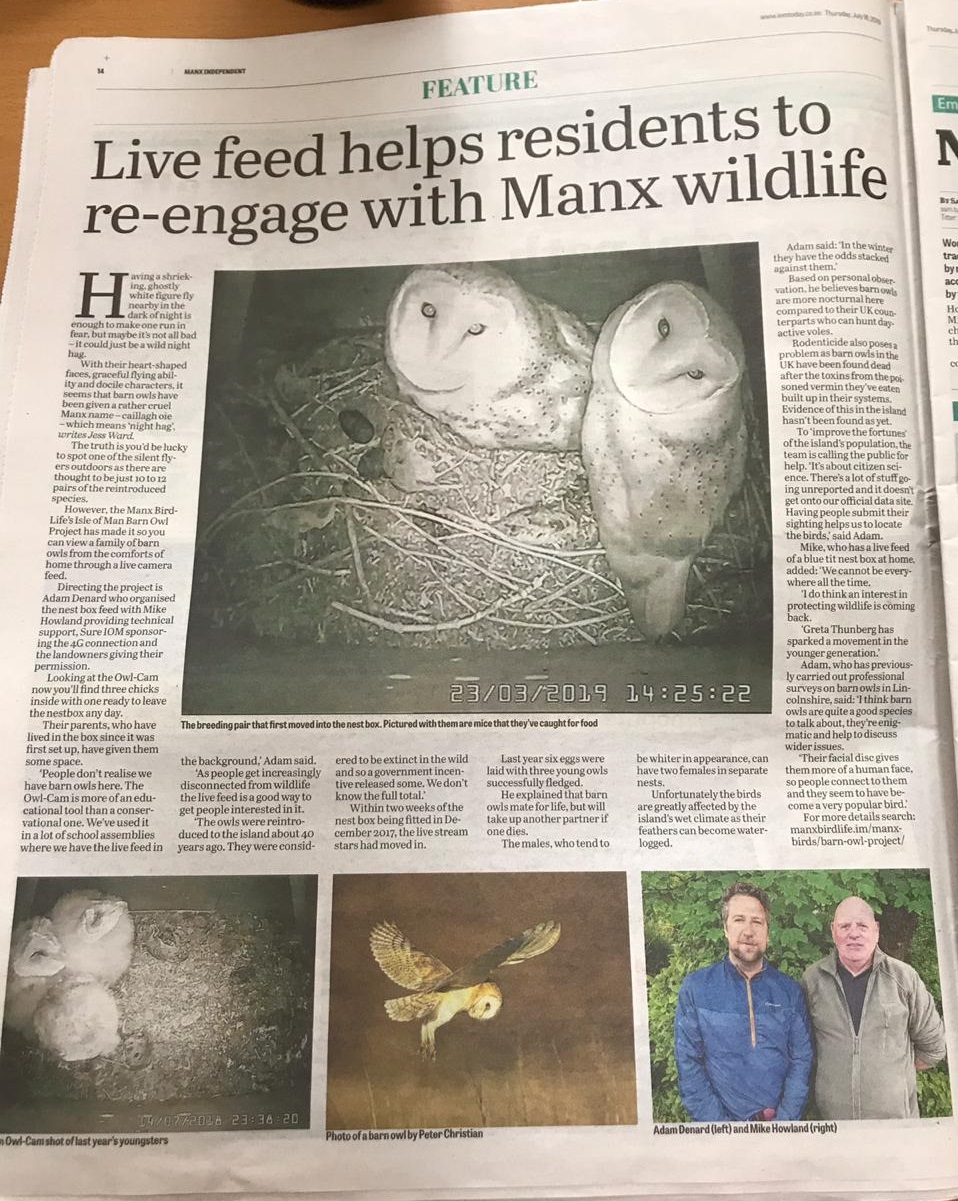 Above image: Many thanks to the Manx Independent for this coverage 
---
13 July 2019. First flight, like it or not!
Above video clip: Falling off the box and learning to fly
---
12 July 2019. Exploring outside the box
Above video clip: Exploring outside the box
---
16 May 2019. First clear sight of number three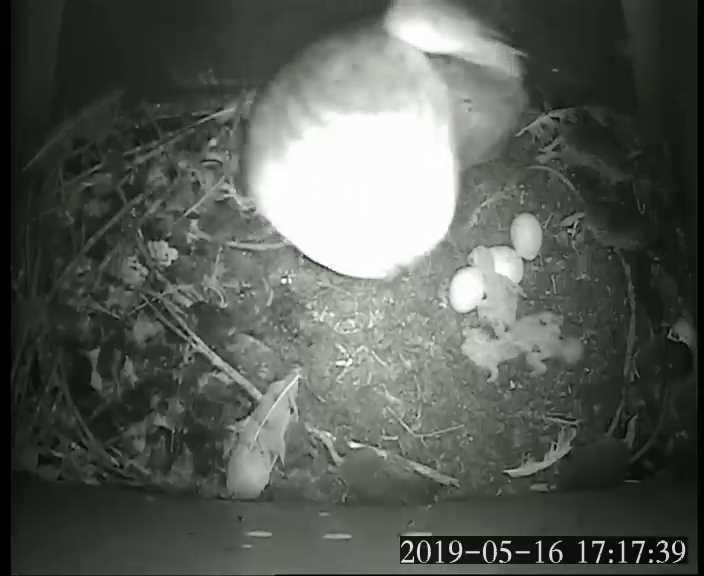 Above image: Welcome to the world #3
---
14 May 2019. Second hatchling of 2019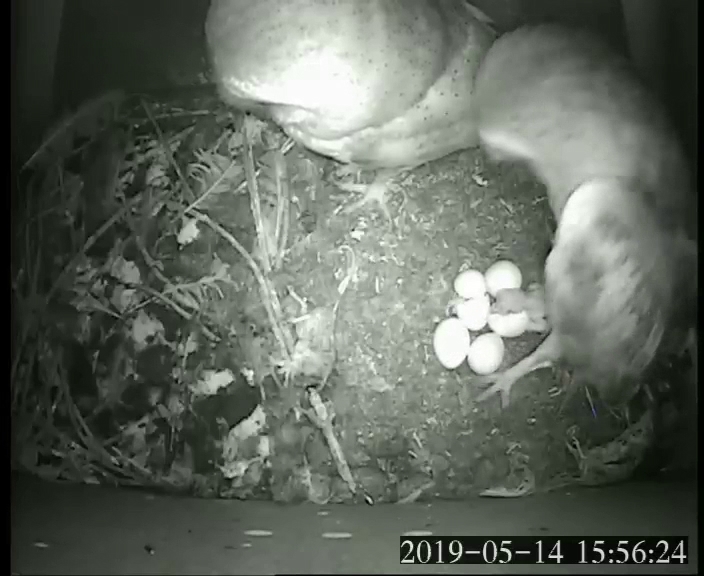 Above image: Hatchling 2.2019 coming out of the egg
---
12 May 2019. First hatchling of this year's brood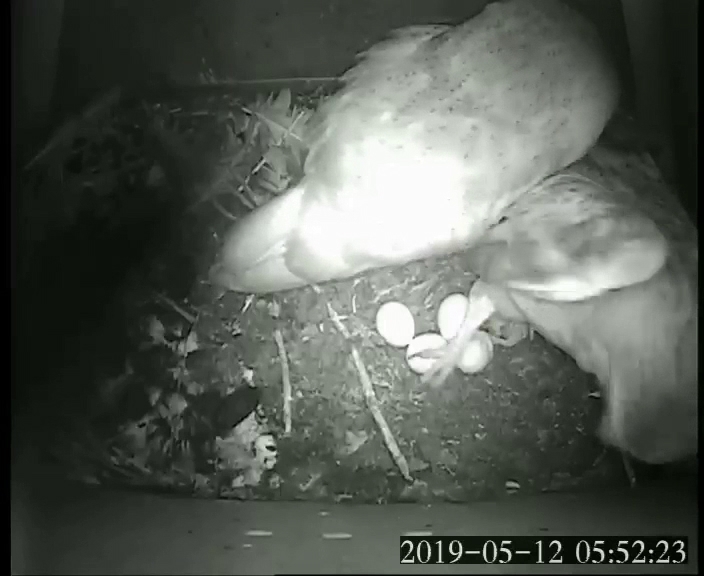 Above image: First sight of hatchling 1.2019
---
09 December 2018. A fleeting visit from 'Jenny' Wren
Above video clip (slowed down): A Wren appears briefly (with maggot) before it gets the 'death scare'
and decides that 'discretion is definitely the better part of valour'
---
09 December 2018. Back in the box
Above video clip: After a long period of absence since the youngsters fledged last summer,
the male returns to the nestbox
---
31 July 2018. Out in the open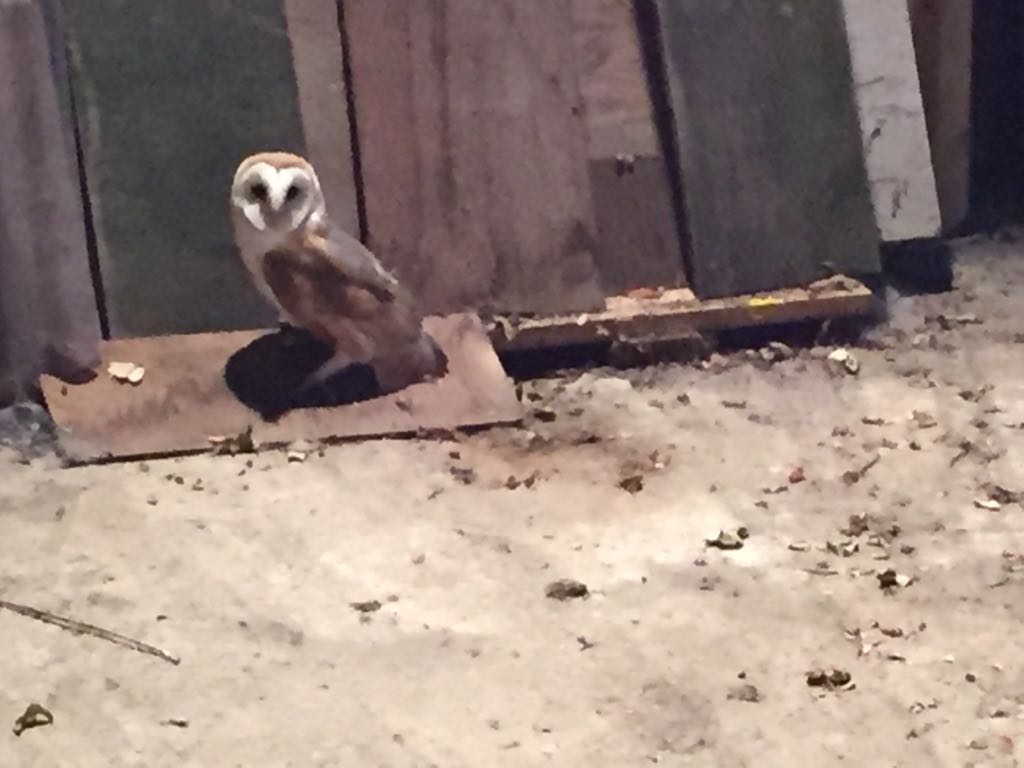 Above image: One of the youngsters was photographed tonight out of the nestbox
---
14 July 2018. Good hunting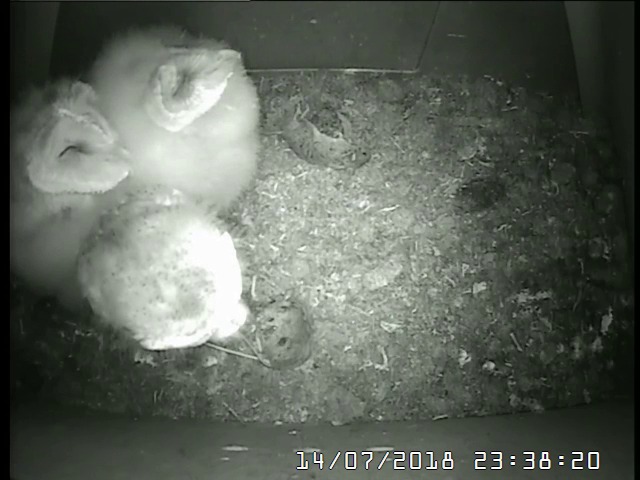 Above image: There's now plenty of evidence of what food the owlets are being brought by the parents
---
03 June 2018. Hatchling #3 greets the world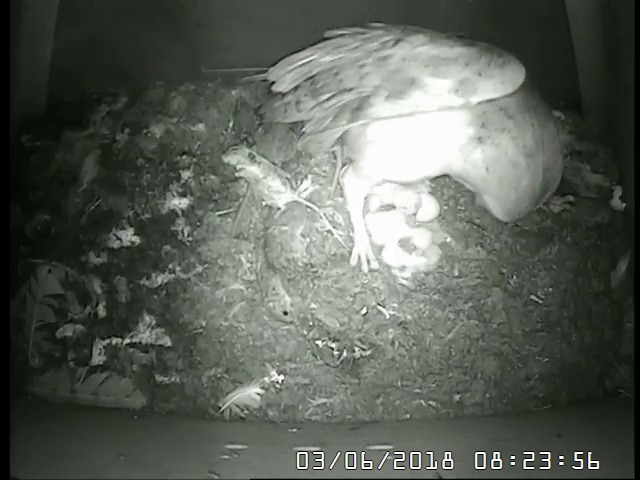 Above image: Three hatchlings. It's going to be a busy household
---
01 June 2018. Meet hatchling #2

Above image: And then there were two ... hatchlings
---
30 May 2018. Meet hatchling #1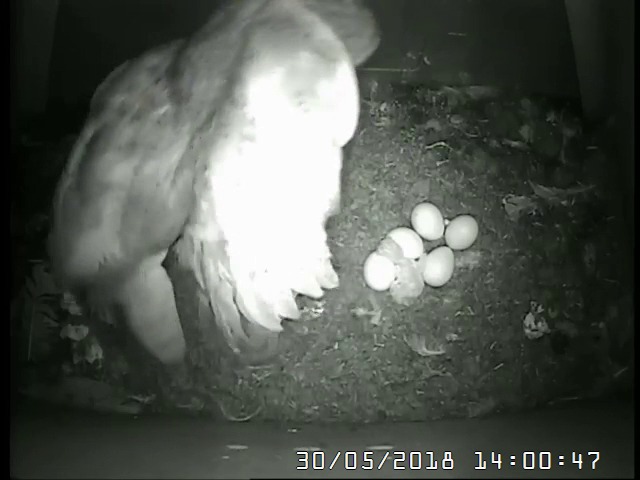 Above image: Our first glimpse of hatchling number one
---
10 May 2018. Six eggs!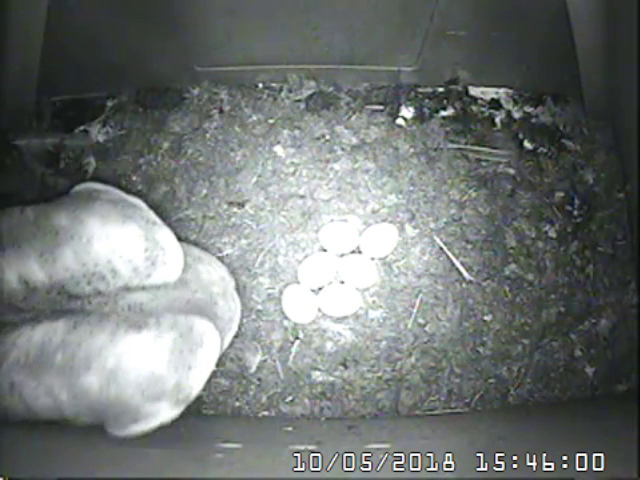 Above image: The clutch of six eggs
---
02 May 2018. Three eggs now! Tree oohyn nish!
Above video clip: Now three eggs.
---
27 April 2018. We have eggs! Ta oohyn ain!
Above video clip: The first egg.
---
09 March 2018. Early morning mating
Above video clip: Early morning mating.
---
08 March 2018. Early evening bonding
Above video clip: Two birds! First mating.
---
08 March 2018. Late afternoon domestics
Above video clip: Longtail meal time.
---
08 March 2018. Morning activity
Above video clip: 'Here's looking at you kid!'
---
20 February 2018. Late evening inspection
Above video clip: This new carpet looks interesting!
---
19 December 2017. Early afternoon visitor
Above video clip: Checking out the new pad?
---