We are aware that Manx Utilities has recently (July 2023) announced preliminary details of its proposed 'TRANSITION PROGRAMME ODM/002 20MW Onshore Wind Project'.
Background
To quote Manx Utilities:
"Onshore Wind
Two sites have been identified as potentially suitable to deliver a 20 Megawatt windfarm: Sulby & Druidale in the north and Earystane & Scards in the south of the Island. These sites closely match the criteria to access the best quality wind resource, acceptable delivery timescale, and lowest cost to consumers. An onshore windfarm of this scale could deliver up to 30% of the Island's electricity needs, subject to final designs.
"Protecting the Environment
The Isle of Man Strategic Plan 2016 states that we must carry out Environmental Impact Assessments (EIAs) for onshore wind and that we must also adhere to the Regulations outlined in the Town and Country Planning (Environmental Impact Assessment) Regulations 2017 (England and Wales). These surveys will now be carried out over a 2-year period, alongside more detailed technical studies at the locations identified before the design work can take place and will assist in the identification in the optimal site."
(Source: https://www.manxutilities.im/energy-transition/wind/onshore-wind/ 2023-08-16)
Manx BirdLife interim statement
At this stage, Manx BirdLife wishes to state:
In principle, we support the transition away from fossil fuels to renewable sources of energy. We wish to see the right long-term solutions in the right places at the right time.
We have some initial questions arising from the preliminary details published by Manx Utilities (including Operational Decision Making 2023-07-04 – Site Selection) for this proposed first phase of building the Island's strategic ability to generate 'energy from wind'. These relate to the:

Strategic oversight and coordination of energy transition projects onshore and offshore;
Ensuring nature-positive implementation and operations;
Deployment of relevant, credible, robust and up-to-date scientific research from the appropriate study communities.

Being the first phase of a long-term renewable energy strategy for the Isle of Man, we wish to see full, transparent and timely due diligence regarding the impact on wild birds and their habitats during what will be the research, construction and ongoing operation phases of the project.
Manx BirdLife is consulting widely on the best science and assessment/survey methods by which all parties can assess the environmental impact of these initial proposals. We shall arrive at our own independent and objective view on whether we object to or support one, both or neither of the two preferred (proposed) sites. (NB. It is not for Manx BirdLife to suggest sites, but to provide objective assessment of those sites put forward by the proposer.)
The nature of local stakeholder engagement
Manx Utilities has investigated 500 candidate sites and narrowed these down to two preferred sites. We naturally expect that Manx Utilities shall provide information to help all stakeholders understand how the selection process was undertaken, including the parameters by which 500 candidate sites were reduced to two preferred sites and ultimately one final preferred site. We also wish to understand the methods and standards by which field surveys for the required two-year Environmental Impact Assessment (EIA) shall be conducted.
As the pre-eminent wild bird conservation organisation in the Isle of Man, we expect Manx BirdLife to be fully consulted and to contribute to the all-important surveys, thereby ensuring IOM ornithological and conservation contexts are satisfactorily considered. Experience tells us that "local knowledge is best and local understanding is better" (sic) in the interests of our Island's national natural heritage.
We look forward to consulting with our partners on the Island and beyond, and to assisting Manx Utilities in arriving at the best decision(s) for our Island for what will doubtless be the first of a number of such proposals.
ENDS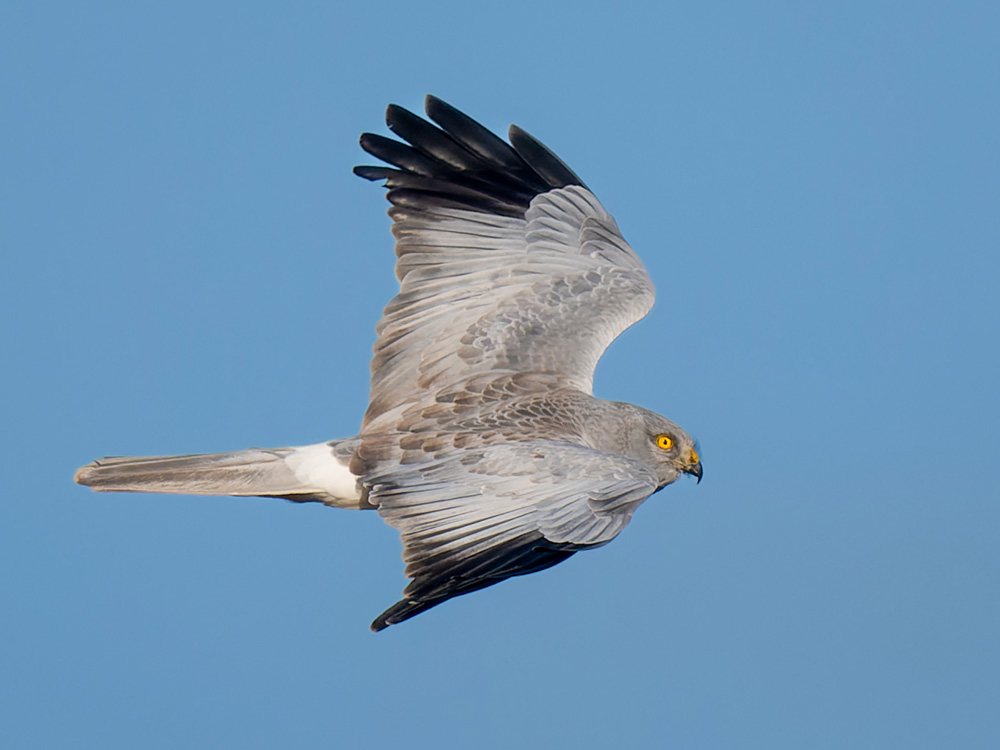 Image: Male Hen Harrier © Peter Christian. 2023. All rights reserved. With thanks.